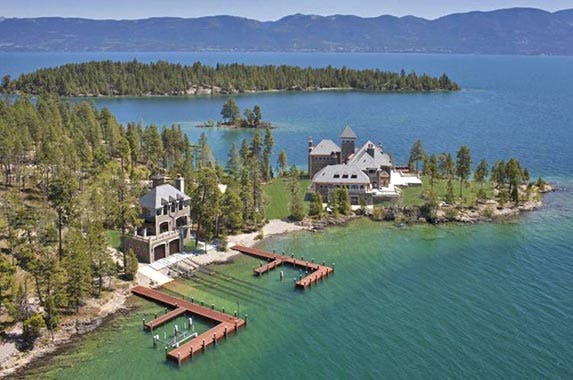 Homes for the ultra-rich
Scott Fitzgerald was right: The very rich are different from you and me.
For one thing, they can afford more expensive homes.
The purchase price is just the start. Rolling green lawns and hotel-perfect interiors require help. Lots of help.
A full staff — with cooks, maids, gardeners, drivers, handymen and an estate manager — can cost up to $1 million annually, says Chad Rogers, real estate agent with Hilton & Hyland in Beverly Hills, California.
And don't forget homeowners insurance. Policies can often run from $50,000 to $240,000 or more per year at this level, depending on the coverage needed, says Rebecca Woan, principal and founder of Chartwell Insurance Services in Chicago.
But there is one expense that mega-mansion owners probably don't have: mortgages.
Multimillion-dollar homes are most often cash transactions, says Carl Bosse, general director of Associated Realty of the Americas in Green Valley, Arizona. Or some buyers might arrange a securities-based loan.
But online browsing is free. So whether you're dreaming of a home with a private island, your own personal trout pond or a few miles of pristine beach, these 4 extravagant homes should provide you with lots of rich detail to fill out your fantasy.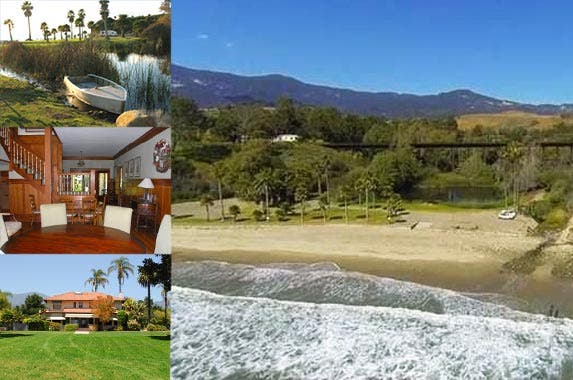 9751 El Camino Real, Santa Barbara, California
Realtor.com
Asking price: $50 million
The lowdown
This parcel isn't just another pretty face.
The house and property — all 2,190 acres — is known as Rancho Dos Pueblos. Behind the beaches, the parcel is a working ranch that harvests macadamia nuts, cherimoyas and avocados, among other things, says Kerry Mormann, owner-broker of Kerry Mormann & Associates and an agent with Berkshire Hathaway Home Services California Properties, which represents the property.
And with 13 houses and more than 50 employees and family members scattered over more than 2,000 acres, "it's like a little village," Mormann says.
Rows of 50-foot fig trees line the avenue leading to the Mediterranean-style main house, Casa Grande, he says. Built in the 1920s, it has a tiled roof, 5 bedrooms and 7 bathrooms, he says.
Reason you'll never want to leave home
"It's the beach," says Mormann. "One of the nicest beaches on the Santa Barbara coast."
Rumor has it
This stretch of Santa Barbara was given its name by Portuguese explorer Juan Cabrillo, Mormann says. When Cabrillo anchored offshore in October 1542, the spot was home to two Chumash villages. So in his log, he dubbed the area "Dos Pueblos."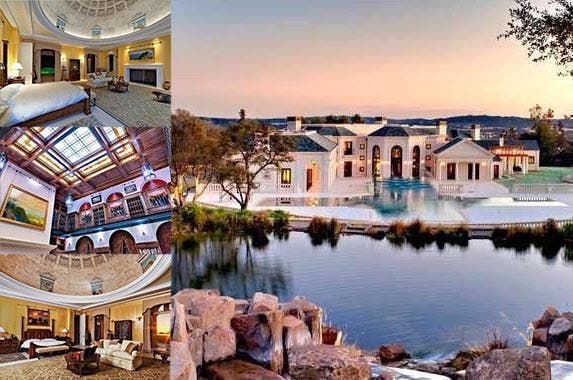 172 Bliss Canyon Road, Bradbury, California
Realtor.com
Asking price: $78 million
The lowdown
This is what the "Dynasty" house would look like if the Carringtons had real money.
The neoclassical Palladian-style home "was over a decade in the making," says Bob Hurwitz, president and CEO of Hurwitz James Co., the Beverly Hills firm selling the house. "It's really one-of-a-kind."
Completed in 2011, it has 7 bedrooms, 10 baths and more than 47,000 square feet.
One master suite has a domed ceiling with hand-painted frescoes, an expansive fireplace and a marble bath with separate steam room.
The 2-story study has a stained-glass skylight and a limestone fireplace.
For those evenings when you're entertaining, there's a 2,000-bottle wine cellar, a professional chef's kitchen and a cigars-and-poker lounge.
And the man-made trout pond has a million-gallon capacity and a constant, trout-optimum temperature of 57 degrees, he says.
Reason you'll never want to leave home
The toys. This house has a 3-D theater (with both a movie screen and a giant plasma TV), a professional quality subterranean firing range, a heated pool with fountains, and a paneled master closet that resembles an upscale boutique.
Rumor has it
Lucy Liu used the shooting range to prepare for "Southland," Hurwitz says.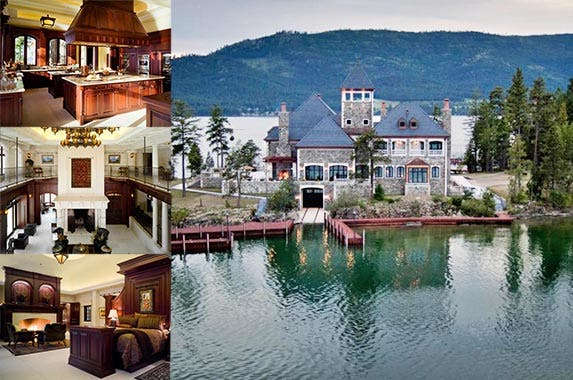 Shelter Island, Montana
Photo courtesy of Hurwitz James Company
Asking price: $39 million
The lowdown
No street address necessary. With this one, you own the whole island.
This 24-acre estate is accessible only by boat and helicopter. (The boats, also for sale, are optional.)
Perched on a peninsula with its gray limestone exterior, redwood docks and blue-green water on 3 sides, it looks like a movie set. And everything in the house is larger than life, from the massive stone fireplace in the great room, to 45-foot ceilings with full-length windows that make the most of the water views, to a wine cellar built into the bedrock, says Hurwitz.
The main house has 5 bedrooms, 8 bathrooms, and 24,000 square feet, he says. It was completed in 2011. There's a guesthouse and a horse barn.
Reason you'll never want to leave home
Seven thousand feet of frontage on Flathead Lake, "one of the cleanest lakes in the world," Hurwitz says. (Not to mention Glacier National Park is a neighbor.)
Best gadget ever
The gizmo that pulls your boat from the water, up a ramp and into the heated boathouse — ensuring that your feet never have to get wet. The owner/builder designed it himself, Hurwitz says.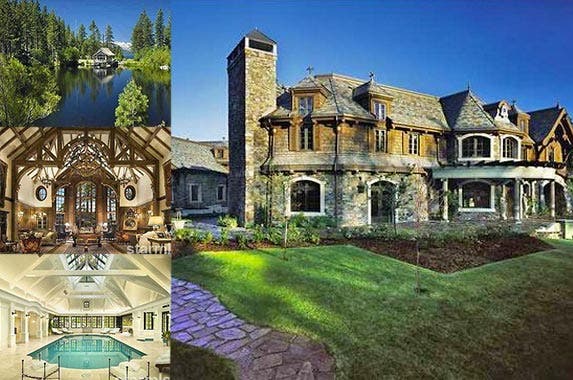 525 Highway 50, Zephyr Cove, Nevada
Realtor.com
Asking price: $75 million
The lowdown
A cabin in the woods — billionaire-style.
The northern European-style home currently not on the market goes by the name "Tranquility," and comes with 210 acres, "which is very rare in Lake Tahoe," says Shari Chase, president of Chase International in Lake Tahoe, Nevada.
Built in 2000, the main house has 5 bedrooms, 7 full bathrooms, 4 half-bathrooms and 20,000 square feet.
Exposed beams and lake views give it that requisite sylvan vibe, while the indoor pool (set in a skylit marbled hall) is straight out of a luxury hotel. And that pool-and-spa area is connected to the main house via a tunnel that just happens to lead past the wine cellar.
Need extra elbow room for the in-laws? The home has a separate 5,000-square-foot guesthouse, complete with a wood-burning fireplace.
Reason you'll never want to leave home
The views. Tranquility also has its own roulette table (in the billiards room); a 19-seat movie theater with popcorn and milkshake machines; a gym with an indoor basketball court, plus 2 (par 3) golf holes.
Rumor has it
The main staircase was inspired by the one in the movie "Titanic," says Chase. "So when you walk in, you have this grand entry that is magnificent."