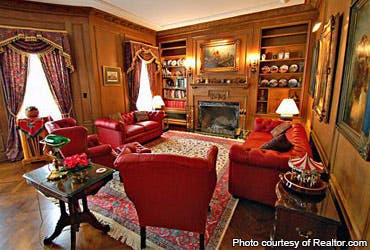 Hey, let's buy a historic house!
You may not be able to travel in time, but you can wake up to your own piece of history every morning.
From homes that sheltered the movers and shakers of the day, to houses that offer structural details and features you just don't find in your average suburban dwelling, historic houses are more than just a place to hang your hat.
If you like the idea of a home with a past, here are five houses for sale — from Vermont to Hawaii, and in a variety of price ranges — that are all listed on the National Register of Historic Places.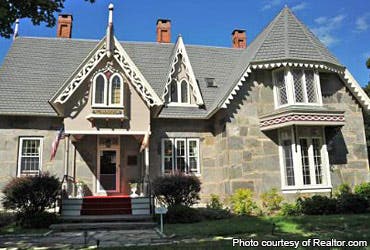 Cavendish, Vt.
Built in 1845, this home — known as "Glimmerstone" — sits on 2.4 acres in Cavendish, about 25 miles south of Woodstock, Vt.
Why it's on the register: Boasting 14 gables, it's an incredible example of Gothic Revival architecture. It was built for Henry Fullerton, who ran a local cloth mill, says Debra Staniscia, broker with Vermont Country Properties — Sotheby's International Realty.
What makes it memorable: "People are blown away by the quality, the architecture and the features," she says. "And the name comes from the mica stone from which it was built — sparkling local stone."
The home, which has gone through a two-year restoration, has its original wide-plank flooring, eight working fireplaces and "beautiful arched hallways," Staniscia says.
Currently a bed-and-breakfast, it can be sold with the commercial-grade kitchen appliances and period furnishings for $1.6 million, or without for $1.2 million, she says.
The lower level also boasts an English pub. And a flagstone patio with fire pit and hot tub is a popular site for weddings, Staniscia says.
The property also has "a huge barn" that is used for events, she says.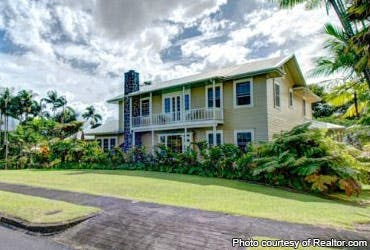 Hilo, Hawaii
This Colonial Revival, built in 1927, sits on just over six-tenths of an acre in Hilo, Hawaii.
Why it's on the register: It's a beautiful Colonial Revival, and the people associated with the home "are major names in our history books," says Donna Duryea, Realtor and salesperson with Hawaii Life Real Estate Brokers.
Commissioned by educators Netti and Levi Lyman, it was designed by noted architect Frank Arakawa.
It was bought by another prominent Hawaiian family, the Carlsmiths, who hired another renowned architect, Vladimir Ossipoff, to renovate it in the 1940s, adding the lanai and porte cochere, says Duryea.
What makes it memorable: This home is "built with such craftsmanship and such care," she says. "The hardwood floors — Douglas fir throughout — are gorgeous. And you've got that beautiful staircase."
It has "high ceilings and the rooms are large," Duryea says. The original double-sash windows "bring in the light."
The den is fully paneled, and the formal dining room has its original 1927 candelabra, she says.
The 4,700-square-foot home has five bedrooms, plus an office and three bathrooms, she says.
The grounds are lushly landscaped, with trees and flowers constantly in bloom, she says.
"I think of this house as queenly," says Duryea. "She's regal, stately and irreplaceable."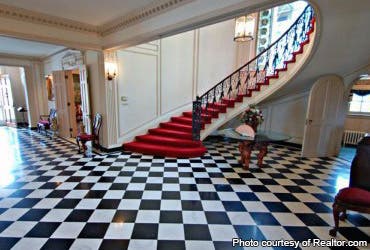 Piqua, Ohio
Known as "Arrowston," this house sits on 6.3 acres in Piqua, about 30 miles north of Dayton, Ohio.
Why it's on the register: Built in 1887, it's a wonderful example of Colonial Revival architecture and is also noted for its landscape architecture. "The family that built it, the Boal family, started Favorite Stove & Range Company," says Stephen Payne, sales associate with Irongate Realtors in Dayton, Ohio.
"Obviously, substantial money went into (it)," he says. "It was the crown jewel of Piqua — still is."
What makes it memorable: "It's like walking into a museum," says Payne.
A spiral staircase rises from the center hall — itself a chessboard of black and white Italian marble. Moldings are "massive," and the ceiling "probably hits 13 feet," he says.
The windows "are pretty much floor-to-ceiling in a lot of the rooms," he says. And the solarium, tucked behind the main staircase, "faces north toward Echo Lake."
The walnut-paneled library has herringbone oak floors and a working fireplace, plus a recessed "bourbon closet" plumbed for water, Payne says.
An industrial-grade kitchen is set up "to entertain large groups," he says.
The oversized pool has a pool house with changing rooms and a three-bedroom apartment. There's also a two-bedroom cottage on the property, plus a six-car garage and a stable.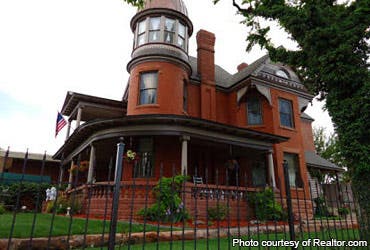 Pueblo, Colo.
This 1891 Queen Anne sits on a tenth of an acre in Pueblo, Colo.
Why it's on the register: An outstanding example of this style of architecture, it's significant because of its first owner, Matthew Galligan, a Pueblo city alderman, judge and developer, says Anna Wade, the owner and an agent with Queen Ann Real Estate.
During a 1921 flood, Galligan let reporters use the third floor to write their articles, according to "Industrial Utopia: The History and Architecture of South Pueblo."
What makes it memorable: It has a turret with a copper dome, a wraparound front porch and all of the original woodwork, made with oak, cherry, mahogany and pine, Wade says.
At 3,382 square feet, many of the rooms run 18 to 20 feet long, she says. The home retains period details, like pocket doors, two original fireplaces, gas fixtures, and solid-wood doors.
It has four bedrooms, 3 1/2 bathrooms and three stairways, including the grand staircase with the original stained glass window, she says.
The third-floor attic was converted into a 1,000-square-foot master suite with a Victorian-style bathroom and claw-foot tub, Wade says. And the kitchen was modernized and upgraded for commercial use, she says.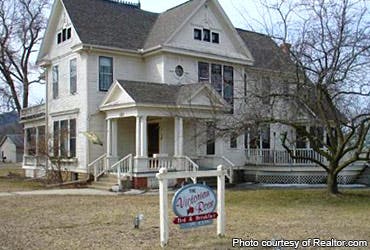 Muscoda, Wis.
This Queen Anne home, started in 1897, sits on three-quarters of an acre in Muscoda, about 60 miles west of Madison, Wis.
Why it's on the register: Built by local lumber baron John Young, it shows off some of the finest hardwoods and construction techniques.
What makes it memorable: While the entire house is a well-preserved glimpse into the 1890s, "the staircase to the second floor is spectacular," says Bill Bartlett, sales agent with AreaWide Realty (in Richland Center). He lives in the house.
"It's an open, all-wood staircase in the grand style," he says. "And it's the first thing you see when you walk in the front door."
The home, currently the Victorian Rose Bed and Breakfast, has period woodwork, large windows, three porches and hardwood floors using a variety of woods, Bartlett says. The formal dining room features a working coal fireplace and period wainscoting. The old-fashioned parlor has an electric fireplace and a "huge chandelier," he says.
The updated kitchen includes an island with sink, double ovens and exposed brick arches.
At 4,400 square feet, the home has three bedrooms, plus a study and four bathrooms, says Bartlett. And the period furnishings are also included with the house.