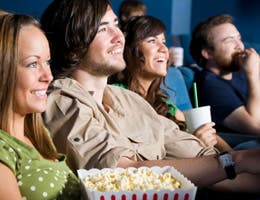 The Oscars: Money lessons from the movies
Many of the movies and stars nominated for Oscars this year represent not only some of 2009's most successful films and talented performers, but offer important lessons about money.
Greed, excessive spending and financial stress play prominent roles in some of the year's best picture nominees, and some characters portrayed by nominated actors depict realistic and unrealistic lifestyles based on their professions.
The "82nd Academy Awards" airs March 7 on ABC. Two of the most talked-about movies — "Avatar" and "Up in the Air" — had the core issue of money and success, says Laurie Hutzler, a Los Angeles-based story and character consultant and founder of ETB Screenwriting.
Here's what those films and others show about money in their plots, characters and sets.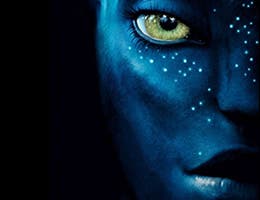 'Avatar'
Nomination: Art direction, cinematography, directing, film editing, music (original score), best picture, sound editing, sound mixing, visual effects
Starring: Sam Worthington, Zoe Saldana, Sigourney Weaver
Synopsis: A paraplegic former Marine gets his legs fixed in exchange for assisting in the conquest of a distant planet — Pandora — and its humanoid inhabitants to get a precious material. But he bonds with the natives and falls in love.
The record-setting film, which received nine Oscar nominations, has astounding 3-D effects and a money-fueled plot.
"The most clear sort of view about money in any movie this year was really 'Avatar,' because it's really a movie about corporate greed versus deeper values that have to do with personal connection," says Hutzler, who also has taught at the UCLA School of Theater, Film and Television.
The greed to uncover a valuable mineral — worth $20 million per kilogram — on the planet that's home to the blue-skinned Na'vi drives the action in the film. The humans perceive that they have a right to the mineral, even to the detriment of the Na'vi. "It, in many ways, reinforces the idea that we don't necessarily have to work hard for riches per se," says Al Martin, an adjunct professor of sociology at DePaul University in Chicago and president of What Works Communications, a marketing communications firm.
'Up in the Air'
Nomination: Actor in a leading role, actress in a supporting role (Vera Farmiga), actress in a supporting role (Anna Kendrick), directing, best picture, writing (adapted screenplay)
Starring: George Clooney, Vera Farmiga, Anna Kendrick
Synopsis: Clooney plays a professional hatchet man who accumulates 10 million frequent-flier miles while crisscrossing the country firing people and trying to convince them that they're somehow better off for it.
One of the most memorable lines from the movie, nominated for six Oscars, comes from Lamorris Conner — one of 22 real-life laid-off workers appearing in the film — who laments being a man "who can't even take my kids to Chuck E. Cheese's."
"In movies, we so rarely get to see the human side of being laid off," Martin says. Some people may dodge spending a Saturday at the noisy children's indoor playground, but dad Conner's sadness — and the candid interviews with other laid-off workers — sheds a different light on the situation, Martin says.
Director Jason Reitman has been praised for including the human perspective that comes with corporate downsizing, a timely topic. Introspective filmgoers can see the importance of having money in savings to handle expenses in the case of a layoff.
"In movies we typically don't talk about that sort of financial struggle," Martin says.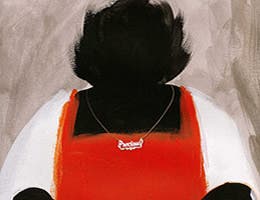 'Precious: Based on the Novel "Push" by Sapphire'
Nominations: Best picture, actress in a leading role, actress in a supporting role, directing, film editing, writing (adapted screenplay)
Starring: Gabourey Sidibe, Mo'Nique, Mariah Carey, Lenny Kravitz
Synopsis: Precious, a pregnant teenager who is overweight and illiterate, struggles to overcome years of physical and verbal abuse from her mother and father as she transfers to another school and finds a chance for a new life through the help of a dedicated teacher and her classmates.
In the film, Clareece "Precious" Jones, played by best actress nominee Gabourey Sidibe, wants to stop the cycle of being an uneducated single mom on welfare. She desires the education that would give her the resources to be able to care for her children better than she was cared for herself, Hutzler says. The movie could encourage people to strive for a path that could lead to financial stability because of the independence it provides.
'A Single Man'
Nomination: Actor in a leading role
Starring: Colin Firth, Julianne Moore
Synopsis: A gay college professor in the early 1960s must hide his grief over the death of his lover in this drama directed by fashion designer Tom Ford.
Best actor nominee Colin Firth portrays an English professor. "While he's got this fantastic house in this suburban neighborhood, in real life, professors don't make that much money," Martin says. "So he's got this fantastic life going on, and at least it's not (implied) that he's an author and does speaking or consulting or anything other than teaching. It's left to (infer) that a professor makes millions."
This is similar to other movies, such as "It's Complicated" and "Sex and the City," that portray unrealistic residences and lifestyles of the lead characters, based on their salaries and professions. Viewers need to resist trying to live the same type of lifestyle, without the availability of Hollywood sets and budgets, and if not, it could lead to overspending and undersaving.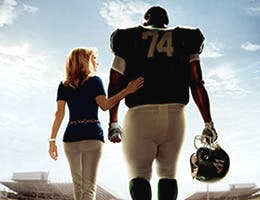 'The Blind Side'
Nomination: Best picture, actress in a leading role
Starring: Sandra Bullock, Tim McGraw, Kathy Bates, Quinton Aaron
Synopsis: When suburban mom Leigh Anne Tuohy spots African-American teenager Michael Oher, a classmate of her children, living on the streets, she invites the young man into their home. The family's stability and encouragement helps him reach his potential as a football player and as an adult.
The film shows what happens when you are willing to share your wealth instead of having an attitude of wanting more, Hutzler says.
"That movie, I think, shows what happens when you value personal connections more highly than profit or preserving your own resources," she says.
But Martin feels it does a poor job of showing the Tuohy family's source of wealth that helped them assist the homeless teenager. Martin points out that few scenes show Leigh Anne Tuohy, portrayed by Sandra Bullock, actually working as an interior designer.
"All we saw was this opulent wealth," he says. "It seemed like her job was a hobby. We never saw the husband at work at all. It's about wealth equaling life of leisure. Once you achieve this wealth, you really don't have to work anymore."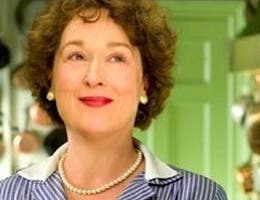 'Julie & Julia'
Nomination: Actress in a leading role
Starring: Meryl Streep, Amy Adams
Synopsis: A frustrated office worker, Julie Powell, is inspired by Julia Child as she tries to create 524 of Child's recipes in 365 days, and blogs about the experience. The movie intertwines the lives of both women, who live in different time periods and different parts of the world.
The film, which gave Meryl Streep her 16th best actress nomination for her role as Julia Child, shows a realistic view with the Queens apartment of blogger Julie Powell, played by Golden Globe nominee Amy Adams.
"She and her (husband) lived in what I think was a realistic New York apartment," Martin says. "That was one of the rare times we see someone who was truly working sort of an everyday mundane job that wasn't glamorized."
It's juxtaposed against the spacious residences where Child lived in France and America with her husband.