Which bank should I choose?
Get personalized bank recommendations in 3 easy steps.
iStock.com/Prykhodov
Whether you're looking for a rental in a new city or want to explore different communities before you decide where to buy your 1st home, it can be tough to sort out some of the details about neighborhoods. You can ask a Realtor, but fair housing regulations prevent agents from making judgments about crime or providing school recommendations. Instead, says Matthew Rathbun, executive vice president of Coldwell Banker Elite in Fredericksburg, Virginia, "We recommend apps that allow consumers to gather independent data and to get answers to questions that we as agents may not be able to answer."
And while you're searching for the right neighborhood, shop mortgages on Bankrate.com.
Here are 4 apps that provide neighborhood information.
GreatSchools Finder
"GreatSchools is beneficial for families because at the touch of their fingertips, they can find all the public and private schools in the area, their ratings, enrollment size, and most importantly, reviews," says Taylor Corey, a Realtor with Coldwell Banker Residential Real Estate in Coral Gables, Florida. "Having reviews from other parents that have experienced the school firsthand is truly invaluable."
GreatSchools Finder is available for iOS. Users of that and other mobile operating systems may use the GreatSchools.org site.
HomeFacts
HomeFacts provides information about the safety of a neighborhood, including crime rates, registered sex offenders, school information and ratings, and earthquake and tornado risks, Rathbun says.
"I suggest that 1st-time buyers download the app to their phone and pull it up on Saturdays or Sundays when they find themselves driving aimlessly through areas," Corey says. "You never know when they might find a neighborhood they were unfamiliar with. It's fabulous for them to have such crucial information at their fingertips. Some buyers of mine were extremely interested in a home until they used HomeFacts and found out that the home next door was previously a drug lab. They decided to look elsewhere, but without this information, they would have moved forward toward purchasing this property."
HomeFacts is available for Android and iOS.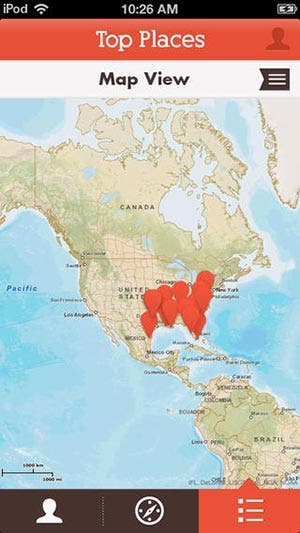 Credit: Dwellr
Dwellr
"Dwellr is a great app that utilizes Census Bureau data to give the buyer about 40 different statistics about a community," says Rathbun. "You start by answering a few questions, and the app then helps you find communities that match your profile."
Corey says she uses it when buyers ask about demographics such as the percentage of families with children in an area.
Dwellr is available for Android and iOS.
AroundMe
"When you're in a new area, finding the right restaurant, club or coffee shop is important. But when buying, knowing how far the hospital, supermarket and pharmacy are is an important part of the buying process," Rathbun says. "AroundMe does a great job of helping you find those locations and many more. When you do find the type of location you're looking for, AroundMe gives you current pricing, directions, details and more to help you make a quick choice."
Corey says she likes to use it with clients at a home they're considering buying because they can find out within seconds how long it will take to get to a grocery store and restaurants, which helps them have a better grasp of the neighborhood.
AroundMe is available for Android, iOS, and Windows 8 and 10.