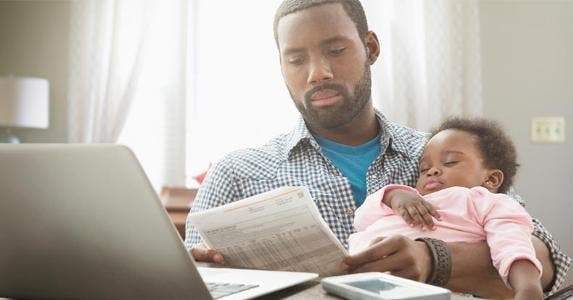 When comparison shopping for a personal loan, it's important to look at more than just the interest rate. You need to look at the annual percentage rate, as well, because many lenders — particularly online firms — charge an origination fee.
That fee doesn't show up in the interest rate, but it is included in the APR.
RATE SEARCH: Let Bankrate.com help you find the best personal loan rates today.
Interest rate
The interest rate is the cost of borrowing the principal loan amount. It is expressed as a percentage.
Annual percentage rate
The APR is a broader measure of the cost of a loan because it reflects the interest rate as well as other costs such as an origination fee. The APR is also expressed as a percentage. Under the Truth in Lending Act, lenders are required to disclose the APR to borrowers.
Here's an example of how this works.
I applied for a personal loan recently at both Prosper and Lending Club, 2 of the biggest online lenders. Prosper offered me an interest rate of 5.32% on a 36-month loan, while Lending Club quoted me an interest rate of 6.97%.
While it appears Prosper holds the edge when it comes to the cost of the loan, the interest rate here doesn't tell the whole story. That's because both lenders charge an origination or closing fee, which is deducted from the loan amount.
Prosper charged me $20, Lending Club $35. Expressed in the APR, those fees bumped the total cost of the loan up to 5.99% for Prosper and 9.39% for Lending Club.
Using APR, that slight edge became a commanding lead for Prosper.
"This is why it's important to comparison shop on the basis of APR because it puts everything on an apples-to-apples basis," says Greg McBride, CFA, Bankrate's chief financial analyst.
Who charges origination fees
I reviewed the fee policies of about a dozen companies that offer personal loans online. Most of them charge an origination fee. That fee can range from about 1% to as much as 6% of the loan and is based on creditworthiness and the length of the loan term. Borrowers who are deemed a credit risk will pay a higher origination fee.
Along with comparing APR among lenders, you should compare the origination fee they plan to set for your loan. You may get quoted very different fees from one lender to the next.
When I applied for a personal loan, Prosper said it would charge me 1% of the loan, while Lending Club set the fee at 3.5%.
Comparison of origination fees various lenders charge

| Lender | Origination fee |
| --- | --- |
| Avant | 1.75% to 3.75% |
| CircleBackLending  | 0.99% to 4.99% |
| CommonBond  | 2% on new student loans; no fee on refinanced loans |
| Discover  | None |
| LightStream | None |
| Lending Club | 1% to 6% |
| Pave | 1% to 6% |
| Payoff | 2% to 5% |
| Peerform | 1% to 5% |
| Prosper | 0.5% to 4.95% |
| SoFi | None |
| Upstart | 1% to 6% |
Source: Lender websites
Both lenders who charge an origination fee and those that don't say they set their policies in the name of transparency.
Payoff, a Costa Mesa, California-based lender that focuses exclusively on loans to consolidate credit card debt, says on its website: "Some companies don't charge an origination fee and bundle it into your loan. The origination fee covers our costs and helps us continue to build our missing and future empowering services."
RATE SEARCH: Find a personal lender today.
No fee? You're still paying
Yep, Payoff is telling the truth.
"Whether you pay the fee directly or out of the loan proceeds, either way you're paying the fee," McBride says.
Lenders either make their money right away through the upfront fee or over time through interest depending on their business model. That's why comparing APRs is the best way to learn which loan is right for you.
What to look out for
So which is better: paying the fee upfront or paying it throughout the life of the loan? It depends.
McBride says having the fee taken out of the loan proceeds may be the only way some people can afford to take out a personal loan.
"For a lot of borrowers, it's much more convenient to have it come out of the loan proceeds simply because they may be strapped for cash to begin with," he says.
But Dan Matysik, vice president of personal loans for Discover, says borrowers may be surprised how much of a bite an origination fee can take out of the size of the loan.
"It can be a substantial amount of money to the consumer," he says.
To avoid that shock, either take out a loan that carries no origination fee or plan to borrow more than you need to cover the fee. For example, if you want to borrow $5,000 to consolidate debt, ask for $5,264 to cover the 5% origination fee.
If you plan to pay your loan off before the end of the term, you may want to consider a loan that doesn't carry a fee. There are no refunds for origination fees, but if it's included in the price of your loan, you'll get a discount if you pay off the loan early.
RATE SEARCH: Choose a personal loan lender today.