Economist Lindsey Piegza made a tough call a couple of years ago. Straying widely from conventional thought at the time, she predicted the Federal Reserve wouldn't raise interest rates until 2016.
As the central bank has hesitated to lift rates from record-low levels, much of the rest of the world has come around to Piegza's way of thinking. Fed policymakers meet this week, and it's widely expected that they'll keep rates right where they are.
---
What are the chances the Fed will raise rates at this week's meeting?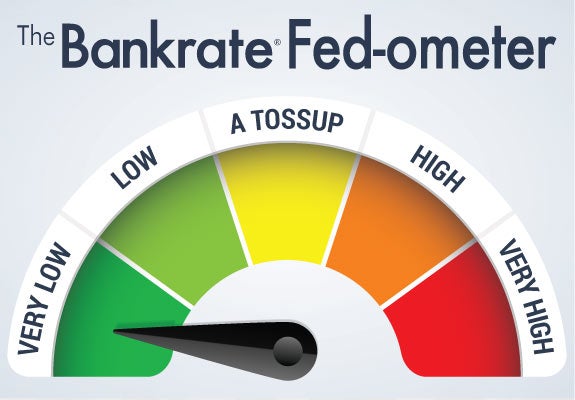 Source: Bankrate.com Oct. 1 Market Mavens survey of top investing professionals
---
Piegza, with Stifel Nicolaus & Co., says she feels vindicated. "We stuck to our guns, and we looked at what the data was telling us," she says. "We looked at what our models were predicting, and we stuck with it."
In December, the central bank will have 1 more opportunity to raise rates in 2015. Piegza says she believes her no-rate-hike-until-2016 forecast remains the right call.
As rates remain low, savers will continue to see miserly returns, but borrowing will remain cheap for those who qualify. And Wall Street should continue to get some benefit from the Fed's so-called accommodation.
Signs point to further delay
Low inflation, global economic weakness and a bout of financial market volatility prompted the self-proclaimed "data-dependent" Fed to take a pass on raising rates in September.
Interest rate futures suggest that traders believe the Fed won't raise rates this year. Since last month's meeting of the Federal Open Market Committee, hiring has slowed, and U.S. manufacturing is faltering in the face of weakness abroad and the strong dollar. Piegza says the central bankers must acknowledge these factors as they huddle this week.
"We are seeing positive job gains, but the momentum has slowed," she says, adding that the Fed must acknowledge all of that. "They are not blind."
Saying that this week's meeting is "too soon" for a rate hike, economist Gus Faucher with PNC Financial Services Group also believes the Fed has to bow to less-than-robust data. "They'll mention the recent weaker jobs data but emphasize that the fundamentals for job growth remain solid and that the economy is approaching full employment," he says.
Fed officials sounding more cautious
While 13 of 17 Federal Reserve officials indicated in September that rates could rise this year, a number of them have recently expressed increased caution.
Fed Governor Lael Brainard now says the central bank ought to take a position of "waiting to see if the risks to the outlook diminish." Fellow Governor Daniel Tarullo was recently even more blunt when he told CNBC, "I wouldn't expect it would be appropriate to raise rates" this year.  
Fed Vice Chairman Stan Fischer said earlier this month that while policymakers remain likely to raise rates in 2015, that is "an expectation, not a commitment." Fischer cautioned that the outlook could shift if economic conditions weaken. Similarly, Federal Reserve Bank of New York President William Dudley told a group that if growth, employment and inflation perform as expected, he'd back a rate hike this year.
But Dudley pointed to signs that the U.S. economy is sputtering and said bloated inventories, the robust dollar and weak growth abroad are slowing things.
Rates lower for longer?
Whether they were talking about the Fed's benchmark federal funds rate or other key rates tied to U.S. Treasury bonds and notes, analysts have been forecasting higher interest rates for the past couple of years. And they've been wrong.
So when are we likely to finally see the 1st rate hike since 2006? Fed officials and other experts have often said the timing is unimportant and that what matters instead is that rates will rise only gradually over the next couple of years. If that holds true, it has substantial implications for the future direction of equity markets and borrowing and savings rates, among other things. The recent recovery in stock prices has occurred as expectations for an immediate rate increase have diminished.
Fed policymakers indicated in September that the federal funds rate (currently parked at 0%-0.25%) would likely remain between roughly 1% and 2% in 2016. But Federal Reserve Board Chair Janet Yellen noted to reporters that the Fed's "actual policy actions over time will depend on how economic conditions evolve, which is quite uncertain."
The problem with a go-slow approach
Even so, the Fed, with its low-rate forecasts, risks looking wrong if there's a flare-up of inflation or stronger-than-expected economic growth, says economist David Jones, president and CEO of DMJ Advisors, a Denver-based financial and economic consulting firm.
"What if data suddenly picks up sharply and even threatens a little bit of inflation after all of this period of low inflation?" asks Jones, who served as an economist for the Federal Reserve Bank of New York in the 1960s. "That means that rate hikes might have to be more severe."
The global economy hasn't allowed growth or prices to heat up, however. As her forecasts of a slow economic recovery have been shown to be correct, economist Piegza says she has received a number of emails and phone calls from her former detractors who now admit that they blew it with their predictions, because interest rates still haven't budged.