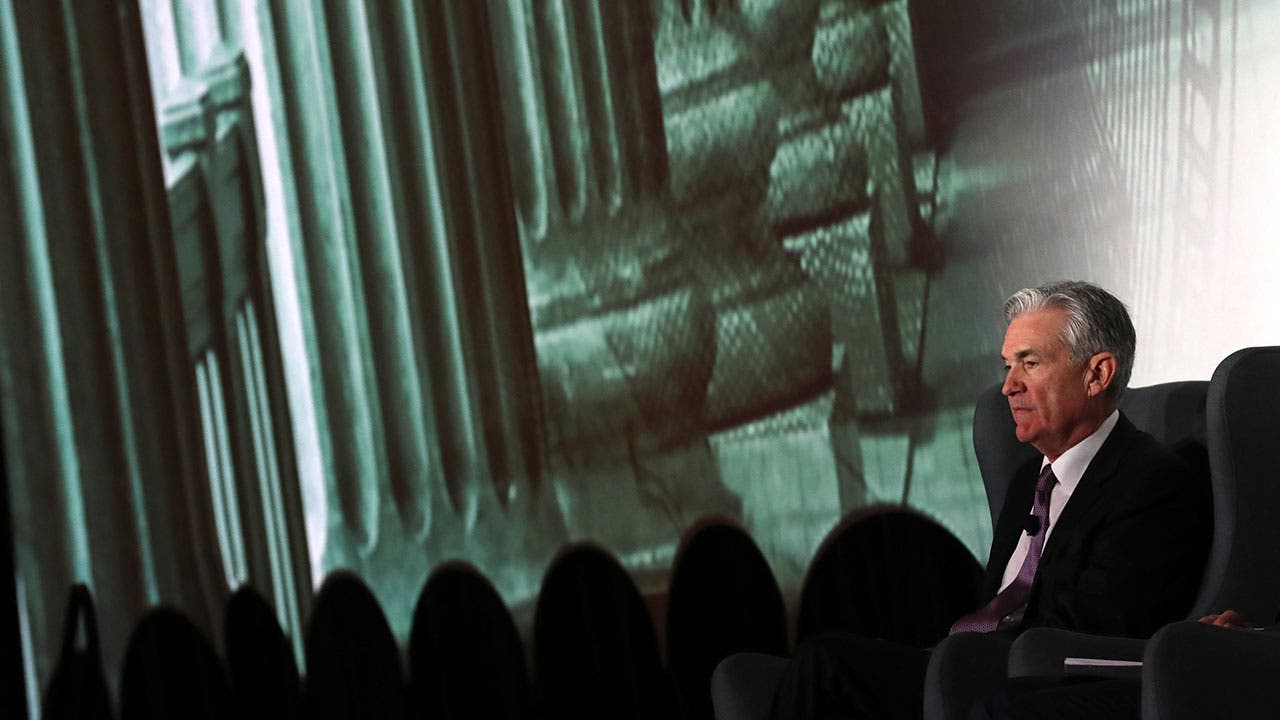 The Federal Reserve might be taking a page out of the Charles Dickens playbook.
Amid Brexit uncertainty, trade tensions and slowing growth abroad, officials on the U.S. central bank's Federal Open Market Committee (FOMC) are reiterating that they're in no rush to raise interest rates, after hiking borrowing costs four times last year and calling for a median estimate of two more in 2019.
That messaging comes even as Chairman Jerome Powell insists that the economy is "strong" and that the outlook remains "favorable," with an unemployment rate near the lowest level since 1969 and inflation below the Fed's 2 percent objective.
It's a policy reversal for the Fed, and it has economists thinking that the central bank is experiencing the best of times and anticipating the worst of them – "A Tale of Two Cities" style.
"It seems as if the Fed is telling us, 'Don't worry. Be happy,' but they're preparing for Armageddon," says Ward McCarthy, chief financial economist at Jefferies. "It's kind of a confused message. Jerome Powell went on '60 Minutes' and painted a pretty rosy picture, but then the Fed seems to be preparing policy as if they're afraid of land mines."
What to watch for at the Fed meeting
This new approach of risk management will serve as the backdrop for the Fed's upcoming March 19-20 policy meeting. Market participants are betting that the Fed will hold rates steady, according to CME Group's FedWatch tool, as officials continue to repeat their favorite buzzword: "patience."
But just because it won't cost you more to borrow money, doesn't mean you should hit the snooze button.
Fed officials will update their Summary of Economic Projections, which will show how central bankers expect the economy to perform moving forward. They'll also update their highly scrutinized "dot plot," a graph that shows where each Fed official expects the fed funds rate to be throughout various lengths of time. Meanwhile, the Fed is getting closer to finalizing its balance sheet runoff – and could be announcing a plan at this meeting.
These topics – and more – could all come up during the Fed's second policymaking of the year.
Data shows economy facing "cross-currents"
If there's one major difference between the March and January meetings, it's that the stewards of the world's largest economy aren't flying blind anymore. Fed officials finally got their hands on some key figures that were delayed during the lengthy government shutdown.
The Department of Commerce released gross domestic product (GDP) for the fourth quarter, which showed that the U.S. economy cooled by less than expected. Its performance during the final three months of 2018 also brought President Donald Trump close to his full-year growth target of 3 percent.
The Fed's preferred gauge of inflation, meanwhile, was also updated. Prices continued to hold below the Fed's 2 percent objective, coming in at 1.9 percent in December.
Powell said he'd like to see inflation become more of a concern if the Fed is going to lift rates again.
"I would want to see a need for further rate increases, and, for me, a big part of that would be inflation," Powell told journalists at the January press conference. "It wouldn't be the only thing, but it would certainly be important."
Policymakers are also armed with another jobs report, but it showed some mixed signals. The unemployment rate in February edged down to 3.8 percent from 4 percent, while wages grew by the fastest pace of the expansion. Job creation, however, nearly stalled. Employers in the U.S. added only 20,000 new positions to its payrolls, the slowest pace of hiring since September 2017, according to the Department of Labor.
At the same time, threats are also coming from abroad. The European Central Bank slashed its growth forecast to 1.1 percent from 1.7 percent, as Italy and Germany report slower than expected growth. The U.K.'s exit from the European Union is still up in the air, while trade tensions between China and the U.S. are still unresolved.
These developments seem to have solidified to Fed officials that an interest rate increase is still not the right move for the U.S. economy, which is poised to reach its longest expansion on record this year.
"With nothing in the outlook demanding an immediate policy response, and particularly given muted inflation pressures," Powell said at an economics summit at Stanford University, "the Committee has adopted a patient, wait-and-see approach to considering any alteration in the stance of policy."
All eyes turn to the dot plot
Even though the Fed appears to be on hold, one aspect is still largely uncertain: how long it will last.
Minutes from the Fed's last policymaking meeting reveal two diverging camps, with one group of Fed officials saying the economy will likely still be strong enough to support more increases and the other side saying more will be only warranted if there's a pickup in inflation.
"Many participants suggested that it was not yet clear what adjustments to the target range for the federal funds rate may be appropriate later this year," the Fed said in its record of the January policy meeting.
Consumers will soon get more clarity, when the Fed updates its Summary of Economic Projections at the end of this next meeting.
This report will offer a new forecast for unemployment, inflation and gross domestic product. It also will show where officials think the fed funds rate will be a year from now, through a heavily analyzed chart: "the dot plot."
Fed watchers will be closely looking at the dot plot to see just how many officials still expect more hikes this year, says Julia Coronado, president and founder of MacroPolicy Perspectives, who used to work for the Fed's board of governors.
"What do they signal with the dot plot? Is there still a hiking bias? Or will that patience extend through 2019?" Coronado says. "It's hard to say where the bias lies."
Officials had originally estimated in December that two more increases were in store for this year. The recent tone shift threw that prediction out the window.
The Fed will most likely lower its forecast, if the communication shift is any guide, says Ryan Sweet, director of real-time economics at Moody's Analytics who also heads its monetary policy research. But if not, markets are going to be on edge, he says.
"Powell and other Fed officials, particularly within the core of the FOMC, have really raised the bar," Sweet says. "Not only is it solid gross domestic product growth that they're looking for, but inflation needs to accelerate, and some of these downside risks need to abate. That's a high hurdle. If the Fed doesn't lower its projections for the number of rate hikes, there would be a reaction in markets."
The dot plot will also be a way that the Fed memorializes its patience, according to Constance Hunter, chief economist at KPMG.
"We know that the Fed verbally changed its stance," Hunter says. "Now we're going to see what the Summary of Economic projections says."
Balance sheet normalization
The balance sheet normalization process is also likely to be a hot topic. Cleveland Fed President Loretta Mester said a plan could be finalized as early as this meeting, and New York Fed President John Williams said in an interview with Reuters that he expects the Fed will finish selling off its assets by the end of this year.
The balance sheet normalization process refers to the Fed's recent efforts to sell off the large number of Treasuries and mortgage-backed securities that it started buying a decade ago, to keep the economy from plunging into the abyss from the Great Recession, a process known as "quantitative easing."
(READ: Everything you need to know about the Fed's balance sheet – and how it could impact you)
But more details about the ultimate size of the balance sheet are going to be important, according to Jefferies' McCarthy. The Fed hasn't been clear about the ultimate size it will end up at, though they have said it will be significantly larger than before the Great Recession, to account for the significantly larger amount of reserves that banks keep in accounts at the Fed.
"They kind of leave you hanging," McCarthy says. "They haven't given even a remotely adequate explanation of why they're pre-announcing the end to a balance sheet roll-off when they haven't even addressed the issue of what's the ideal neutral size of the balance sheet. That's a bit peculiar."
But all in all, it's to be expected that the balance sheet is "permanently massive," he said.
The balance sheet is now around $3.97 trillion, after reaching as high as $4.5 trillion during the thick of the financial crisis, according to the Federal Reserve's board of governors.
Large balance sheets and low interest rates could spell trouble
Historically low interest rates and consistently bloated balance sheets are just going to be the new normal for the Fed, this new strategy of risk management suggests. But that could pose issues for the economy during another downturn.
Typically, the Fed raises borrowing costs in a strong economy to prevent it from overheating. When the economy contracts, the central bank lowers rates to revive it.
The Fed typically needs about 500 basis points – or five percentage points – to adequately stimulate the economy in a downturn, Sweet says. The fed funds rate is currently in a range of 2.25 percent and 2.5 percent.
"We may be lucky to have around 300 (basis points)," Sweet says. "I don't think a recession is imminent, but we're not ready. Given that we just went through a round of fiscal stimulus, the burden is going to fall on the Fed, and their traditional lever is the fed funds rate. The Fed is going to have to think outside the box again."
But that means quantitative easing is just going to be part of the new normal for the Fed, Sweet says.
"I'm not a fan of the idea of raising rates just so you have more room to cut them in the future. If you do a risk management approach, you keep the economy on firm footing and the Fed can sneak in a rate hike from time to time," Sweet says. "But this autopilot of one rate hike every meeting – those days are over. The policy response for the Fed is going to be much more complicated."
That doesn't mean it's time to panic. When interest rates are as low as they are, every .25 percentage point cut has even more power than the other, says Coronado.
"If you think of it in percentage change terms, when rates are low, then you don't need as much of an increase to be restrictive," she says. "You don't need as much of a cut to add stimulus."
Fiscal stimulus could also take a new form, she says. Congress could stimulate the economy by instituting an emergency unemployment insurance benefit program, for example, as it did during the last recession.
"Fiscal policy does need to play a role," she says.
But the bottom line is, it's confusing that the U.S. central bank has continued to say the economic outlook is favorable, at a time when it's also too afraid to hike rates, according to McCarthy.
"Take a step back. It's the lowest unemployment rate since the late 1960s. You have very tame inflation. You would think the Fed would be delighted with this," McCarthy says. "This has been set against a backdrop of an era that has consistently been plagued with perpetual pessimism. Unfortunately, that has tinted the Fed's glasses."
Learn more: