nRewards® Secured review
At Bankrate we strive to help you make smarter financial decisions. While we adhere to strict editorial integrity, this post may contain references to products from our partners. Here's an explanation for how we make money.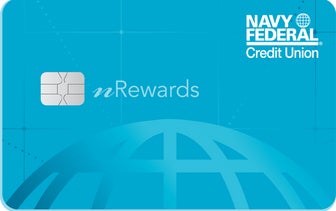 Recommended Credit Score
Bad to Fair (300 - 670)

A FICO score/credit score is used to represent the creditworthiness of a person and may be one indicator to the credit type you are eligible for. However, credit score alone does not guarantee or imply approval for any financial product.
Annual Fee:

$0

Purchase Intro APR:

N/A

Regular APR:

18.00% (Variable)
Bankrate Rating
Our writers, editors and industry experts score credit cards based on a variety of factors including card features, bonus offers and independent research. Credit card issuers have no say or influence on how we rate cards.
This card offer is currently unavailable on Bankrate. To see more cards in this category, please visit our bad credit category page.
The nRewards Secured card from Navy Federal Credit Union offers this rare combination: It pays credit card rewards to those who are also working on rebuilding their credit. That's something you'll find with just a handful of secured credit cards.
Review
If you're looking for a secured credit card it typically means one of two things:
What sets the nRewards Secured card apart is its lack of fees coupled with its award-earning potential. For every $1 spent, you'll earn 1 point, worth about 1 cent when you redeem it for merchandise or gift cards through Navy Federal's portal.
It's not uncommon to see secured cards that charge an annual fee, a processing fee or sometimes a combination of both. The nRewards card skips these charges. Navy Federal Members can open an account with only a security deposit, starting at a minimum of $500, and using that amount as the line of credit.
Lower fees are an important benefit because any upfront cost you have to pay will instantly reduce your purchasing power and chip away at your credit utilization ratio, which can negatively impact your score.
For example, if you put down $500 to get a secured card from another issuer, but you're charged a $50 annual fee and a $75 one-time processing fee, you will only have $375 worth of credit left.
The no-fee structure of the nRewards card will give you a better chance of using your credit line responsibly so you can build up a stronger credit profile over time. The card also doesn't charge foreign transaction fees — another plus, especially for Navy Federal members in the military who are stationed overseas.
Perhaps best of all, this card also has one of the lowest APR rate ranges we've seen for a secured card. The variable APR ranges from 9.99% to 18.0%, depending on what you qualify for, meaning you could be charged less interest than on many unsecured cards.
But you need to pay your bill on time or you'll be subject to a variable penalty APR of 18.0%, which will apply until you make at least six consecutive monthly payments on time, plus a late fee of up to $20.
Keep in mind that only credit union members can apply for this card. Eligibility is restricted to those who serve or have served in the military or are an immediate family member of someone in the military.
If you meet that criteria, the nRewards card is an outstanding choice for a secured credit card.
Who should get this card
Anyone who qualifies for Navy Federal Credit Union and wants a fee-free, low-interest secured card.
Advantages
This card has lower-than-average interest rates.
Unlike most secured cards, this card pays rewards.
There's no fee to own this card.
Disadvantages
Rewards can't be redeemed for cash.
There's no option to graduate to a secured card.
There is a penalty APR with this card.
Fees and APR
The variable APR for purchases and balances transfers is 9.99% to 18.0% based on creditworthiness.
Minimum security deposit is $500.
There are no annual fees, balance transfer fees or foreign transaction fees.
A penalty of 18.0% may apply if you miss a payment. You'll also be charged a $20 late fee.
Extras, perks and using points
Card owners have access to Visa discount coupons.
Rewards expire four years from the month in which they were earned. Earnings can only be redeemed for gift cards or merchandise through the Navy Federal portal.