Home Depot Credit Card review
Siobhan Neile
in
0% Interest
How we rate our cards
|
Bankrate.com is an independent, advertising-supported comparison service. The offers that appear on this site are from companies from which Bankrate.com receives compensation. This compensation may impact how and where products appear on this site, including, for example, the order in which they may appear within listing categories. Other factors, such as our own proprietary website rules and the likelihood of applicants' credit approval also impact how and where products appear on this site. Bankrate.com does not include the entire universe of available financial or credit offers.
Bankrate has partnerships with issuers including, but not limited to, American Express, Bank of America, Capital One, Chase, Citi and Discover.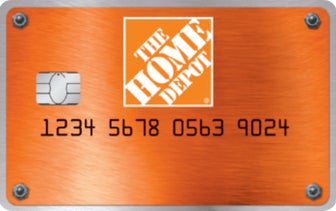 Recommended Credit Score
Good to Excellent (670 - 850)

A FICO score/credit score is used to represent the creditworthiness of a person and may be one indicator to the credit type you are eligible for. However, credit score alone does not guarantee or imply approval for any financial product.
Annual Fee:

$0

Purchase Intro APR:

N/A

Regular APR:

See Details, Rates & Fees
Terms and Restrictions Apply
This card offer is currently unavailable on Bankrate. To see more cards in this category, please visit our fair credit category page.
The Home Depot Credit Card is one of a few big brand-name home improvement credit cards out there. With no annual fee and a 0 percent introductory rate on financing for the first six months to two years (for purchases over $299), this card might not be a bad choice for people who struggle with credit, as it's pretty easy for people with average credit to open.
And as long as you keep the card open and in good standing, you don't have to use it for regular purchases, which is a great way to build credit over time and get to a place where you can be approved for a better credit card.
However, like many store credit cards, missing payments or underpaying your Home Depot card bill can have expensive consequences, such as high interest charges retroactively tacked on to your purchase amount. With no ongoing rewards and high penalties for mistakes, many people might choose to open a non-branded alternative.
Best for building credit or financing short-term home improvement projects
This card is best for Home Depot loyalists, as well as people who are looking to build or improve their credit at a lower cost. With no annual fee or minimum balance requirements, cardholders can practically forget about it and still reap the benefits of building credit.
The Home Depot card is also a smart option for financing big home improvement or renovations projects for the home, patio or backyard. With one-year hassle-free returns, cardholders get a full 365 days to return purchases for a full refund, which offers DIY-ers both convenience and peace of mind.
Rewards Rate: N/A
Welcome Offer: New cardholders can get a discount of $25 to $200 on their first purchase, depending on how much they spend
Annual Fee: $0
Purchase Intro APR: New cardholders pay 0 percent interest for 6-24 months on purchases of $299 or more.
Balance Transfer Intro APR: N/A
Regular APR: Between 17.99% and 26.99% variable
Current sign-up bonus/welcome offer
As an incentive for new cardholders, the Home Depot card offers a small sign-up bonus, but it's less than what many similar cards offer. What new cardholders do get is a discount of $25 to $100 off their first purchase, depending on the amount spent. This could be good news for a strapped-for-cash college student, but maybe not so much for a well-established professional.
This card also offers an introductory 0 percent APR for between 6 and 24 months on purchases of $299 or greater (17.99 percent to 26.99 percent variable APR thereafter), depending on your credit standing. Again, this offers some wiggle room for financing, but can carry high interest penalties for one small payment mistake.
Rewards
It wouldn't be unusual to assume a big brand store like Home Depot would offer credit card rewards for spending money on their most expensive items. After all, home improvement projects can quickly add up, and with more people spending time at home, remodeling projects are on the rise.
Unfortunately, that isn't the case. This card doesn't offer any ongoing bonuses or rewards program, which means many cardholders will end up using a different rewards credit card for those bigger purchases. If you're looking for points on the dollar, you won't get that here.
Benefits
Some might argue the biggest benefit this card offers is its low barrier to entry. With fairly easy approvals and a $0 annual fee, it can be smooth-sailing for someone with less-than-great credit.
The Home Depot card is also a good choice for people looking for an initial purchase discount on home improvement projects and some financing breathing room.
Here are some more of the card's biggest perks:
Deferred interest
One nice benefit of this card is the ability to defer interest for up to six months on purchases greater than $299. For cardholders who need a little more time to pay off major purchases, this can be a practical option—but only if you actually pay off the balance in full and on time.
While it's a great perk to be able to put off paying interest on big-ticket items, if you underpay or pay late, even by a little, you'll get hit with a high-interest fee, added to your original purchase—which could be a credit destroyer in the long run for some.
Special financing during promotions
Another advantage is the ability to get special financing for up to 24 months—but this is applicable only during special promotions, which may or may not help depending on your project's timeline. In this case, deferred interest penalties also apply, so if you don't pay off the balance in full at the end of the promotion, you'll be subjected to a high-interest fee getting added to your purchase.
Rates and fees
As far as credit card fees go, the Home Depot card is middle of the road. While it doesn't charge an annual fee or any other type of maintenance fee, the high interest charges you can rack up for late or missed payments can be steep.
How the Home Depot Credit Card compares to other Home Depot and store credit cards
Generally, store credit cards aren't known for offering the best value, thanks to their high APRs. But for true Home Depot fans, the Home Depot card makes sense. Without that annual fee and some extra time to pay off bigger home improvement purchases, it's almost a no-brainer for regular shoppers.
However, compared to Home Depot's other credit card, the Project Loan Card, and another similar store card, the Lowe's Advantage Card, this card clearly falls short.
Home Depot Credit Card
Home Depot Project Loan Card
Lowe's Advantage Card
Annual fee
$0
$0
$0
Welcome offer
$25-$100 off first purchase
Credit line up to $55,000 for all project purchases (must be made in first six months)

20% off purchases (up to $100 discount)
12 months special financing for appliances, heating, ventilation and AC installation)
Both offers expire on 1/31/21

Intro APR
0% APR for the first 6 to 12 months
0% APR on purchases of $299 or greater
N/A
APR
17.99%-26.99% (variable)
Four fixed APR payment options up to 90 months, starting as low as 7.99%
N/A
Rewards or other benefits

Refunds on purchases for up to one year
Deferred interest for six to 24 months, depending on purchase amount and credit standing

No down payment required
Co-signer allowed
Up to 90 months to pay off loan

Options:

5% discount on purchases, or
Deferred interest for six months on purchases greater than $299, or
Fixed APR financing options up to 84 months
Best cards to pair with the Home Depot Credit Card
Since this card doesn't offer regular bonuses or an ongoing rewards program, many cardholders will want to use it along with their regular cash back or rewards card. And because this card works only at Home Depot, it makes sense to have a different credit card that earns rewards or wait to build credit with this card before opening up a better card.
Bankrate's take—Is the Home Depot Credit Card worth it?
The Home Depot card could be a decent choice for some people, depending on their credit situation. For those looking for a great rewards card, however, this isn't it.
This card is best for die-hard Home Depot brand lovers who are going to shop at Home Depot on a regular basis no matter what, as well as those who might face challenges opening a credit card with better benefits.
Regardless, anyone who opens this card will need to be mindful of making payments on time.
Pros
No annual fee
Easy to get approved
0% APR financing for up to six months
Cons
No ongoing bonuses rewards or rewards program
High variable APR
Deferred interest can lead to high penalty fees