Discover it® Student chrome review
At Bankrate we strive to help you make smarter financial decisions. While we adhere to strict editorial integrity, this post may contain references to products from our partners. Here's an explanation for how we make money.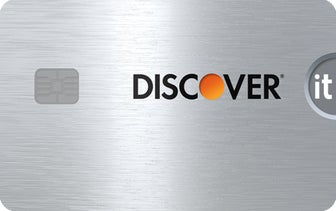 Recommended Credit Score
No Credit History

A FICO score/credit score is used to represent the creditworthiness of a person and may be one indicator to the credit type you are eligible for. However, credit score alone does not guarantee or imply approval for any financial product.
Best for good grades rewards
Annual Fee:

$0

Purchase Intro APR:

0% for 6 months

Balance Transfer Intro APR:

10.99% for 6 months

Regular APR:

12.99% - 21.99% Variable
Bankrate Rating
Our writers, editors and industry experts score credit cards based on a variety of factors including card features, bonus offers and independent research. Credit card issuers have no say or influence on how we rate cards.
Best for students getting a first card
Rewards rate: 2 percent cash back at gas stations and restaurants on up to $1,000 in combined purchases each quarter; 1 percent cash back on all other purchases
Welcome offer: Match all cash back earned at the end of your first year
Annual fee: $0
Purchase intro APR: 0 percent for six months
Balance transfer intro APR: 10.99 percent for six months
Regular APR: 12.99 percent to 21.99 percent variable
Rewards are hard to find when shopping for a starter card. But the Discover it Student chrome has quite a generous rewards structure, making it an interesting option among starter credit cards for students.
Also attractive are the benefits, value and security features of this card, which have been customized for college students' needs.
Current sign-up bonus
A popular mainstay on Discover's cards for good credit, the unlimited Cash Back Match intro offer is one of the most attractive features of the Student chrome card. Discover will match all cash back you earn during the first year. There are no minimum spending requirements or cap on how much the card will match. Since bonuses on other student cards are typically minimal, if at all available, this is a particularly generous offer.
Plus, having the first six months' intro offer for purchases interest-free (ongoing 12.99 percent to 21.99 percent variable APR thereafter) to finance any necessities at college might make this card attractive enough all on its own. Parents will appreciate students having a bit of breathing room while getting settled and learning the credit card ropes. Just pay the balance in full after the first six months, or interest can quickly negate all the cash back benefits you'll earn.
Cash back
Earning cash back is easy with the Discover it Student chrome, as it provides rewards for common student spending categories.
Earning cash back
Students can earn 2 percent cash back at gas stations and restaurants (up to $1,000 in combined quarterly purchases) and 1 percent cash back on all other purchases.
Outside any rewards you'll earn from spending or the annual $20 statement credit for the Good Grades Reward (for up to the next five years you have a 3.0 GPA or higher), the only other way to earn cash back is through Discover's referral bonuses. Eligible cardmembers will receive a $50 to $100 "Refer-a-Friend" statement credits (annual maximum listed in your card terms) if their friend applies via your specific offer link by the end of the year. Even better, referred friends will also receive a bonus statement credit after making a purchase within their first three months.
Redeeming cash back
Your cash rewards will never expire while your account is open and in good standing. You can redeem for cash back at any time, use them instantly at Amazon.com or opt for a variety of other redemption options. If you decide not to choose cash back for any reason, your next best option would be to choose a partner merchant gift card since Discover adds 5 percent to 20 percent extra value to each card, depending on the merchant. You must have at least $5 of cash back rewards in order to choose a gift card, however, since they range from $5 to $200 in $5 increments.
The full list includes these redemption options:
Electronic deposit into any eligible account you designate
Statement credit to your account
Physical or digital gift cards to partner merchants
Pay with cash back at select merchants
Charitable donation to select charities
Benefits
Discover's annual Good Grades reward is a unique value, but for students new to their starter card, credit education resources and account protection benefits can be invaluable.
Good Grades Reward
The Student chrome card's Good Grades Reward is another helpful student-centric perk. Each school year that your GPA is 3.0 or higher, for up to the first five years you hold the card, you'll receive a $20 statement credit.
Account protection
With the Discover it Student chrome, the account essentially has an on/off switch available through the mobile app or website called "Freeze it," which will prevent any cash advances, purchases and balance transfers with your card.
Free credit score access and protection
Easily view your FICO credit score on monthly statements or on demand. When you activate free alerts, Discover will notify you if:
Your Social Security number is found on one of thousands of dark web sites.
Any new credit card, mortgage, car loan or other account shows up on your credit report.
Anyone pulls your credit, so you can recognize possible fraud.
Rates and fees
This card has no annual fee and no foreign transaction fee.
Discover also forgives your first late fee if you fall behind on one payment (None the first time you pay late. After that, up to $40). Paying late won't raise your APR, and you won't incur a fee if you happen to exceed your limit. After excusing that first late payment, the fee going forward is up to $40. If you're just getting the hang of credit card payments, these perks provide a valuable safety net the first time you slip.
Cash advance fees are either $10 or 5 percent of the amount, whichever is greater.
Finally, balance transfers have a fee of 3 percent intro balance transfer fee, up to 5 percent fee on future balance transfers (see terms*), with a 10.99 percent intro APR balance transfer offer for the first six months. After that, the variable APR of 12.99 percent to 21.99 percent applies.
How the Discover it Student chrome compares to other low-interest cards
When looking for the best student credit card, it's important to weigh your options.
The Discover it Student chrome card will be a solid candidate for many students looking to establish credit and manage their own finances. Earning and redeeming rewards is easy with this card and can help stretch a student's budget.
But if you already have some credit experience and you want to practice earning rewards, and you don't mind tracking the revolving door of categories, you may benefit more from the Discover it® Student Cash Back.
Alternatively, the Journey Student Rewards from Capital One has a flat rate of cash back on all purchases, so you don't have to keep track of bonus categories at all.
Best cards to pair with the Discover it Student chrome
Where this card falls a bit short is for students planning to study or vacation abroad. Discover cards aren't as widely accepted outside the U.S. as some other cards are. If that's the case, other student credit cards might be better suited for your lifestyle.
Bankrate's Take—Is the Discover it Student chrome worth it?
The answer is yes if you are a student looking to establish your credit history and take advantage of cash back rewards that are quite uncommon for student credit cards. Plus, the intro purchase APR period, Good Grade Rewards, and low rates and fees provide excellent incentives for students to build up their grades and GPA.
However, it's worth noting that if you have a study abroad coming up, you should see if Discover is accepted in the areas you'll visit. Although there are no foreign transaction fees, Discover has a marginally lower international acceptance rate than larger card networks like Visa and Mastercard.
Pros
No annual fee, foreign transaction fees or penalty APR
Excellent cash back reward program for a student card
Unlimited dollar-for-dollar match of cash back earned in the first year
Annual $20 statement credit incentive for good grades
First late fee waived (None the first time you pay late. After that, up to $40)
Cons
Lower international acceptance history
A few other student cards have higher rewards, such as the Discover it Student Cash Back card