Citi Simplicity® Card review
At Bankrate we strive to help you make smarter financial decisions. While we adhere to strict editorial integrity, this post may contain references to products from our partners. Here's an explanation for how we make money.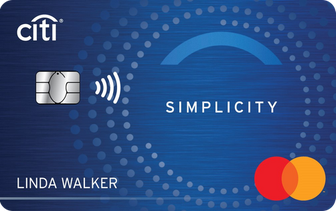 Recommended Credit Score
Good to Excellent (670 - 850)

A FICO score/credit score is used to represent the creditworthiness of a person and may be one indicator to the credit type you are eligible for. However, credit score alone does not guarantee or imply approval for any financial product.
18 months 0% intro APR | Best for no late fee
Annual Fee:

$0

Purchase Intro APR:

0% for 18 months on Purchases

Balance Transfer Intro APR:

0% for 18 months on Balance Transfers

Regular APR:

14.74% - 24.74% (Variable)
Terms and Restrictions Apply
Bankrate Rating
Our writers, editors and industry experts score credit cards based on a variety of factors including card features, bonus offers and independent research. Credit card issuers have no say or influence on how we rate cards.
Citi is an advertising partner
Citi Simplicity® Card: Details and benefits
If you have credit card debt to pay off, the Citi Simplicity Card is one of the best balance transfer credit cards available since it offers one of the longest zero percent APR periods on balance transfers available. You receive an 18-month zero percent intro APR on balance transfers made within the first four months of owning the card (14.74 percent to 24.74 percent variable APR after that). You'll also receive 0% intro APR for 18 months on purchases from date of account opening (14.74 percent to 24.74 percent variable APR thereafter)
With this no annual fee card's exceptionally long low-interest offer comes a balance transfer fee of $5 or 3 percent of the amount of each transfer, whichever is greater. Though some balance transfer cards don't charge a balance transfer fee, the Citi Simplicity is unique in that it won't charge late payment fees or subject you to a penalty APR. These might not save you as much money as waiving a transfer fee would, but they can still provide a valuable safety net in case you tend to forget your payment due date occasionally.
There's no rewards structure, but if getting one of the longest available intro APRs on the market provides you the necessary breathing room to pay off your debt, the sacrifice may be worth it.
Advantages
No annual fee
The card offers one of the longest low-interest periods available on balance transfers
You won't pay any late fees or be subject to a penalty APR if you pay late
Disadvantages
There is no rewards structure or welcome bonus
The balance transfer fee is $5 or 3 percent, whichever is greater
There's a 3 percent foreign transaction fee on purchases made outside of the United States
Is the Citi Simplicity Card worth it for you?
The Citi Simplicity is a great option for those who need a longer introductory period for balance transfers, but the balance transfer fee may be enough to sway you in the direction of another card. Although the 3 percent ($5 minimum) fee is a perfectly average rate, you might be better off with a no-balance-transfer-fee card like the Chase Slate if your transfer fee would outweigh the interest on a smaller balance.
Considering it isn't a rewards card and doesn't offer a sign-up bonus, it probably won't offer much value after your balance is paid off. If earning rewards for your purchases is a top priority for you, a card like the Citi® Double Cash Card offers both an 18-month zero percent introductory APR on balance transfers (then 13.99 percent to 23.99 percent variable APR) and the opportunity to earn 2 percent cash back on every purchase (1 percent as you buy and an additional 1 percent as you pay for your purchase). If you want more long-term value from a balance transfer credit card, this is one of the best flat-rate cash back cards on the market, so it's definitely worth hanging onto.
If you're forgetful or have a history of occasionally missing credit card payments, the Citi Simplicity's lack of late fees or a penalty APR may make it a great option for you. You also have the option to choose your payment due date, which can be helpful for those who are more dependent on their paycheck schedule.
The card also serves as a tool to pay off large purchases with a top-tier 18 month zero percent introductory APR on new purchases, and the 14.74 percent to 24.74 percent (variable) ongoing APR is below the current average interest rate to boot.
Get the most value from the Citi Simplicity Card
For a credit card without a rewards rate, welcome bonus or fancy perks, the Citi Simplicity offers several helpful protections and services.
The card comes with $0 liability protection on unauthorized charges made to your account, as well as Citi® Identity Theft Solutions. You can rest even easier knowing your account is secure with automatic account alerts and 24/7 customer service for any questions related to your account.
Balance transfer example
Say you have $5,000 in credit card debt and transfer your balance to the Citi Simplicity. With the 18-month zero percent intro APR balance transfer offer, our credit card balance transfer calculator shows that you'll pay around $278 a month for 18 months without owing additional fees in interest (14.74% – 24.74% Variable APR thereafter). You will owe a balance transfer fee of $150, though.
Though this fee is high, it may be significantly lower compared to the interest you'll pay without the card. If you attempt to chip away your debt on a card with a variable 16 percent interest rate at the same $278 monthly payment, according to Bankrate's Credit Card Payoff Calculator, it'll take 21 months to pay off since you'll take on an extra $755 of interest.
The information about the Chase Slate has been collected independently by Bankrate.com and has not been reviewed or provided by the card issuer.