AARP® Credit Card from Chase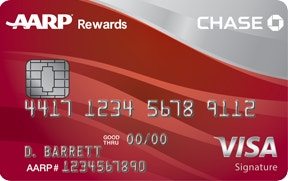 AARP® Credit Card from Chase
Regular APR
16.24% to 22.99% Variable
AARP Credit Card from Chase Overview
The *AARP Credit Card from Chase offers sizable rewards for people who love to eat out and fill up at the gas pump. The 3% cash back rewards on restaurant and gas purchases is better than what most rewards cards offer. Plus, cardholders don't have to jump through hoops to figure out the points system as there are no category spending requirements or limits on how much you can earn.
A deeper look at the current card offer
If you want to sidestep costly fees and earn meaningful rewards on gas and restaurant spending, then take a peek at the AARP Credit Card from Chase, which ticks those boxes. Not only will you get 3% cash back rewards in these areas, but you will also get 1% cash back on everything else.
One of the major advantages is that there's no annual fee, so you can enjoy this card without worrying about whether or not you're earning enough rewards to compensate for the cost.
New cardholders also will get a $200 bonus after spending $500 on purchases in the first three months from account opening. This sign-up bonus is only available for people who do not own this credit card and have not received a bonus for this credit card in the past 24 months.
One unique and feel-good feature is that for each restaurant purchase you make on the card, Chase will donate $0.10 to the AARP Foundation in support of Drive To End Hunger. Not only will you benefit from spending, but you can also help a good cause.
Fees and APR
There's no annual fee.
The variable APR is on the high side, between 17.24% and 23.99% based on creditworthiness.
The variable balance transfer APR is also between 17.24% and 23.99%.
Cardholders who make late payments will be charged a late payment fee of up to $15 if the balance is less than $750 and up to $35 if the balance is $750 or more.
The balance transfer fee is either $5 or 3% of the amount of each transfer, whichever is greater.
If you use the card outside of the U.S., you will have to pay a 3% foreign transaction fee.
Extras, perks and using rewards
Cardholders will get free access to the purchase protection program, which covers your new purchases for 120 days against damage or theft, up to $500 per claim and $50,000 per account.
The zero liability program protects you from unauthorized charges made with your card or account information.
The complimentary extended warranty protection plan adds an additional year to the time period of the U.S. manufacturer's warranty; this is good for eligible warranties of three years or less.
The points' value changes depending on how you use them. You can choose cash back as either a statement credit or direct deposit into a savings or checking account, put them toward an AARP membership or use them to buy gift cards. Redeeming your points this way gets you $0.01 per point, which is $1 per 100 points.
Or you can choose to put your rewards toward travel through the AARP Everyday Rewards Program, which increases your points' value to $0.0112 or $1.12 per 100 points.
Is the AARP Credit Card from Chase worth it?
People who want a card that gives them above average points on gas and restaurants without an annual fee will love this card. You can park it in your wallet and not worry that you're spending more on fees than you're earning in points.
Although there are cards that offer better rewards and bigger sign-up bonuses, it's not easy finding one that doesn't charge an annual fee.
*The information about AARP® Credit Card from Chase has been collected independently by Bankrate.com. The card details have not been reviewed or approved by the card issuer.