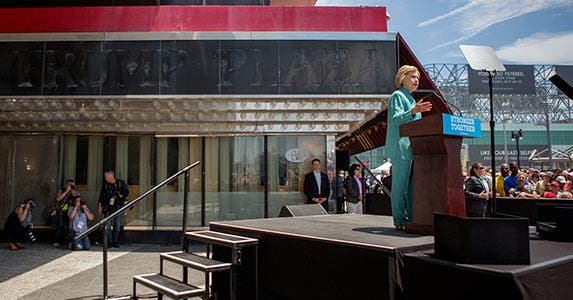 How investors view the campaign
Fewer than 120 days remain until we vote for our next president. As Americans take a closer look at the presumptive nominees of the 2 major political parties, Bankrate posed these questions in a recent Money Pulse survey:
How would a Hillary Clinton or Donald Trump win affect how you buy stocks?
Will the candidates' investment histories be an important factor in how you cast your vote for president?
Check out what we found.
RATE SEARCH: Looking for somewhere to park your cash? Open a money market account today.
Does investment history matter?
Opinion is divided on whether to consider how a presidential candidate invests. The way Hillary Clinton once made nearly $100,000 investing in cattle futures or Donald Trump's many real estate ventures do not seem to carry much weight with some voters.
22% of Americans say the investment history of the presidential candidates is not at all important.
But 66% of older millennials (26-35) believe a White House hopeful's investing track record is either very or somewhat important.
Craig Streaman, a freelance digital marketer in Los Angeles, believes how a candidate invests is "absolutely" an important consideration. "It will weigh in on my vote this November," he says.
But a president's investment history does not easily translate into high or low stock market returns during an administration, notes Mark Hebner, president of Index Fund Advisors in Irvine, California. "We'd have to go back and look at a bunch of presidents, and find some correlation and try to find some factors — and there are so many factors," he says.
Invest more under Trump?
A Trump win would whet few investing appetites — just 9% say they'd be more inclined to invest if he is elected, according to Bankrate's survey. Also:
About 6 in 10 Americans say a Trump victory would have no bearing on whether they buy stocks.
64% of younger millennials, ages 18 to 25, say a Trump victory would make no difference in their investing strategy.
24% of respondents overall say they would be less likely to buy stocks if Trump wins.
"I would sell my securities and buy gold and keep cash," says 71-year-old Michael Lewis, a retiree in Dallas. "I have no doubt his election would trigger a massive market decline as well as a depression unless Congress reins him in."
But Robert Sollars, 55, a security trainer in Scottsdale, Arizona, believes any market rumbles after a Trump victory would be similar to the Brexit vote: "It went down nearly 1,000 points, and (now) it's regained more than half what it lost," he says.
Invest more under Clinton?
A Clinton win in November might be greeted by the same kinds of shrugs from investors as a Trump victory, Bankrate's survey indicates.
64% of people say it would make no difference to their investment strategy if Clinton is elected.
9% say a Clinton win would make them more motivated to invest more in stocks — the same percentage that we found when we asked the question about a Trump triumph.
19% say if Clinton is elected, they'll be less inclined to put money in the stock market, slightly less than the 24% who said they'd feel that way if Trump wins.
Lewis, the retiree in Dallas, says the former secretary of state is more moderate in her views than Trump, so he'd stand pat on his investing strategy under a President Hillary Clinton.
Paul Trowe, a 45-year-old video game publisher in Austin, Texas, thinks there will be a small rally if Clinton wins, because she "has taken a lot of money from Wall Street banks to keep reform off the table, and will be as kind to the banks as President Obama has been."