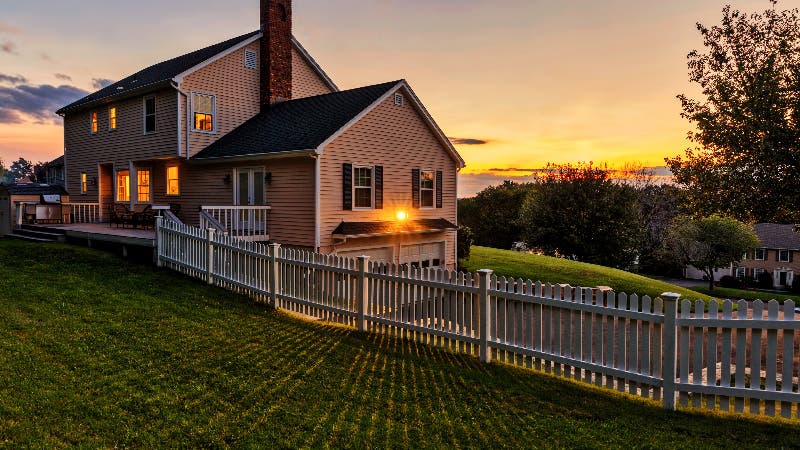 Buying your own house isn't just about having a place to call your own. The equity that you build as you pay down your mortgage will be an essential component of your financial security in the future.
It's easy to feel overwhelmed, however. Buying a home may be the most expensive purchase you ever make. So, what will you need to do to get the homebuying process underway? Simply put, you'll need money for a down payment. But how much will you need, and when will you need it? And what will you need to be prepared for later on?
How much house can I afford?
Only you know for sure how many bedrooms, bathrooms and square feet you need, but that's not the only information you'll need to know as you begin the process of shopping for a house. You'll want to keep on top of current mortgage and refinance rates, which fluctuate frequently.
Next, you'll want to determine what you can realistically pay every month. An online calculator will help you understand how much you can afford in a monthly mortgage payment.
You will want to consider all of your expenses when doing the math. You may earn a certain amount of money per month, but do you have monthly car payments? Credit card debt? Do you make child support payments? Deduct those expenses to figure out the mortgage payment you can actually afford to make.
"The general rule of thumb is that your monthly mortgage payment should not exceed 25-28 percent [of] your annual income, divided by 12," said Jeff Rose, certified financial planner and founder of Good Financial Cents. "So, for example, if you make $60,000, your monthly mortgage payment should not exceed $1,250."
For potential homebuyers, Rose recommends including property taxes, mortgage insurance, and homeowners insurance into that calculation, too.
"You might have a principal and interest payment of $1,250 per month but need an additional $400 a month to cover taxes and insurance," he said. "Now, your true monthly payment is $1,650."
As for the down payment, its size affects the monthly payments you'll make during the duration of the loan.
"How fast you want to pay off the home will determine your payments," said Chuck Czajka, chief executive of Macro Money Concepts. "PMI [private mortgage insurance] is usually required if you don't have enough of a down payment. Generally, 20 percent is required to avoid mortgage insurance."
How to save for a home
Depending on your time frame, you have several options when it comes to saving up for your first home. These can include parking money in a savings account, a money market account or a certificate of deposit (CD).
Whichever kind of account you choose, making your savings grow steadily can be challenging. It means creating a budget and sticking to it, and many people may already feel stretched thin as it is. However, there are simple steps you can take to make sure you're doing everything you can to build up your savings.
1. Practice paying with a savings account
"My best advice to first-time homebuyers is to practice having a mortgage," said Danielle M. O'Brien, broker and owner at Parkway Real Estate in West Roxbury, Massachusetts. "Practice paying this new amount each month, by way of savings account, and see what you have to go without to make this happen. Is it daily coffee runs? Weekly dinners? The movies? A car payment? Whatever they are, one should ask themselves, 'Is this realistic for my lifestyle?'"
2. Get a side hustle
If you've done this exercise but you're still falling short of your goal, it may be time to think about earning extra money.
"You may not want to commit to a second job, but you can find flexible side hustles that you do when you want to do them," said Andrea Woroch, a personal and family finance specialist. "For instance, you can earn up to $1,000 extra every month by pet sitting in your own home through sites like Rover.com."
3. Consult with a pro and consider paying off some debt
Finally, if you're still not saving as much money as you need, get help from a professional.
"If someone is considering becoming a first-time homebuyer, they really should have a true professional consultation with a mortgage adviser to help them identify their buying power in their existing status," according to Pat Holland, vice president and branch manager of Embrace Home Loans. "They can help you understand if saving for a down payment is as important as possibly paying off some debt. Either one may have a better impact on your availability to purchase a home because of a lower debt-to-income ratio or an increased credit score."
Learn more: