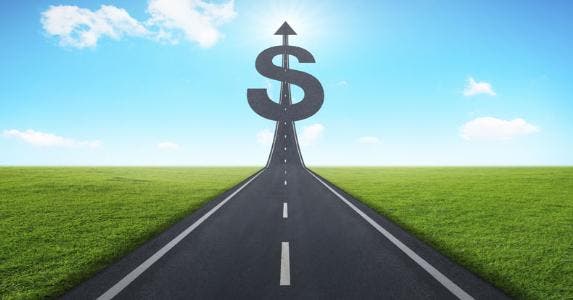 As bank rates hold steady near record lows, many consumers are frustrated with minuscule interest rates on traditional savings accounts.
However, the low risk of a savings account doesn't have to equate with the low-yield interest rates on savings offered at the nation's big banks.
5 ways to beat puny rates
Check out high-yield checking.
Are you in the market for a money market?
Invest in a secure CD.
CD laddering brings better returns.
Money market funds: low-risk but not insured.
You can find higher interest rates on a variety of alternatives to the traditional savings account, if you know where to look. Bankrate has assembled some options for you to consider, including the risk and reward that comes with each.
You will have to check for the most up-to-date rates at Bankrate.com or the bank's own website. The rates included here are correct as of the date of publication.
Check out high-yield checking
The deal: High-yield checking accounts include FDIC insurance and the benefits of standard checking accounts, with the bonus of higher interest rates.
The risk: Next to nothing, but there are additional restrictions.
Bankrate's 2010 High-Yield Checking Study spotlights high-yield programs with interest rates from 1.5 percent to 4 percent. However, the study shows these programs typically include monthly account requirements such as direct deposits and frequent debit card usage to earn higher rates.
The reward: An annual percentage yield, or APY, of up to 4 percent.
"It's a very attractive product for not only existing customers, but new customers as well," Brad Sturm, president and CEO of Coulee Bank in Wisconsin, says of his bank's Rewards Checking account.
Started in mid-2007, Coulee's Rewards Checking account pays customers a 3.33 percent APY — a big increase from the bank's 0.25 percent rate on traditional savings accounts. Customers must meet three minimum monthly requirements to qualify for the increased rate: make at least 10 debit card transactions, receive electronic rather than paper statements, and have one direct deposit or automated clearinghouse, or ACH, auto debit transaction over $1.
Customers who fail to meet monthly checking account minimums still earn money, just at the slower pace of 0.1 percent, Sturm says. To find the best checking account rate, use Bankrate's rate table.
Bankrate's High-Yield Checking Study quotes rates as of March 2010, but has a list of banks that offer high-yield checking accounts.
Are you in the market for a money market
The deal: Most high-yield money market accounts are FDIC-insured, but many high-yield money market accounts include balance minimums and additional requirements to receive higher interest rates.
The risk: Fewer account privileges.
Before you browse for high-yield money market accounts, consider your spending habits. The Federal Reserve Board's Regulation D restricts the number of total withdrawals you can make from your money market account via online banking and telephone banking to six transactions per month.
The reward: Better-than-average earnings.
Some online savings accounts can compare with interest rates on money market accounts that are currently hovering above 1 percent, but the most competitive money markets include additional bonuses. Searching the Bankrate money market account tables, one online bank gives new accounts an introductory rate of 2.25 percent for the first three months; a second money market account includes 2,500 bonus miles on any airline if you deposit more than $500 in the first month.
Use Bankrate's money market account comparison chart to find the best interest rates available.
Invest in a secure CD
The risk: Banks charge early withdrawal penalties.
Failing to understand your near-term financial needs can cost you, according to Bankrate's 2010 CD Early Withdrawal Penalty Study. As much as 92 percent of banks surveyed use part of the account's principal for early withdrawal penalties. Some also charge a percentage of the CD value.
The reward: Longer terms equal higher interest rates.
CDs are available in term periods of three months to five years with interest rates as high as 2.71 percent for five-year CDs. Customers concerned with withdrawal penalties might look at Ally Bank's 11-month No Penalty CD, which has a 1.32 percent APY.
"We wanted to make sure that the customer doesn't have to jump through hoops when he needs the money," says Ally spokeswoman Beth Coggins.
While some banks offer no-penalty programs, Bankrate Senior Financial Analyst Greg McBride, CFA, warns these rates may be sharply lower than traditional CDs.
"Make sure you're not giving up too much on the front end just to have the option of raising the rate," McBride says.
Use Bankrate's CD comparison tool to find the best CD rates.
CD laddering brings better returns
The deal: CD laddering spreads your money across a range of bank certificates of deposit with different terms and fixed interest rates.
The risk: Locking yourself into low rates.
Building a CD ladder in a struggling market can leave some of your money stuck in a long-term, low-rate certificate of deposit. Consider the average for a five-year CD today (1.71 percent) versus the same CD just two years ago (3.56 percent).
The reward: Diversification helps you take advantage of varied interest rates.
In a CD ladder, you invest some of your money at the highest rates available while keeping a portion of your funds in more readily accessible certificates of deposit for terms of three months to 12 months. This method keeps a portion of your funds invested in the market's highest interest rates at all times.
McBride offers simple advice to beginners for CD laddering in today's low-rate climate, instructing them to focus on CDs with shorter terms. When interest rates begin to climb again, McBride says savers should extend their ladders into longer terms to increase their annual percentage yield.
If you're uncertain about laddering, you can estimate your earnings with Bankrate's CD ladder calculator.
Money market funds: low-risk but not insured
The deal: Offered at brokerage firms and some banks, money market mutual funds are uninsured, short-term investments in relatively low-risk securities such as U.S. Treasury bills and bank certificates of deposit.
The risk: Potential loss of principal.
While money market fund investors aim to maintain a balance that never dips below $1 per share, these funds are not FDIC-insured. The SEC's new rules for money market funds establish a greater degree of protection for your money, but falling rates can lead to money market fund losses.
The reward: Monthly dividend payouts with interest rates that are typically higher than savings accounts. Some money market funds are also tax-exempt, which leaves the IRS out of the equation.
"Historically, the average money market fund has out-yielded the average bank deposit account by over 1 percentage point," says Robert Litterst, portfolio manager of Fidelity Investments Money Market Funds.
Litterst says money market funds offer other benefits such as check-writing privileges and readily available cash via ATM access. When rates rise again, money market funds can provide a competitive alternative to other low-risk account options.
Banks, brokerages and mutual fund companies offer money market mutual funds.