SchoolsFirst Federal Credit Union Review 2022
AT A GLANCE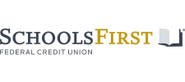 SchoolsFirst Federal Credit Union is a good option for any California school employee or family member, particularly those who are interested in share certificates with attractive yields or who want to do their banking with minimal fees.
SchoolsFirst Federal Credit Union is California's largest credit union. It has low minimum balances and most SchoolsFirst accounts come without a monthly fee.
What we like
Yields on CDs are highly competitive, especially at the highest balance tiers.

There are no fees or low fees on most types of accounts.

Members have access to over 28,000 fee-free ATMs.

SchoolsFirst offers online bill pay and mobile banking tools such as check deposit.
What we don't
Branches are limited to California.

Membership is limited to those who work in or have a connection to California's educational system.

Higher savings account and money market yields can be found at other financial institutions.
OTHER CHECKING OFFERS YOU MAY LIKE

Member FDIC
Checking account
SchoolsFirst FCU offers a Free Checking account, the product scored for this review, with no minimum balance requirement or monthly service fees. It does not earn interest. Customers have access to more than 28,000 surcharge-free ATMs through the CO-OP Network of credit union ATMs. There's a $1 surcharge for using an out-of-network ATM.

The credit union's $22 overdraft fee is lower than what some other institutions charge, and SchoolsFirst charges no more than three overdraft fees each day.

The credit union also offers an Investment Checking account that earns some interest. It comes with a $3 fee, but the fee is waived when you maintain at least $1,000 in the account or if the account holder is at least 62 years of age. Both checking accounts require $25 to open, though the minimum is waived for school employees.
There are no monthly fees on the Free Checking account.

You'll get access to tens of thousands of fee-free ATMs.

The overdraft fee is lower than the national average and there is a cap on the number of daily overdraft charges.
The Free Checking doesn't reimburse ATM fees for out-of-network transactions.

The free account earns no interest.
SchoolsFirst Federal Credit Union offers CDs, known as share certificates, with terms ranging from one month to five years. There are four balance tiers: $500, $20,000, $50,000 or $100,000. APYs rise for each balance tier.

The minimum deposit for opening a share certificate is $500. Jumbo share certificates are also available if you have at least $100,000 to deposit. An IRA certificate is available for customers interested in using a CD to help save for retirement.
There are a wide variety of terms available.

Higher rates are offered on higher balances.

Only $500 is needed to open an account.
To earn the highest rate available, you'll need to deposit at least $100,000.

There are no bump-up or no-penalty CDs.
Members who want a higher yield than the one tied to the Share Savings account can open the Liquid Advantage Money Market account. The minimum deposit to open the account is $2,000.

Interest rates for the Liquid Advantage MMA are tiered. Savers with larger balances qualify for a higher yield. Account holders must maintain a daily balance of at least $2,000 or the dividend rate converts to the lower rate associated with the Investment Checking account.

Certain withdrawal transactions, such as online transfers or check writing are limited to six a month. But members can make unlimited withdrawals or transfers through ATMs, at branche or by mail.
There are no monthly service fees to worry about.

The Liquid Advantage MMA allows limited check writing and unlimited withdrawals at branches and ATMs.

Savers with bigger balances can earn more.
The minimum opening deposit is $2,000 is higher than many other banks or credit unions.

Yields are better than the credit union's standard Share Savings account, but not as attractive as most of its share certificates.

The APY drops significantly when the minimum $2,000 balance isn't maintained.
OTHER SAVINGS OFFERS YOU MAY LIKE
A Share Savings account is required for membership at the credit union. It can be opened with as little as $5, and the $5 minimum must be maintained to remain a member and avoid monthly fees. The account features unlimited deposits and withdrawals. The account balance earns interest, but the rate on the credit union's savings is below the national average.

In addition to the Share Savings account, the credit union offers a My Club custom savings account that lets savers set aside money for special goals for a defined term.
The Share Savings account has no monthly fees.

There is no limit on deposits and withdrawals.

The minimum balance requirement is only $5.
You can easily find higher rates at other credit unions and online banks.
Bank experience
SchoolsFirst Federal Credit Union has more than 60 branches and more than 28,000 fee-free ATMs through SchoolsFirst and CO-OP ATM networks. Members who want to get in touch with a representative can send a message through the live online chat, contact the credit union by phone or mail, or visit a branch. Representatives can be reached by phone 7 a.m. to 7 p.m., Monday through Friday, and 9 a.m. to 3 p.m., Saturday.

Members can send and receive money via Zelle. The credit union also offers a favorably rated mobile app, online bill pay, account alerts and mobile check deposit.

SchoolsFirst Credit union also provides access to financial workshops and offers online tools and calculators to help members pay off credit card debt, reach savings goals and determine how much they need to save for retirement.
About SchoolsFirst Federal Credit Union
SchoolsFirst Federal Credit Union was founded as Orange County Teachers Credit Union in 1934. At the time, 126 school employees came together to help support each other during the Great Depression. In 2008, Orange County Teachers Credit Union became SchoolsFirst Federal Credit Union, which provides financial products and services to California school employees and their families.

SchoolsFirst is headquartered in Southern California. It also supports the communities it serves through donations, scholarships, fundraising events and financial literacy programs.
René Bennett is a writer for Bankrate, equipping readers with the knowledge they need for best saving practices. He reports on personal finance and, as someone coming out of college, understands how difficult it can be to make choices about money, so he endeavors to make navigating those choices as straightforward as possible. With a background in writing and a bachelor's degree in English from New York University, René is devoted to balancing clarity of style with accurate and informative content in his reporting. He has written on a number of topics, from savings accounts to roller coasters.