Discover Bank Review 2019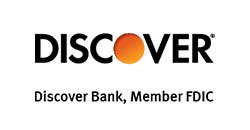 Amanda Dixon is a senior reporter covering banking. Prior to joining Bankrate, she served as a writer and editor for SmartAsset, a New York-based fintech startup. Originally from the metro Atlanta area, she's a University of Georgia alum. She enjoys providing an inside look into what banks and credit unions are up to and offering tips and tricks to help consumers save money and build wealth at every stage of their financial lives. Follow her on Twitter: @amandaadixon.
Discover Bank is an online institution within a financial services company offering various products, including credit cards, personal loans and student loans.
ABOUT OUR REVIEWS
The experts at Bankrate are continually researching, reviewing, and rating banks to help you objectively compare and choose institutions that fit your needs. To support our constant research we sometimes receive compensation from links you choose to click on.
Bankrate's overall ratings for financial institutions comprise weighted averages up to five stars of five main categories: customer service, savings accounts, checking accounts, money market accounts (MMAs) and certificate of deposit (CDs).
The Bankrate editorial team compiles publicly-available company data as well as information from the government organizations like the Federal Deposit Insurance Corp. for our review of each financial institution. App ratings are obtained from iTunes and Google Play. The interest rates, branch densities, fee amounts and other data was collected in fourth quarter 2018 and first quarter 2019.
When a financial firm offers more than one checking, savings or MMA accounts, Bankrate reviews the account with the highest APY. Each bank is evaluated based on the 12-month certificate of deposit (CD) it offers.
All reviews are prepared by Bankrate staff. Opinions expressed therein are solely those of the reviewer and have not been reviewed or approved by any advertiser. The information including rates and fees presented in the review is accurate at time of publication. Check the bank's website for the most current information.
Top offer
Non-Interest Checking Account
Member FDIC

About Discover Bank
The Discover card made its debut in the mid-1980s when Sears, Roebuck & Co. still offered financial services. Sears' bank, the Greenwood Trust Co., was later renamed Discover Bank in 2000. It is headquartered in Greenwood, Delaware.
Discover has grown to become one of the largest credit card issuers in the country. As a retail bank, it offers CDs, checking and money market accounts and a high-yield savings account.
Discover Bank is a great option for consumers hoping to manage their credit cards and bank accounts in one place. You're better off banking elsewhere, however, if you want wider access to bank branches or deposit accounts with higher yields.
Pros
Discover customers have access to a full suite of financial products and services.
Checking account offers cash back when its debit card is used for everyday purchases.
As a credit card issuer, the company consistently ranks high in customer satisfaction.
Account holders can pay credit card bills and check bank accounts through the same app and website.
No monthly fees for keeping any of the bank accounts open.
Cons
Yields are competitive but low compared with what other online banks offer.
Only a couple of brick-and-mortar branches are available.
No opportunity to earn interest through the checking account.