Discover Bank Review 2022
Updated December 6, 2022
At Bankrate we strive to help you make smarter financial decisions. While we adhere to strict , this post may contain references to products from our partners. Here's an explanation for .
At a glance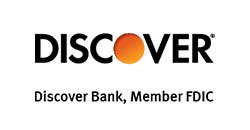 About Bankrate Score
Hover for more
Overview
Discover Bank is a great option for consumers who want to manage their credit cards and bank accounts in one place.
Highlights
High APY
No Monthly Fees
24/7 Customer Service
Member FDIC
Savings Account
View offer
Overall
Discover Bank is an online institution within a financial services company offering various banking products, including deposit accounts, credit cards, personal loans and student loans. Discover's online savings account comes with a competitive rate and no monthly fees. While the bank had offered a cash-back checking account, it is paused at this time.
Pros
Discover doesn't charge fees on any of its deposits products.

The CDs, savings and money market accounts all pay competitive rates.
Cons
The $2,500 minimum deposit for CDs and the money market account is steep.

Discover's outgoing wire transfer fee is higher than what some other banks charge.

Discover maintains only one branch, so it's not ideal for those who wish to bank in person.
Discover Bank bank products
Discover Bank savings overview
The Discover Online Savings Account offers a competitive yield. There's no minimum deposit required to open an account and no minimum balance requirement. The account doesn't charge a monthly service fee either.

Account holders won't get access to an ATM card, but Discover Bank offers free official bank checks and expedited delivery for them.


Pros
The savings account pays a competitive yield.

There's no minimum opening deposit or balance requirements.

There's no monthly service fee.
Cons
An ATM card isn't available for Discover Bank's online savings account.

There are higher annual percentage yields (APYs) available at other online banks.

Member FDIC
Savings Account
Bank experience
Discover Bank offers surcharge-free access to more than 60,000 ATMs nationwide and a mobile app earning positive scores in the App Store and Google Play. The app lets you deposit checks, pay your bills and find out account information, among other things.
While Discover operates only one branch, you can reach bank representatives 24/7 via phone.
Discover's credit cards have a lot to offer as well. None of their credit cards charge an annual fee, and some award points or cash back. One such Discover card is the Discover it® Cash Back, which offers rotating quarterly bonus categories.
About Discover Bank
Discover Bank offers CDs, a money market account and a high-yield savings account. It has also become one of the largest credit card issuers in the country.
The Discover card made its debut in the mid-1980s when Sears, Roebuck & Co. still offered financial services. Sears' bank, the Greenwood Trust Co., was later renamed Discover Bank in 2000. It is headquartered in Greenwood, Delaware.
Review methodology
With so many financial institutions to choose from, it can be hard to know who to trust. Bankrate's ever-growing list of bank and credit union reviews is updated regularly. Our editorial team analyzes and reviews each institution across deposit products such as savings accounts, checking accounts, certificates of deposit (CDs) and money market accounts (MMAs). Banks are rated by important factors such as offered interest rates, fees, minimum balance requirements, access to funds and more.
We assign a score to each type of account and its features, weigh them carefully based on importance to account holders and determine an overall score.
Read our full review methodology
.