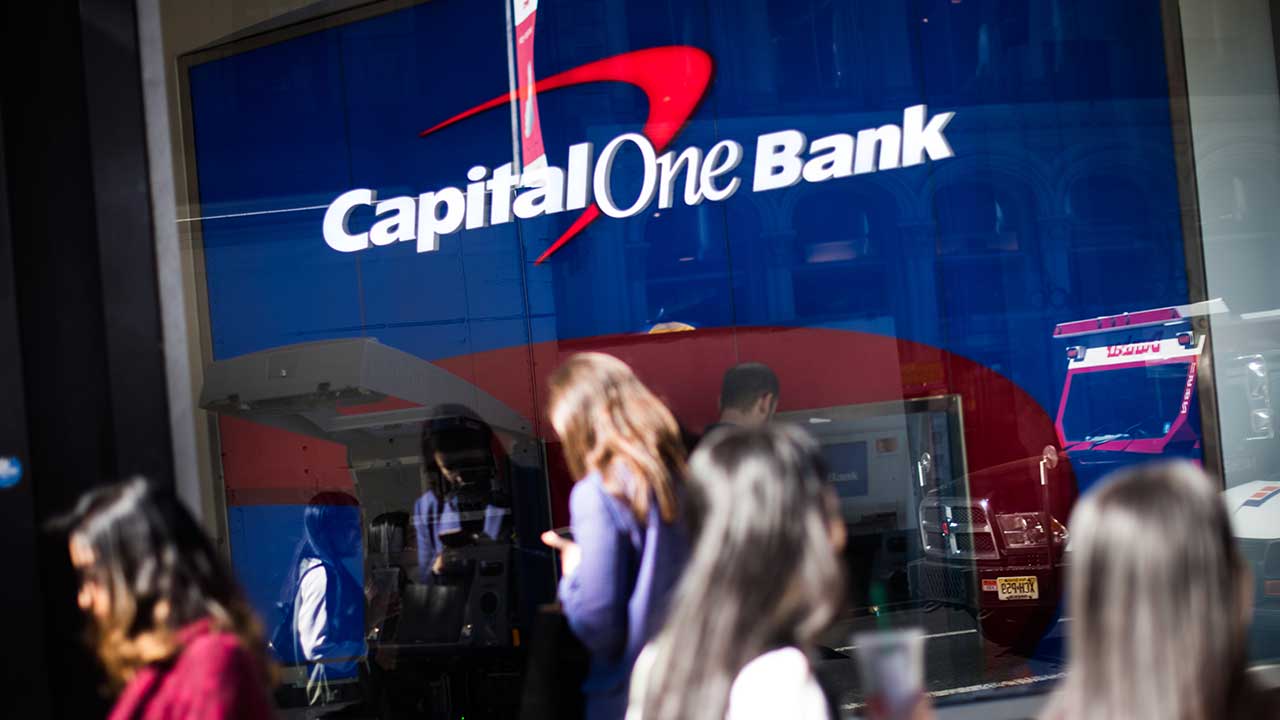 Big banks have a bit of a reputation: They pay low rates and tend to have lots of fees.
But they still manage to attract the masses with their big branch networks, and, increasingly, their top-notch mobile apps. After all, with gigantic tech budgets, they can afford to deliver really great tools.
But even picking a large bank can be difficult for a consumer, given that these behemoths all seem pretty similar.
That's why Bankrate.com partnered with MONEY to find financial institutions that offer both a free or cheap checking account and the best savings account for your financial goals that pays a high interest rate or at least holds the line on fees. The institutions that offer the very best combination of accounts are the best banks in America.
These are our picks for the top 5 big banks in the U.S.:
Best Big Banks
Capital One
Capital One's ability to straddle two worlds likely played a hand in its ascension to the top spot. It has a national reach as an online bank, but is still very much a brick-and-mortar shop in places like New York, Louisiana and Texas. The bank has 668 branches in nine states, according to the FDIC.
The bank's 360 Checking Account pays 0.20 percent APY without the threat of a monthly service fee.
Capital One's 360 Savings Account pays 0.75 percent APY, which is eye-popping, considering most big banks pay a smidge above nothing. That account also has no monthly fee.
TD Bank
TD Bank's TD Convenience checking account has one of the highest monthly service fees at $15, but has one of the more accessible ways to avoid it: a minimum daily balance of $100. The bank's Simple Savings account carries a $4 fee, but that can be avoided by linking a student checking account, being under 18 or older than 62, opening an IRA or linking a personal checking account with a recurring $25 or more transfer.
Just don't expect to earn much interest. This big bank pays just 0.05 percent APY on its savings account.
TD Bank is the U.S. unit of Canada's TD Bank Group. In the U.S., it operates 1,278 branches in 16 states.
KeyBank
KeyBank, based in Cleveland, offers customers a product called Hassle Free Checking — and by hassle free it means no monthly fees. While lots of big banks make it easy for customers to sidestep fees, KeyBank stands out by just not bothering with one at all.
Its Key Saver Saving Account charges a $4 monthly fee, but you can dodge it by keeping a minimum daily balance of $300. It's interest rate is practically nothing, though, at 0.01 percent APY.
KeyBank has about 1,245 branches in 16 states.
Chase Bank
Chase Bank has 5,300 branches in 26 states and one of the better rated apps. In other words, what it lacks in free products and yield, it makes up for with convenience and scale.
Its Total Checking account comes with a $12 monthly fee that can be avoided with $500 worth of direct deposits each month, keeping an average daily balance of $1,500 or having a beginning day balance of $5,000 across several accounts at the bank.
The Chase Savings account charges a $5 monthly that can be avoided with a daily minimum balance of $300. You'll earn 0.01 percent APY on this account.
Bank of America
Not surprisingly, the benefits of Bank of America are overwhelmingly similar to those of Chase, except the latter had a slight advantage on the reviews of its mobile app. Meanwhile, B of A has 4,635 branches in 35 states.
B of A's Core Checking has a $12 monthly fee that can be avoided with an average daily balance of $1,500 or $250 in monthly direct deposits. It pays no interest.
Like Chase, Bank of America's Regular Savings account pays just 0.01 percent APY and charges a monthly fee. You can avoid the $5 fee if you maintain a minimum daily balance of $300.