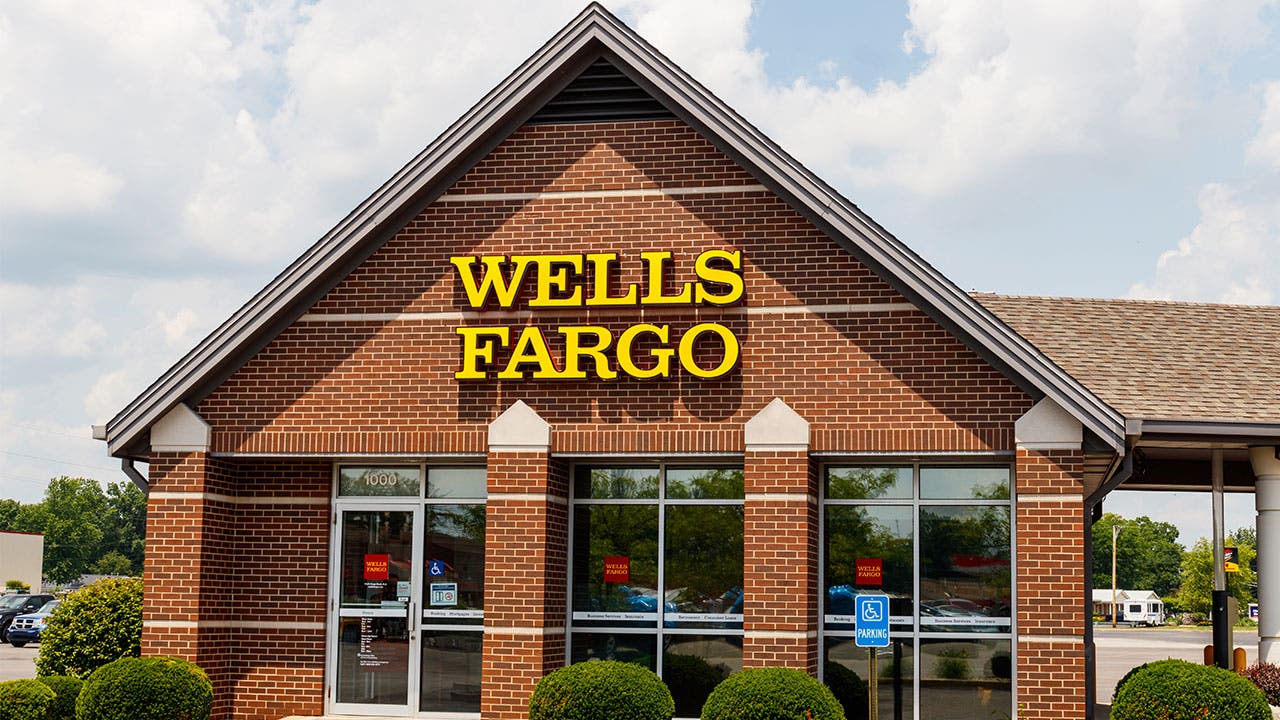 For at least the past five years, Wells Fargo & Co. has dominated main streets across the U.S. with its iconic red and yellow logos. But the bank is starting to give up ground to its competitors as it sells and shutters branches.
Wells Fargo still boasts more branches than JPMorgan Chase & Co., Bank of America Corp. and other major financial institutions in 2018. Wells Fargo is also dominant in more states than its competition, according to Federal Deposit Insurance Corp. data obtained in July.
To determine the most popular banks, we looked at FDIC data to see which bank has the most branches in each state. The data on nearly 91,000 main office and branch locations shows Wells Fargo has the most locations in 13 states as well as Washington, D.C. The company is also tied with Bank of the West in Wyoming. Wells Fargo's closest competitor is JPMorgan Chase, which has the most branches in six states.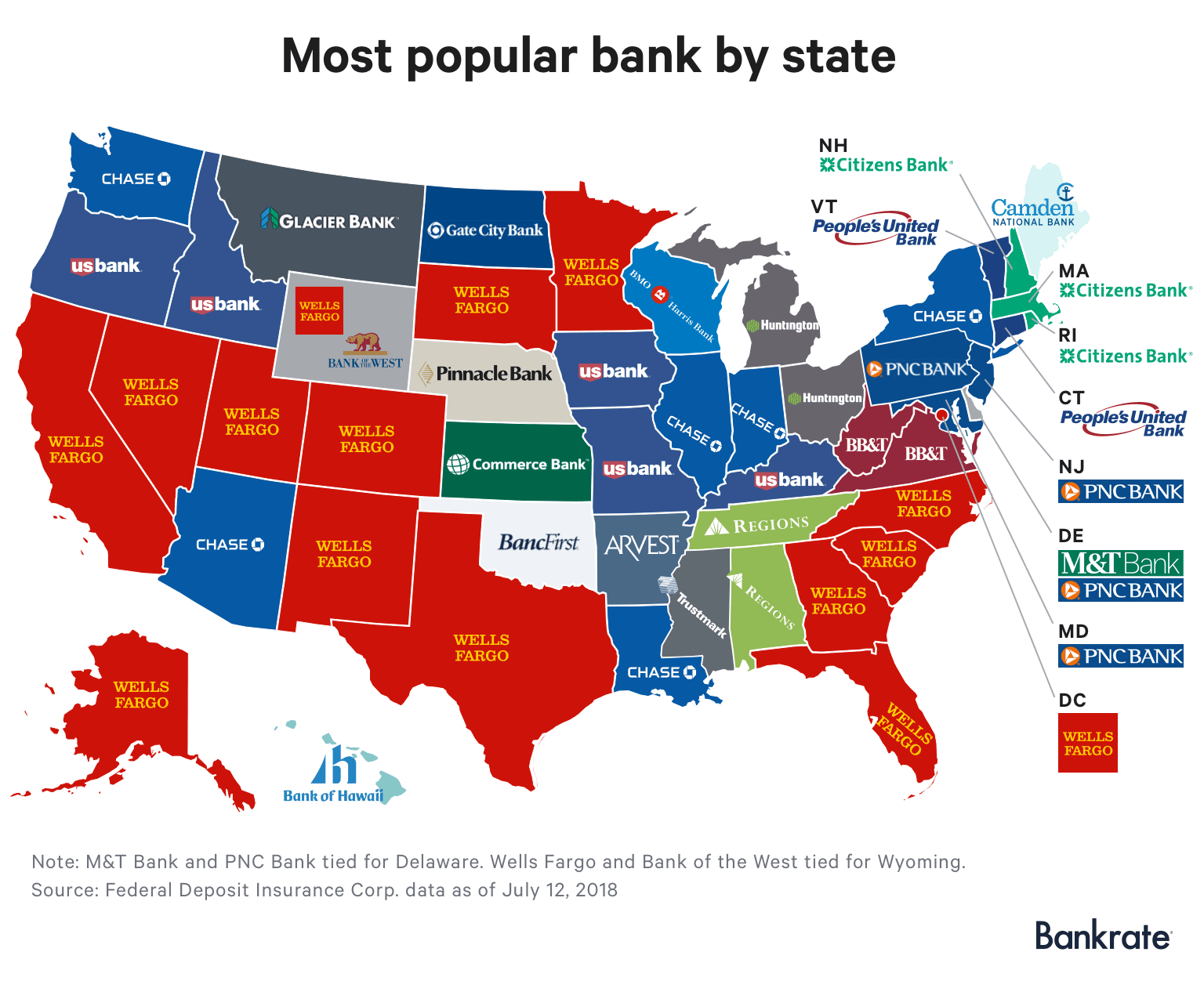 Planned closures and consolidation in the banking industry will likely change the leaderboard in years to come. Wells Fargo is on pace to slip into the No. 2 spot, losing ground to JPMorgan Chase. The move signifies a shift in how Americans are accessing their financial institutions, with an increasing number of customers hitting their browsers over their branches.
In February, The Wall Street Journal reported that bank branches saw the largest decline on record with the number of branches in the U.S. shrinking by more than 1,700 in the 12 months ending in June 2017.
More and more routine transactions are moving to digital channels and out of branches, says Greg McBride, CFA, chief financial analyst for Bankrate.com.
"While branches are still important and not going to disappear anytime soon, they don't see the traffic they did in the past, and that's a trend that's going to continue," McBride says.
Banks with the most branches
Bank
Branches
Rank
Source: Federal Deposit Insurance Corp. data as of July 12, 2018
Wells Fargo Bank
         5,930
1
JPMorgan Chase Bank
         5,193
2
Bank Of America
         4,488
3
U.S. Bank
         3,143
4
PNC Bank
         2,527
5
BB&T
         1,990
6
Regions Bank
         1,494
7
SunTrust Bank
         1,282
8
TD Bank
         1,259
9
KeyBank
         1,219
10
Note: FDIC data on bank branches and main offices is updated weekly and may differ from what each financial institution reports. For example, a bank may report its branch numbers on a quarterly basis to match what's on its Call Reports. The weekly FDIC data reflects the most current activity when it comes to branches, according to an agency spokesman.
More mobile and digital users
PwC's 2018 Digital Banking Consumer Survey shows 49 percent of consumers prefer using either their computer, mobile device or both for banking. The chief financial officer for Wells Fargo, John Shrewsberry, told investors in January that the change in customer behavior was driving the decline in branch locations.
"Based on our current assumptions regarding consumer channel behavior and our own technology advances as well as other factors, we can see our total branch network declining to approximately 5,000 by the end of 2020," Shrewsberry said.
Wells Fargo said it had 5,751 retail bank branches as of June 30, 2018. The company announced in early June that it's selling 52 branches in the Midwest to Flagstar Bank, a midsize federal savings bank based in Troy, Michigan.
The long-term trend is for more mergers and consolidations, says Richard Parsons, associate professor of economics and finance at Texas A&M University-Texarkana.
Parsons researched the financial crisis's impact on consolidation and concentration of banks.
"In the years after the Great Recession, we saw a faster rate in decline — more banks disappeared faster than before — but we did not see mergers or consolidations increase because in that time they were focusing on survival, not mergers," Parsons says.
The banks have left survival mode and gone back to cannibalizing competitors and scaling back less-profitable locations, he says.
Big banks leaving small-town America
Rural customers get hit the hardest from the decline in branches, McBride says.
"The consolidation of branches may mean eliminating a branch that is in close proximity to another in urban areas, but in rural areas it might mean the disappearance of branches altogether," he says.
Even with the rise in mobile options, 65 percent of people say it's important for their bank to have a local branch and a quarter of people say they would not open an account with a bank if that financial institution did not have at least one local branch, according to PwC's digital banking survey.
People in small towns might be better off working with credit unions, small banks and state banks, Parsons says.
"Banks do not earn a lot of money on consumers, so the bigger they are, the more they look toward their commercial business and areas of their business that make them a lot of money," he says. "They tend not to want to deal with small individual consumers."
In January, JPMorgan Chase announced a $20 billion, five-year investment that would partly be used to develop up to 400 branches to add to its 5,130. It's unclear if the company plans to enter any rural areas.
"We are a leader in 23 states, but aren't yet in major markets like Washington, D.C., Boston, Philadelphia and many others," said Gordon Smith, CEO of consumer and community banking at Chase, at the time of the announcement.
JPMorgan Chase did not want to speculate about swapping place with Wells Fargo to become the leader in branch locations.
"What I can say is that branches continue to be incredibly important to our customers, so we'll continue to invest in them by opening branches in new markets, piloting new branch formats and creating new experiences in branch that help customers during life's most important moments," says Elizabeth Seymour, spokeswoman of JPMorgan Chase.
Learn more: