Wells Fargo's footprint in the U.S. recently shrank, but most customers probably couldn't tell.
Even after a modest consolidation, Wells Fargo still claims the most bank branches of any financial institution, including having the most branches in 10 states, according to a Bankrate analysis of Federal Deposit Insurance Corp. (FDIC) data.
The data obtained from the FDIC in August shows the 15 largest banks account for at least 30 percent of all full-service branch locations where customers can open an account, deposit cash and conduct other banking services.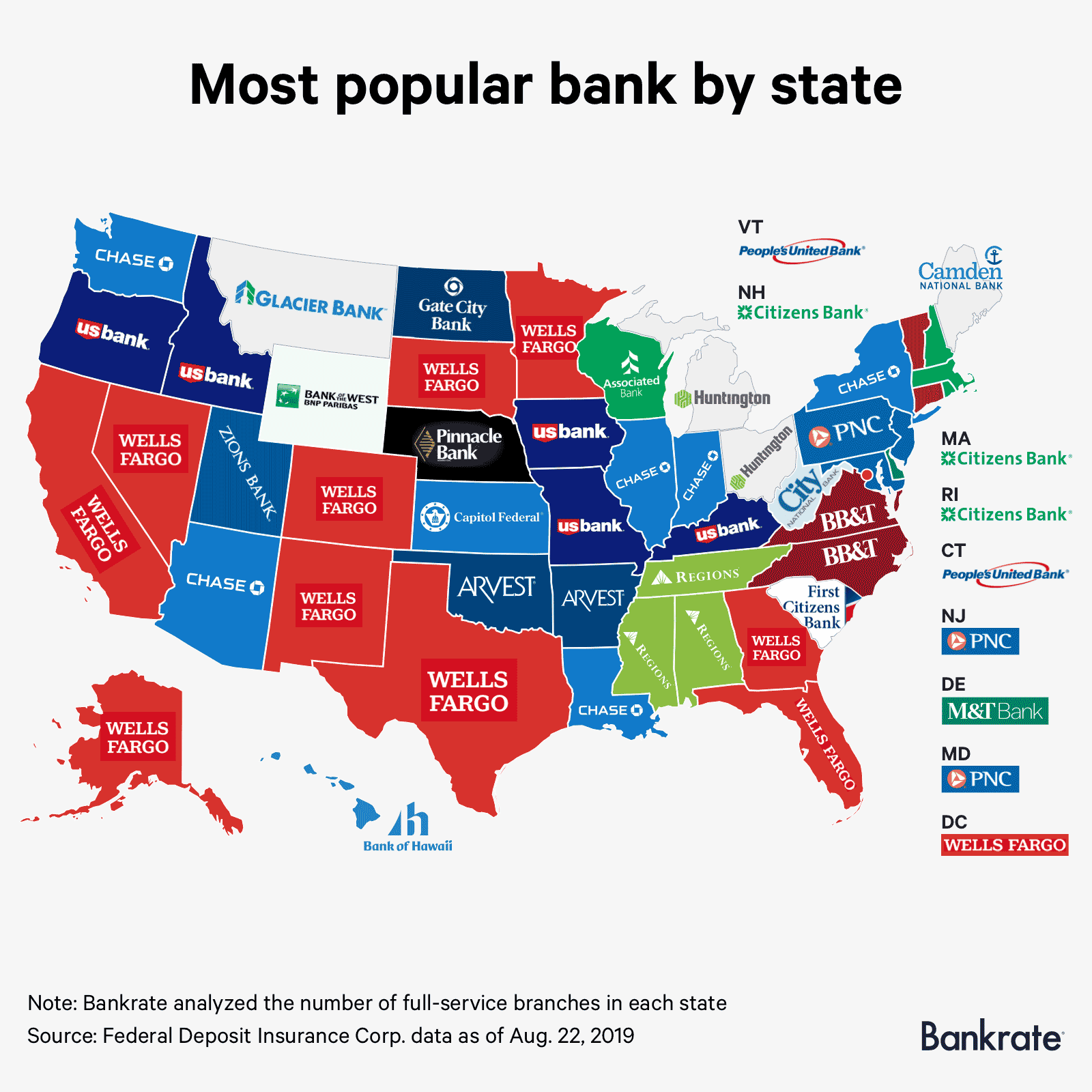 Wells Fargo dominates in states in the West. Overall, the San Francisco-based financial institution has about 5,400 full-service branches, according to the FDIC data analyzed by Bankrate.
JPMorgan Chase isn't far behind with about 5,000 full-service branches nationwide. The bank headquartered in New York has the second-most branches in the U.S., including the most in six states.
Branches are disappearing
Some experts predict bank branches are heading for extinction. Indeed, there has been a consistent net loss of locations operated by financial institutions for the last several years.
New players in the space such as Ally Bank have sprung up without any physical locations for customers to transact. Other institutional players have spun out online-only subsidiaries such as Marcus by Goldman Sachs and Popular Direct from Popular Bank.
Online banking customers deposit checks by snapping a picture, get their cash at ATMs and open new accounts from their phone or computer. And without having to pay to operate physical locations online banks are often able to offer higher interest rates and lower fees on deposit accounts than their traditional competitors.
"Banking online-only is certainly feasible most of the time for many consumers," says Greg McBride, CFA, Bankrate chief financial analyst. "But the occasional need for a safe deposit box, a signature guarantee, a cashier's check or just making a large cash deposit are a lot easier if you have access to a local branch."
You can have accounts with both online-only and traditional financial institutions and easily transfer funds between the two, McBride says.
"Different consumers value different attributes. Aspects like a large branch network, a national or regional presence, broad product lineup, and convenience will carry different levels of importance depending on your individual needs and circumstances," he says.
JPMorgan Chase vs. Wells Fargo
Almost a third of consumers (32 percent) still prefer going into a branch as the primary way they interact with their financial institution, according to a 2019 survey from Fiserv Inc. The Wisconsin-based firm provides technology and services to the financial services industry.
Banks have to create an experience where their branches are customized for the area they're in and an extension of their brands, says Jaime Dominguez, director of product strategy for bank solutions at Fiserv.
"As consumers, what we are looking for is effortless experiences," Dominguez says. "We want to choose how we interact and branches have to be part of the equation."
Wells Fargo and JPMorgan are certainly trying to create seamless omnichannel experiences by balancing out their large brick-and-mortar presences with growing suites of digital offerings.
Wells Fargo is on pace to fall behind JPMorgan as the No. 1 operator of bank branches. Although both financial institutions consolidated their locations in recent years, Wells Fargo is shrinking at a faster pace than its closest competitor. In 2017, JPMorgan Chase announced a $20 billion, five-year investment in part to develop up to 400 branches.
"We continue to invest in our branches because they're still incredibly important to our customers," says Elizabeth Seymour, spokeswoman for JPMorgan Chase. "Seventy percent of our deposit growth comes from branches, and 21 million households have used a branch in the last year."
JP Morgan serves roughly 62 million U.S. households as of 2018, according to its annual report. Wells Fargo boasts serving one in three households in the United States. The financial institution declined to elaborate on just how many millions of families bank with Wells Fargo. A third of households, as defined by the U.S. Census Bureau, would put Wells Fargo's count at almost 46 million homes.
Learn more: