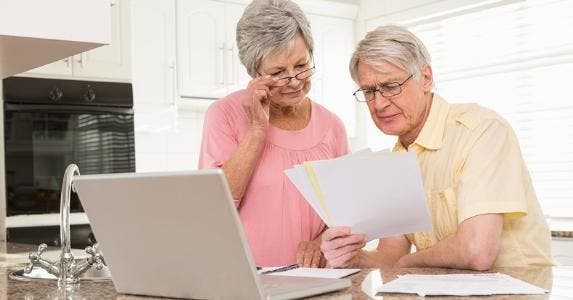 For couples in their mid-60s, impending retirement raises the question: Do you still need life insurance?
"I think it's a natural review point," says Scott Witt, a fee-only insurance adviser and actuary in New Berlin, Wisconsin. "Prior to that age, you may have been worried about passing away prematurely without providing sufficiently for your spouse or getting your kids through college."
The mid-60s represent something of a grand pivot, in which our insurance risks shift from dying too soon to living too long.
Compare life insurance quotes and save
"The majority of people retiring these days will have to live off of assets rather than a pension, so people are concerned about outliving their money," says Craig Schubert, a Prudential financial planner based in Annapolis, Maryland.
"I find that many people are very comfortable with the amount of insurance they've been carrying their whole life, and when they go to retire, they don't want to lose that," he says.
Time to take action
While the cusp of retirement is typically considered too late to begin building cash value into a permanent life policy, it also marks the last opportunity to buy term life at an affordable price.
Other possible pre-retiree life insurance moves include:
Converting a term life policy into a permanent one.
Rolling an older, permanent life policy into a more advantageous one.
Looking into annuity options as a longevity hedge.
Simply allowing an unneeded term policy to expire.
Witt says there's often a sound financial reason not to abandon a permanent life policy. "It could have a huge embedded gain to where, if you walked away from it, you would pay significant income tax," he says.
Schubert acknowledges that life insurance rules of thumb are hard to come by for 60-something couples.
"Everybody's insurance needs are different," he says. "I still have clients working in their 70s who carry life insurance to cover loss of income."
Perplexing issues, even for the pros
If it's any consolation, the grand-pivot life insurance review can prove challenging, even for insurance agents.
Take 68-year-old Judith Maurer, the founder of Low Load Insurance Services, a Tampa, Florida, insurance company that works exclusively with fee-only financial planners. She and husband Keith came into their mid-60s with life insurance in place, but their needs changed after their son Mark joined the company in 2003 as his mother's successor.
"Here are our goals: leave a legacy to our kids, stop paying premiums at 70, and spend down our assets so that our last check bounces," she explains. "How do you meld those goals?"
Be open to creative approaches
Here's how the Maurers did it.
First, Judith and son Mark purchased 10-year term life policies on each other as "key man" (top executive) insurance, to protect their business.
Next, to equalize their estate, Judith and Keith bought $100,000 single-premium universal life policies. One names Mark as the policy owner, and the other names his brother Paul as owner.
"They're survivorship policies, so we both have to die for them to collect," Judith explains. "So we have two policies in place that free us from worrying about leaving them a legacy. We can't spend all our money and not leave them a legacy."
Then, they rolled over the charitable universal life policy they'd taken out years ago to maximize their gift to their alma mater, Nebraska Wesleyan University, so they could pay it up and eliminate premiums.
Families need to have discussions
Finally, these veteran insurance agents purchased a single-premium joint hybrid annuity to protect their assets from being depleted should either of them require long-term care.
"With a $100,000 single premium, we purchased about $320,000 of long-term care benefits that we can tap if we need it, and if not, it will pass to the kids," Judith says. "If you can take the $100,000 certificate of deposit you've set aside to pay for long-term care and turn it into $300,000, why not?"
Mark Maurer, now president and CEO of his mother's company, admits life insurance can be a difficult discussion at any age.
"It's hard because it's one of the very few things that we pay for knowing we'll never receive a benefit from," he says. "If I have enough money in savings, I know I can buy a boat, but building up a nice life insurance policy does not benefit me (personally). That's a hard conversation."
Death: 'The big unknown'
Witt encourages pre-retirees to look at cash-value life insurance and variable annuities with living benefit riders (guaranteeing a defined payout while you're still alive) as a way to hedge longevity risk while still leaving something to the kids.
"Once you start having those conversations, it really helps frame whether or not you truly have enough money to retire on," he says.
"That serves as a nice springboard for a discussion of whether you need to take some more risk with the money you do have in order to earn the income you may need to sustain you in your golden years," Witt continues, "or whether you should take some money off the table with an annuity product."
Judith Maurer warns that the inevitability of mortality throws a wrench into even the best-laid plans.
"That's the big unknown," she says. "If we knew when we were going to die, all of this planning would sure be a lot easier."