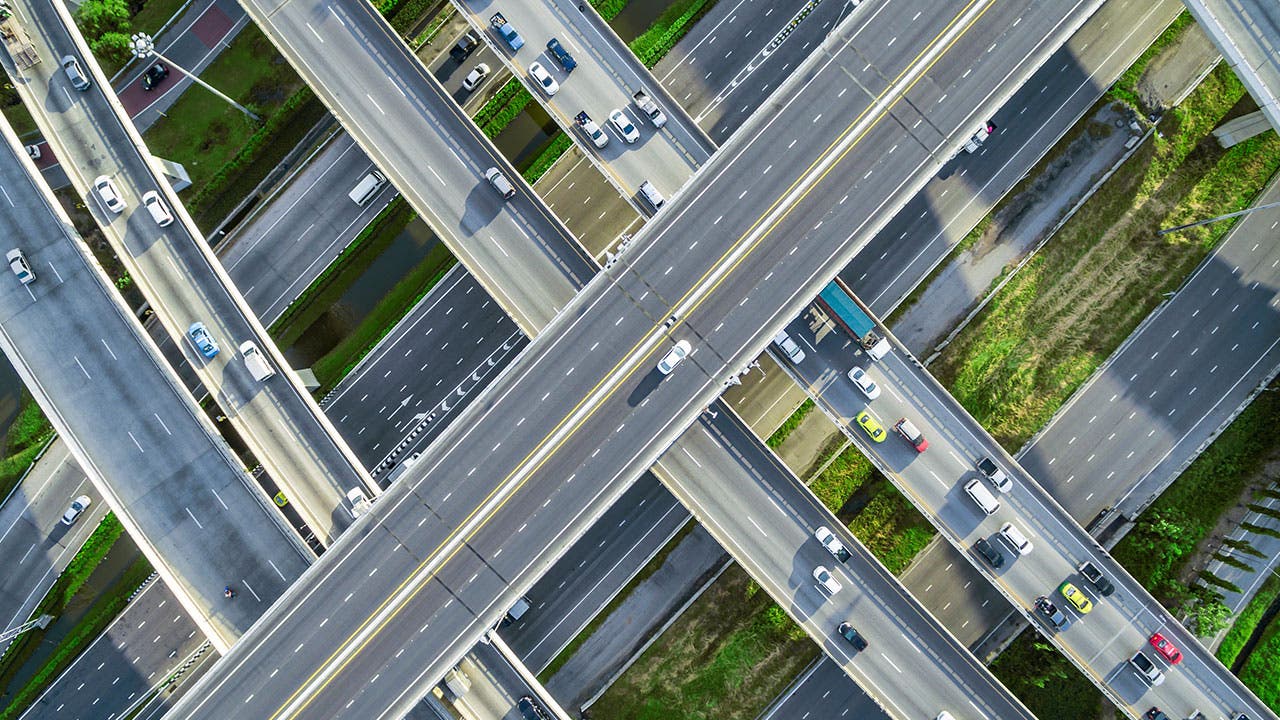 You likely don't think about your car insurance policy unless you're paying the monthly premium or are in an accident and have to manage a claim. In fact, consumers often stay with an insurer for years, and may actually be paying more than they need to without realizing it.
The reality is that your insurance needs—and the associated costs–can change over time. Additionally, car insurance quotes can vary dramatically between insurance companies. So, it's a good idea to review your current policy and determine if there are discounts you can receive to secure better pricing or if it's time to switch to a new provider.
While you might not need to review your plan every month, checking on competitive insurance rates or incentives from your current insurer just before your renewal period is a great way to guarantee that you're not overpaying. Likewise, you can ensure that you have the best car insurance coverage to truly meet your needs.
If you're thinking about switching car insurance, the best time to swap policies is just before your renewal occurs. Here are nine steps to help you ensure a successful switch.
1. Consider your coverage options
Too little insurance can leave you financially exposed, but too much coverage may mean you're paying more than you need to. If you think you're spending too much, it might be time to consider switching car insurance policies.
"Ask yourself: do I drive an older vehicle? If you do, you may not need collision and comprehensive insurance, or you may decide to choose a higher deductible to save money," says insurance expert Michelle Demora.
She also suggests considering how much you have to protect. A 22-year-old just out of college who rents an apartment may not need as much liability coverage, for instance, as someone who owns a home, has multiple vehicles, and has been built up a sizable savings account.
2. Shop around
Most auto policies are issued for six months or a year. The ideal times for checking out other carriers and their premiums include when you move, buy a new car or add another driver to your policy. It's also a good idea to shop around after a life-changing event, such as getting married, having a child or purchasing a home. Insurance experts like Demora recommend that you do your research a month or two before your policy is up for renewal.
In addition to inquiring about discounts, also pay attention to the benefits offered between plans. Just because insurers are offering lower car insurance quotes doesn't mean that the coverage will meet your needs. A cheaper policy isn't useful if it's full of benefits that aren't relevant to your needs.
Also make certain you understand what's covered and how much protection you'll receive under the new policy. While you can speak to your current insurance agent about your options, it's also a good idea to ask friends, family members, co-workers and other people you trust for their recommendations on a car insurance company.
"Family members and friends are valuable resources when it comes to shopping around for new products and services," says Demora. "A lot of times, they've already done the legwork to provide helpful advice and narrow down your search — and finding the right auto insurance provider is no exception."
3. Compare car insurance quotes from multiple carriers
To best ensure that you're selecting the right policy for your budget and coverage needs is to compare rates from multiple different companies. Getting car insurance quotes is an easy process but it does require that you have specific information available so you can get an accurate price. Try to get at least three quotes so you can have a better understanding of average costs and standard coverage options. There can be variation across companies, but the following is a typical list of the necessary information, as listed by State Farm:
Vehicle information: make, model, year, VIN, current mileage and ownership details
Address: Where will this vehicle be parked overnight? Will it be parked in a garage, driveway or on the street?
Driver information: Name of driver(s) to be insured, age, driver's license number(s) and state of issue
Driving history: Have you (or any other person on your policy) ever been issued a ticket or had a suspended license?
Other factors can also impact your pricing, including discounts dependent on your driving history. Common discounts include:
Having a good driving record.
Driving a low number of miles per year.
Getting good grades if you're a student.
Taking a driver's education course.
Bundling your auto insurance with your home insurance.
4. Contact your current carrier
Since your insurance company values you as a customer, they may be willing to fight hard to keep your business. By making it known that you're in the market for a better deal, you may convince your existing insurer to match or beat rival car insurance quotes.
You can also find out whether you're missing out on any discounts with your current insurer. "Living a low-risk lifestyle can pay off — literally," says Demora. "Maintaining a good driving record, attending refresher driving courses and young drivers who get good grades are just some of the discounts your insurer can offer to help keep your premium low."
If you contact your current insurer and the first person that helps you cannot offer you a better deal, it may be worth your time to contact them again as you may reach a different agent who is willing to reduce your premiums.
5. Check for potential penalties
If you decide that switching car insurance is the right option, make sure to find out if there are any penalties for changing before the end of the coverage period. Fortunately, auto insurance companies generally give you the right to cancel your policy at any time, as long as you give proper notice.
While most insurance companies will likely refund your entire unused premium, some may hit you with a fee if you choose to cancel in the middle of your policy term. Esurance, for example, warns its customers that they may charge $50 if they cancel.
If you check with your current insurer and find that you will be charged a penalty for canceling in the middle of your term, do the math and determine whether you'd be better off switching now or waiting until your policy expires.
6. Research the new company
Check out an insurer thoroughly before signing on. Most state insurance offices monitor carriers' customer complaint ratios (such as the number of complaints for every $1 million in premiums collected).
Before committing to a new insurer, read online reviews and look at their ratings from the Better Business Bureau (BBB). You can also call them up to get a feel for what their customer service is like. If you find that they're impossible to get a hold of or are not helpful, continue your search.
Refrain from signing up with an insurer just because they offer the lowest car insurance quotes. Keep in mind that although some companies offer great rates, they may be difficult to deal with during the claims process.
7. Mind the gap
"When changing insurance, it's best to plan on doing so just before your current policy expires," says Demora. "Switching early prevents you from having a gap in your coverage."
A lapse in insurance coverage, of course, could lead to serious legal and financial challenges, especially if you become involved in an accident. Specifically, your old insurer could report your terminated policy to the state. And if there isn't a clear overlap or smooth transition from one policy to another, you could find yourself penalized by the state. It also could cause insurance companies to charge you higher premiums down the road because they may perceive you as a "high-risk" driver. Ideally, your new insurer should be able to time the new policy so that it begins exactly as your old coverage ends.
8. Make sure your old policy is canceled
If you're switching car insurance to a new insurer, there are a few things you need to do to confirm that your current policy is truly terminated. Don't assume that if you stop paying premiums, that will be enough to prove the policy is canceled. Doing this will only cause your current provider to report you to credit bureaus for non-payment. Instead, take the following steps to terminate the policy and preserve your credit worthiness.
Contact your current insurance agent and notify them that you are terminating your policy with them. This will prevent them from billing you for future coverage.
Let your agent know that you need to have the termination confirmed in writing. In the event that you continue to get billed or see a negative remark on your credit report, you have proof that the policy was cancelled and can dispute the charges and/or credit report entry.
9. Print out your new car insurance ID cards
Once you've officially canceled your old policy and switched to a new one, be certain to switch out your old insurance ID card for an updated one in your vehicle. You will need the new ID in the event you get stopped by the police or become involved in an accident.
"Most insurers allow you to access your ID card online through your smartphone, but it's best to have a hard copy in case you're stopped in an area without cell service," explains Demora.
Frequently asked questions for switching your car insurance
How often should I shop for a new car insurance policy?
Evaluate your rates and options at least once a year. As your financial situation and driving history evolve over time, the rates that insurance companies offer you can change too. It's easy to shop and compare car insurance quotes online. Make sure you aren't leaving any savings on the table.
Do car insurance companies offer discounts?
Car insurance companies offer a range of discounts for different driver profiles. To explore cheap car insurance options, check out these car insurance discounts for students, teachers, young drivers, safe drivers, military personnel and others.
Can I switch car insurance while I have an open claim?
Switching car insurance companies is possible while you have an open insurance claim. Your current insurer will resolve the existing claim along with any necessary payouts with no penalty.
Do car insurance companies refund premiums I already paid?
It depends on your car insurance company's refund policy. Make sure you call your car insurance company to understand their insurance cancellation policy. In many cases, you are eligible for a refund when you cancel your car insurance.
It makes financial sense to get into the habit of reviewing your car insurance policy on a regular basis. After all, the driving situation in your household is likely to change from time to time and may affect the price of your premiums. Taking the time to perform some research by reviewing car insurance quotes may help you land the best possible price and reduce the overall cost of car ownership.