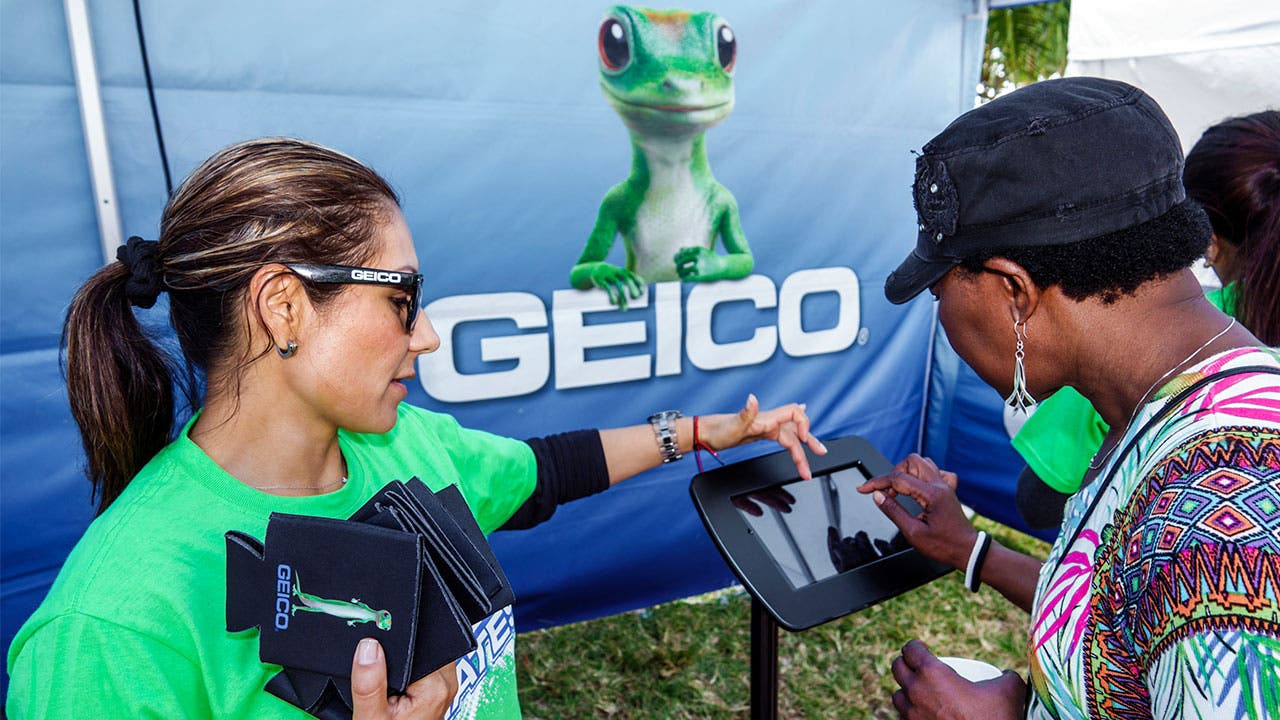 Geico is the second largest car insurance company in the country and is headquartered in Chevy Chase, Maryland.
Geico was founded in 1936, and while it's mostly known for its car insurance, you can get other insurance through Geico, including home insurance, renters insurance, umbrella insurance and more. The company insures more than 27 million vehicles.
The basics of Geico auto insurance
Geico is known for its affordable car insurance and offers a long list of discounts. For instance, customers can get up to 25 percent in potential savings for having an anti-theft system.
Geico offers coverages including bodily injury liability, property damage liability, medical payments coverage and much more. It also offers emergency road service, rental reimbursement and mechanical breakdown insurance.
Additionally, Geico customer service is available 24 hours a day, seven days a week via the Geico app, online or phone.
Check out these other benefits of Geico auto insurance.
Pros of Geico auto insurance
Here are some standout features if you're considering a Geico auto insurance policy.
Geico roadside assistance: Geico offers roadside assistance for as little as $14 annually per vehicle. Geico includes the cost of towing in the coverage as well. Geico will send roadside assistance for jump-starting dead car batters, changing a flat tire and up to $100 for lockout services. The Geico app makes it simple to request roadside assistance. The app uses a GPS locator to make it easy to find you, and the app auto-fills your policy information.
Mechanical breakdown insurance: Geico offers what it calls mechanical breakdown insurance for new or lease vehicles that are less than 15 months old and have fewer than 15,000 miles. The goal is to provide a more affordable option compared with extending your car warranty. You can renew it for up to seven years or 100,000 miles, whichever comes first. You'll have a $250 deductible on a covered loss, but after that, MBI will cover repairs to all of the mechanical parts of the car, excluding for maintenance and wear and tear.
Auto Repair Xpress: Auto Repair Xpress is Geico's three-step process for dealing with claims. For the first step, a Geico representative will meet you at the repair shop to survey the vehicle's damage. If you have rental reimbursement in your policy, Geico will pay for a rental car to pick you up at the repair shop. During the second step, the representative communicates directly with the shop to expedite the repair process. And during the third step, you will drive the rental car back to the repair shop and pick up your car, leaving the rental car behind.
Ride-sharing insurance: If you drive for a ride-share company like Uber or Lyft, or you deliver food for a restaurant, you may be interested in this coverage. This coverage is available in 39 states and replaces your personal auto insurance policy. Geico doesn't offer add-on policies for ride-share drivers.
Cons of Geico auto insurance
While there are a number of benefits to choosing a Geico auto insurance policy, there are some potential downsides to be aware of.
Geico gap insurance: Geico doesn't offer gap insurance. Gap insurance is the difference between the amount a car insurance company pays for your wrecked car, and the amount you still owe on your lease or loan. For example: Let's say your insurer will pay you $8,000 for your wrecked car. If you still owe $12,000 on it, you have no car and you still have $4,000 left to pay on it.
Mostly internet and phone service: There aren't a lot of in-person opportunities to talk to an agent about working with Geico. If you prefer in-person communication, you may want to consider other insurers. If you prefer doing most of your insurance work with somebody on the phone or over the internet, Geico is a great option.
Other things to know about Geico auto insurance
Meet Kate: Geico has a virtual assistant called Kate, who you can meet if you download the Geico app. By talking to Kate, you can discuss your policy coverage, view billing information and find answers to your questions.
Meet Alexa: If you have Alexa from Amazon, you can work on your Geico insurance through the virtual assistant.
Inexpensive pricing: Geico has a reputation for being competitively priced. It may not be the cheapest policy you can find, but it likely won't be the highest.
Parents of teens, take note: Geico offers discounts for high schoolers and college students who maintain good grades. If your child is a full-time student with a B average or on the dean's list, you may secure a discount up to 15 percent.
Military members, take note: If you're on active duty, retired from the military or a member of the National Guard or Reserves, you may be able to get a discount of up to 15 percent on your total insurance premium.
Other insurance coverage available from Geico
Here's a list of some of the types of insurance Geico offers:
Commercial auto insurance
Motorcycle insurance
Boat insurance
RV insurance
Homeowners insurance
Life insurance
Overseas insurance
Identity theft protection
Personal umbrella protection
Flood insurance
Business insurance
Snowmobile insurance
Any coverage you buy through Geico that isn't car insurance – like homeowners insurance – is underwritten by third-party companies that work with Geico.