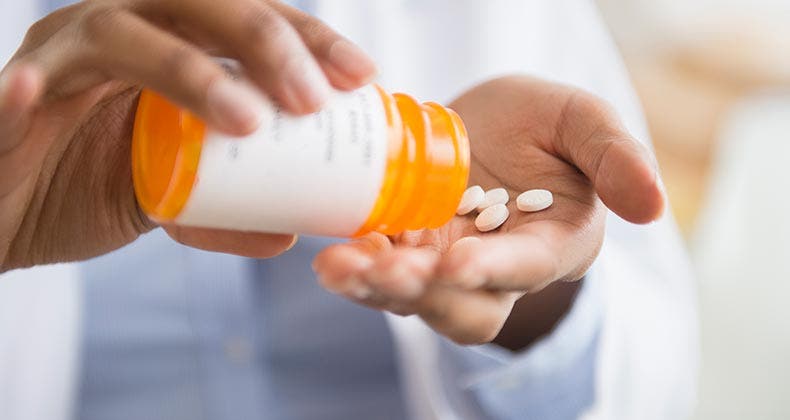 Drug addiction and credit card crime are tragically interwoven.
According to the National Association of Drug Court Professionals, 80 percent of criminal offenders abuse alcohol or other drugs, and according to a 2015 Drug Enforcement Administration report, prescription pain medication abuse is the nation's fastest growing drug problem.
News reports are littered with cases of opioid addicts committing identity theft and credit card fraud. Take, for example, Heidi Leigh Urban, from White City, Oregon, who admitted to multiple felonies including identity theft, and attributed them to her heroin addiction. Or John Michael Paul, from Lebanon, Pennsylvania, who told investigators he committed identity theft to feed his 20- to 30-bag-per-day heroin habit. And Buffalo, New York, resident Adrienne Wheeler opened credit card accounts in her 94-year-old mother's name to keep pace with her opioid addiction.
While not all addicts resort to illicit financial activity, it is important for those who have loved ones struggling with drug addiction to take proper precautions to protect their finances.
The progressively high price of opioids
Opioids consist of a wide span of pain-relieving medications, such as oxycodone and fentanyl, prescribed by doctors and controlled by government regulations, and also include unprescribed narcotics, such as heroin. All are highly addictive, and can quickly become a consuming and expensive habit. The National Institute on Drug Abuse has concluded that 2.5 million people in the United States are addicted to opioids.
Addiction often starts with prescribed pain relievers, often covered by health insurance plans, but eventually the health care provider may reduce or cut off a patient's supply. When a patient develops a dependency, some react by purchasing the drugs — at greatly inflated prices — on the black market. Data from the Pat Moore Foundation, a national alcohol detox and drug treatment program, says a 10-milligram tablet of OxyContin (oxycodone) that costs $1.25 at the pharmacy goes for $10 when bought illegally. A lawfully procured 80-milligram oxycodone tablet can cost $80 on the street.
Heroin is a bargain, at least in the beginning stages of addiction. A single "hit" (or bag) is currently about $10 — a manageable sum if taken once a day. Transitioning to heroin can feel like a reasonable financial decision, as acknowledged in a 2016 DEA Intelligence Report about controlled prescription drugs (CPDs).
"In the 2000s, a very large number of people became opioid abusers by using CPDs nonmedically, many after initially receiving legitimate prescriptions. Some CPD abusers throughout the country continue to use heroin when CPDs are expensive or unavailable." The initial low cost of heroin rarely remains when a habit intensifies, and users can easily spend $150 per day.
No. 1 suspect: an addict near you
When funding an opioid addiction increases in scale, relatives and friends of users should safeguard their personal finance and banking information, warns Michael Levine, a former senior U.S. law enforcement agent and 25-year veteran of the Drug Enforcement Administration. That's where an addict close to home is likely to focus his attention.
"If you have a crime scene where you've been ripped off — your credit card stolen, say — your No. 1 suspect is the drug addict sitting at your kitchen table," says Levine. "They're normal people; smart, sophisticated. Most who are addicted to opioids started out with pain medication that spiraled out of control. They're not used to a life of crime, so they turn to identity theft, financial crimes."
Opioid addiction and financial crimes
No hard data specifically links opioid addiction to increased personal finance crimes, but Levine says the connection is real. Why? Drug addicts seek out the simplest means to an end, and opening credit cards in someone else's name or using someone else's credit cards is easy.
What should I do if I suspect financial fraud from an addict?
If signs point to ID theft or credit card fraud by an addict who is close to you, take swift action:
Notify the police and file a police report.
Contact your bank(s), report fraudulent transactions. They will update account numbers and issue new credit cards.
Change mailing addresses from home to work, or to a post office box.
Dispute fraudulent activity on a consumer credit report with the credit reporting agencies.
Add an extended fraud alert to a credit file so lenders will take extra precautions before granting forms of credit and increasing charging limits.
Consider freezing a credit file, which prevents new account from being opened without your knowledge.
"At the end of the day, addicts will use any means necessary to acquire whatever it is they're addicted to. Carrying out identity theft or credit card fraud is simply a means to an end," says Eva Velasquez, president and CEO of the Identity Theft Resource Center.
Emily Burkhart, who lives in the Salt Lake City area, is the marketing director for Chargeback, a company specializing in post-transaction fraud management. She has both personal and professional experience with the issue.
"I watched my brother-in-law suffer from a severe opiate addiction for over a decade until his actions warranted removal from family contact," says Burkhart. "One of the final straws was his fraudulent use of my family members' credit cards."
Simple card theft common
Identity theft and credit card fraud don't have to be as complicated as creating fake cards and mobile wallets. An addict may simply steal a victim's card and start charging. "Run-of-the-mill credit card fraud is used by addicts to purchase goods they can resell quickly for cash," says Burkhart. "Then, they use this cash to buy drugs illicitly. At the end of the day, addicts will use any means necessary to acquire whatever it is they're addicted to. Carrying out identity theft or credit card fraud is simply a means to an end."
Addicts are ready to exploit others' trust or mistakes. "I have a client who was riding in an Uber car, found a wallet from a previous customer, and stole his identity and ran up a few thousand dollars with his bank information," says Todd Crandell, a former heroin addict-turned-ironman competitor and founder of Racing for Recovery, from Sylvania, Ohio. "He spent all of the money to support his addiction." The cards were manna from heaven — until he was caught and went to prison.
Precautions for potential and current victims
Burkhart recommends anyone close to an opioid abuser keep a sharp eye on any shared bank or credit accounts.
"Any services that your credit card or bank offers that alert you of suspicious activity are also really helpful, too," she says. Many card issuers allow cardholders to sign up for text or email transaction alerts.
Never leave handbags, wallets or account statements out in the open. Lock up anything that lists personal identification information, such as Social Security numbers, as well as medical records, as they contain a wealth of data an addict may exploit.
Pull credit reports from annualcreditreport.com and check for unfamiliar loans and credit cards. Other clues may include receiving collection calls about mysterious debts, IRS notifications about multiple tax returns filed in a single name and depleted health savings accounts.
Call the police to report the crimes and follow the dispute process for credit card fraud and credit reporting errors. Overcome hesitation regarding contacting the authorities, urges Levine. A police report is essential for removing false information and not being held responsible for incorrect debts.
"Calling the police can be the best thing not just for you, but the addict," he says. "The worst thing you can do is look the other way. It could help them because in some cases being arrested is a wake-up call. Or it may stop them from seeing you as a target."
Try not take the crimes personally. "People who are addicted to opiates are committing crimes simply to support their drug addiction as the fear of becoming sick through withdrawal is overwhelming," says Crandell.
Levine agrees: "They're not trying to hurt you. They just want what they want and what they need. They take on the qualities of a sociopath. The addiction becomes the center, the justification. It has nothing to do with you."
See related: Turning to credit to fund pricey addiction rehab, The high cost of descending into drug-related debt
Editor's note: This story, "Card fraud and opioid addiction: crimes that go together" originally was posted on CreditCards.com.