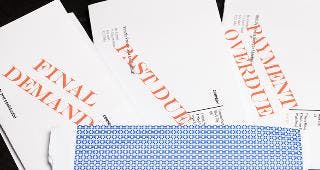 Dear Debt Adviser,
I am drowning in payday loans, delinquent credit cards, doctor bills and utilities, etc. The local consumer credit counseling agency doesn't handle payday loans, only credit card debt. The payday loans are the big problem. I'm in Fresno, California. Do you know where I can go to get help?
— Debbie
Dear Debbie,
You and I both know that the "big problem" isn't the payday loans. They are just the final indication of the long-standing battle you have been waging to get your expenses in line with your income. So far, the expenses have been winning. To really help yourself, I suggest that you begin with the basics and dust off the budget that the counseling agency gave you. If they didn't give you one, then call another one and ask for help developing a budget. This is the best way I know to see if you can actually live on the money you are bringing in.
If you can live on the money you earn but can't meet your debt obligations with a part-time second job or by cutting expenses to the bone, I would recommend that you consult with an attorney. Your attorney can help you determine if bankruptcy is your best option or if you just need assistance in getting the payday lenders to agree to a reasonable repayment plan. The attorney can also check the laws in your state governing payday lenders and determine if the lender has done anything illegal, which could make your loan uncollectible.
Fortunately for the millions of consumers like you who have fallen into the payday lending trap, legislators are taking notice. Many states have already put in place laws that prevent many payday lending abuses, such as interest rates at the equivalent of 300 percent or more annually.
Eighteen states and the District of Columbia have laws in place that prevent payday lenders from charging more than a double-digit interest rate for loans, but California is not one of them.
No one intentionally gets involved in the payday loan cycle. Most people are frantic to fund a particular unexpected expense and do not consider the longer-term consequences of the payday loan, only that it solves the immediate problem. Almost any option beats a payday loan. To help others avoid the vicious cycle, I suggest the following alternatives to a payday loan:
Ask a friend or family member for a loan.
Borrow from a credit union or other small loan lender. Be sure you understand all the fees and terms before you sign.
Put off the expense until you have the money. For example, if you need money to repair your car, find other transportation until you have the funds to fix the car.
Request overtime or secure a part-time job to cover the unexpected expense.
Contact your creditor and ask for more time to pay or a repayment plan.
Use your credit card. Even if you have to get a cash advance, it will be much less expensive than a payday loan.
A final word in fairness to the credit counseling agency that you went to for help: Legitimate credit counseling agencies will work with all of your creditors to provide assistance. It is much more likely that the payday lender was not willing to work with the credit counseling agency to provide you with any assistance. My guess is that the huge payment they were demanding made a debt management plan impossible. Responsible creditors usually are willing to make concessions for someone who seeks help through a credit counseling agency. That payday lenders virtually never make concessions to credit counseling clients speaks volumes about their business model and makes them one loan to avoid at any cost.
Ask the adviser
To ask a question of the Debt Adviser, go to the "Ask the Experts" page and select "Debt" as the topic. Read more Debt Adviser columns and more stories about debt management.
Bankrate's content, including the guidance of its advice-and-expert columns and this website, is intended only to assist you with financial decisions. The content is broad in scope and does not consider your personal financial situation. Bankrate recommends that you seek the advice of advisers who are fully aware of your individual circumstances before making any final decisions or implementing any financial strategy. Please remember that your use of this website is governed by Bankrate's Terms of Use.