Reviews of Credit Cards for No Credit History
At Bankrate we strive to help you make smarter financial decisions. While we adhere to strict , this post may contain references to products from our partners. Here's an explanation for . The content on this page is accurate as of the posting date; however, some of the offers mentioned may have expired. Terms apply to the offers listed on this page. Any opinions, analyses, reviews or recommendations expressed in this article are those of the author's alone, and have not been reviewed, approved or otherwise endorsed by any card issuer.
No credit history? Start building one today with the right credit card. There are plenty of credit cards for people with no credit history. Most no-credit and first-time credit cards extend limited credit at first, but the top cards also offer value-added perks like cash back, rewards points and travel miles from day one. As you pay on-time, you can build up your credit profile and earn a higher credit limit.
To get started, you need to find the best fit for your spending habits, current credit situation and credit-building goals. Secured no credit history credit cards require a small initial deposit to open. Non-secured options waive the deposit and use your banking history and other factors for approval. The best no-credit-history cards regularly report your status to the major credit bureaus to help your credit file take shape.
Our Bankrate experts rated the top credit cards for no credit based on several factors. Accessibility (security deposit or banking history), credit-building features, fees, APR and perks like travel rewards and cash back are the key criteria. In our credit card reviews below, you can compare offers and find expert recommendations for specific needs.
Featured Card
Intro Offer: Unlimited Cashback Match - only from Discover. Discover will automatically match all the cash back you've earned at the end of your first year! So you could turn $50 cash back into $100. Or turn $100 into $200. There's no minimum spending or maximum rewards. Just a dollar-for-dollar match.
Discover it® Student chrome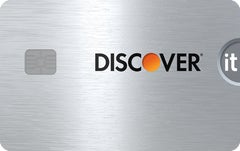 Discover it® Student chrome
Featured card comparisons