Netspend® Visa® Prepaid Card review
At Bankrate we strive to help you make smarter financial decisions. While we adhere to strict editorial integrity, this post may contain references to products from our partners. Here's an explanation for how we make money.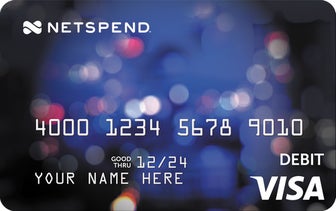 Recommended Credit Score
See Terms

A FICO score/credit score is used to represent the creditworthiness of a person and may be one indicator to the credit type you are eligible for. However, credit score alone does not guarantee or imply approval for any financial product.
Annual Fee:

Variable Monthly Fee

Purchase Intro APR:

N/A

Regular APR:

N/A
Terms and Restrictions Apply
Best for people without credit or banking history
Rewards rate: N/A
Welcome offer: N/A
Annual fee: Up to $9.95/month
Purchase intro APR: N/A
Balance transfer intro APR: N/A
Regular APR: N/A
Netspend provides a viable alternative to a checking or savings account in the form of a prepaid card. With the Netspend® Visa® Prepaid Card, you can conveniently manage your finances and load money through various methods. While the card is associated with certain fees, it provides convenience and security for people with no credit history or bank account.
We have sifted through the many Netspend details and reviews to provide you the information you need to decide whether the Netspend Visa Prepaid Card is the card for you.
Current sign-up bonus
There is no sign-up bonus for the Netspend Visa Prepaid Card. However, you and a friend can each receive $20 if you refer them and they load at least $40 on their card.
Rewards
There isn't a defined rewards program to help you recoup the myriad of fees, but your prepaid card does allow you to activate select cash back offers at participating merchants via the Netspend Payback Rewards program. The current offers aren't visible unless you already have an account, but it works similarly to card-linked programs like Chase Offers.
Benefits
The Netspend card makes it easier to manage your finances. You can access important features through your Netspend online account, but don't expect many perks outside account management and alert features.
High-interest savings
One of the advantages of the card is that you can get a high-yield savings account that offers a 5 percent APY on the first $1,000 in your account (any portion of your balance beyond that will earn 0.50 percent APY).
Flexible options
Netspend offers two plans—a pay-as-you-go plan and a monthly plan. The pay-as-you-go plan is great for consumers who don't use their Netspend card on a daily basis. The monthly plan, on the other hand, will work better for consumers who use their Netspend card more frequently—as they won't incur any transaction fees.
No fees to get started
Another benefit to the Netspend Visa Prepaid Card is that there are no fees associated with the application process. You won't need to pay an activation fee, go through a credit check or have a minimum balance to get started. Plus, you won't ever have to worry about dealing with late credit card payment fees.
Load almost anywhere
Netspend has over 130,000 reload locations all over the United States, making the card accessible for almost everyone in the country. The maximum balance for your card is $15,000, and you can load a maximum of $7,500 per day. You can also take advantage of the Mobile Check Load feature in order to load checks to your card by simply snapping a picture of them with your phone.
Account security
Besides, checking your card account balance, transaction history and etc., Netspend's mobile app also allows you to receive text alerts about account activity in order to safeguard your balance. You can also generate up to six temporary virtual credit card numbers to keep your account safe from iffy online merchants and unexpected recurring expenses (like subscription services).
Rates and fees
If you are planning to get a Netspend Visa Prepaid Card, the best way is to do it online, as the application is free. Purchasing a Netspend card from any retail location will cost you up to $9.95.
The pay-as-you-go plan has no monthly fees, whereas the monthly plan charges $9.95 a month. Luckily, you can reduce your monthly plan to $5 if you receive at least $500 a month in payroll checks or government benefits each month. As for purchase transaction fees, the pay-as-you-go plan has a $1.50 fee for PIN and signature transactions, whereas the monthly plan doesn't charge any.
For every cash reload, you can be charged up to $3.95 using either plan, depending on the way your card is reloaded (retailer or online). Using Mobile Check Load will incur a 2 to 5 percent (or $5, whichever is greater) fee to expedite your check load based on the check type.
There's also a $2.95 ATM withdrawal fee associated with both available plans. Additionally, inquiring about your balance through an ATM will cost you $0.50. Withdrawing over the counter at a financial institute will trigger a $2.95 or 1 percent fee (up to $9.95), but withdrawing at a Netspend reload network location will trigger a fee as well, 2.75 percent (up to $4).
Lastly, Netspend charges an inactivity fee of $5.95 a month, which applies if your card didn't have any transactions in the past 90 days.
There are loads of fees to be aware of depending on your circumstances, such as a 4 percent foreign transaction fee, so be sure to read the terms carefully before purchasing a card.
How the Netspend Visa Prepaid Card compares to other prepaid cards
The Netspend Visa Prepaid Card has many competitors worth looking into if you're looking for a prepaid card.
For example, the Serve® American Express® Prepaid Debit Account gives you 1 percent cash back on any purchase you make, plus free in-network ATM withdrawals and American Express benefits like Amex Offers. The card also offers a free early direct deposit, which means that you can access all or part of your paycheck two days before your payday for free.
If you frequent Walmart, you can also choose the Walmart MoneyCard Visa Card. This card offers 3 percent cash back on Walmart.com, 2 percent back at Walmart fuel stations and 1 percent in Walmart stores (up to $75 in cash back per year). What's more, you'll get also get free cash reloads and a 2 percent annual interest rate on your balance.
However, you can probably save more money in the long run and avoid the nickel and diming prepaid cards are known for if you consider a secured credit card instead. For example, you could pair it with the Secured Mastercard® from Capital One —which can offer credit line upgrade opportunities in as little as six months by showing positive credit activity. Perhaps the best secured card on the market that also offers credit line upgrade reviews is the Discover it® Secured Credit Card, which offers cash back—a rare feature for secured credit cards with no annual fee.
Card
Rewards rate
Monthly use fees
Fees for ATM withdrawals
Savings rate
Netspend® Visa® Prepaid Card

Cash back at participating retailers by activating Netspend Payback Rewards

$5 to $9.95 for monthly plans
$2.95
5% APY on first $1,000
Serve® American Express® Prepaid Debit Account

Unlimited 1% cash back when spending money in-store or online (rounded to the nearest dollar)

$7.95
Free in-network ATM withdrawals (otherwise, $2.50)
N/A
Walmart MoneyCard Visa Card

3% cash back on Walmart.com
2% cash back at Walmart fuel stations
1% cash back in Walmart stores (up to $75 in cash back per year total)

$0 by direct depositing at least $500 in a monthly period (otherwise, $5.94)
$2.50 ($0 at Walmart stores)
2% APY on up to $1,000
Bankrate's Take—Is the Netspend Visa Prepaid Card worth it?
While the card has its advantages, there are better prepaid cards available on the market that perform similar functions at a more affordable cost—and offer rewards to boot. Netspend's fees are a major drawback, especially the high ATM withdrawal fees.
However, this card may be beneficial for anyone without a credit history looking for banking services or a spending management tool. Just keep in mind, Netspend doesn't share data with any credit bureaus, so using the card will not help you establish your credit.