Marriott Bonvoy Boundless™ Credit Card review
At Bankrate we strive to help you make smarter financial decisions. While we adhere to strict editorial integrity, this post may contain references to products from our partners. Here's an explanation for how we make money.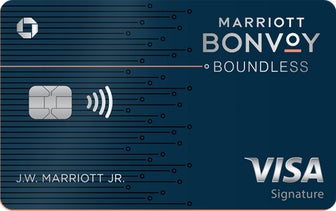 Recommended Credit Score
Good to Excellent (670 - 850)

A FICO score/credit score is used to represent the creditworthiness of a person and may be one indicator to the credit type you are eligible for. However, credit score alone does not guarantee or imply approval for any financial product.
Annual Fee:

$95

Purchase Intro APR:

N/A

Regular APR:

15.99% - 22.99% Variable
Terms and Restrictions Apply
Bankrate Rating
Our writers, editors and industry experts score credit cards based on a variety of factors including card features, bonus offers and independent research. Credit card issuers have no say or influence on how we rate cards.
This card offer is currently unavailable on Bankrate. To see more cards in this category, please visit our excellent credit category page.
Editor's note: Some of the offers on this page may be expired. Check out our Best Credit Cards page for the most up-to-date offers for our favorite credit cards.
Marriott Bonvoy Boundless™ Credit Card: Details and benefits
While many of the card benefits won't change, the card rebrand does come with a new offer for new cardholders. Earn 3 Free Nights (each night valued up to 50,000 points) after qualifying purchases + 10X total points on eligible purchases in select categories.
The Marriott Bonvoy Boundless card offers up to 17X points at participating Bonoy locations, which includes a network of over 6,700 hotels in 130 countries. You'll also receive 2X points on all other purchases. For added convenience, the Bonvoy Boundless will also have contactless payment capabilities.
This card offers quite a few perks for Marriott and SPG® loyalists — a free night's stay each anniversary year and automatic Silver Elite Status with a path to Gold Elite Status, to name two. Other card benefits include:
15 Elite Night credits each calendar year
Free in-room premium Wi-Fi
Access to exclusive events through Marriott
If you frequently stay at Marriott, SPG, and Ritz-Carlton hotels, the perks are well worth the $95 annual fee.
Is the Marriott Bonvoy Boundless worth it for you?
If you take more than a couple of trips each year and stay exclusively at Marriott and SPG locations, this is definitely a card worth considering. However, if you're looking for a more flexible travel card, there are better options available.
You can rack up a lot of points with this card if you frequently stay at Marriott brand hotels, and the perks offered by this card can really enhance your travel experience. Silver Elite Status includes a 20 percent bonus on points earned during stays, access to exclusive savings and rewards redemption options, dedicated reservation and guest services contacts and more.
While using the Bonvoy Boundless is an easy way to maximize points on Marriott Bonvoy purchases, it offers little in the way of everyday spending rewards. You can pair this card with others in the Chase lineup to maximize the rewards you earn in other categories and then transfer your Chase Ultimate Rewards® to Marriott, but keep in mind Chase's strict 5/24 rule that limits how many cards you can apply for within a 24-month span.
There has been quite a bit of discussion lately about how the merger has affected the overall quality of the Marriott rewards program. The Bonvoy name got quite a bit of flack, but beyond that, many patrons have expressed concerns about rewards devaluations and points difficulties since Marriott and SPG combined programs.
Every large-scale merger comes with a set of growing pains and initial kinks to work through, so keep in mind that you may have to be patient during the first few months of card ownership as the company makes final decisions regarding new rewards tiers, peak periods for rewards redemption and more.
Ultimately, the value that the Marriott Bonvoy Boundless adds to your wallet comes down to how often you'll utilize Bonvoy brand hotels and the associated perks of this card. You might be happier with another card if you're looking for more broad travel perks or rewards flexibility.
Get the most value from the Marriott Bonvoy Boundless
The Bonvoy Boundless card is all about the Marriott perks. The first step in maximizing the card's worth is to make sure you're maximizing the value of each benefit that comes with the card. Make sure you're utilizing your automatic Silver Elite Status and the 15 Elite Night credits that count toward the next tier. Take advantage of the anniversary free-night-stay, and always use this card to pay for your Marriott Bonvoy hotel stays.
With the 2019 addition of off-peak and peak seasons for award night redemptions, you'll want to make sure you're strategically booking award stays during off-peak periods whenever possible. In some cases, you can end up redeeming double the points if you book an award night during a peak period rather than an off-peak period.
Finally, consider pairing this card with a more flexible rewards card from Chase to maximize your earning potential. Marriott is a Chase Ultimate Rewards® transfer partner, so you'll be able to pool your points before booking high-value award stays.
How much are the Marriott Bonvoy Boundless rewards worth?
According to expert valuations, each Marriott point is worth .9 cents. That doesn't quite hold up against many fan-favorite travel cards such as the Chase Sapphire Preferred® Card (2 cents per point) or Capital One Venture Rewards Credit Card (1.4 cents per mile), but that doesn't mean that this isn't the right card for you.
How much your rewards are truly worth depends on which Bonvoy hotel brands you frequent the most. Starting Spring 2019, Marriott will label each property as a category 1 through 8 — category 1 being their most budget-friendly locations, and category 8 being their most luxurious properties. How many points it takes to redeem a night's stay at each location is determined by which category that property falls in and whether you're booking during off-peak, standard or peak season.
Award Night Award Chart
| | Standard | Off-peak | Peak |
| --- | --- | --- | --- |
| Category 1 | 7,500 | 5,000 | 10,000 |
| Category 2 | 12,500 | 10,000 | 15,000 |
| Category 3 | 17,500 | 15,000 | 20,000 |
| Category 4 | 25,000 | 20,000 | 30,000 |
| Category 5 | 35,000 | 30,000 | 40,000 |
| Category 6 | 50,000 | 40,000 | 60,000 |
| Category 7 | 60,000 | 50,000 | 70,000 |
| Category 8 | 85,000 | 70,000 | 100,000 |
If you're planning a trip to Harry Potter World at Universal Studios, you can book a room at the Residence Inn Orlando Convention Center (currently classified as a category 4) for just 25,000 points per night during standard pricing periods. However, if you're looking to stay at a category 8 property such as the St. Regis Maldives Vommuli Resort Hotel, it'll cost you 85,000 points per night during standard pricing periods.
You can be strategic with how you redeem your points to really maximize how many free stays you get out of your points.
Between the welcome offer, anniversary free-night-stay, Silver Elite Status benefits and other Bonvoy-specific perks, you could save hundreds of dollars while upgrading your overall hotel experience.
How to redeem rewards
You can redeem your points for free nights within the Marriott Bonvoy network, experiences, shop with points or book nights with a combination of cash and points. To learn more, read our guide to Marriott Bonvoy.