Most business owners utilize some type of debt financing to grow their business. Experts agree that keeping personal and business finances as separate as possible is paramount, and establishing a strong business credit score is the best way to ensure you won't have to lean on your personal finances to keep your business afloat.
What is a business credit score?
A business credit score works similarly to your personal score in that it provides credit agencies, loan issuers, and vendors/suppliers a general idea of how trustworthy you are when it comes to borrowing money. The higher your score, the more lenders can trust that you'll pay your bills on time.
Having a strong business credit score instead of leaning on your personal credit score is important for tax reasons and risk management. The American tax system requires that you keep your business and personal finances separate if you plan on deducting expenses, and that separation also ensures that your personal assets aren't leveraged against you if your business has financial issues.
A strong business credit score has many other benefits, like lower interest rates and a higher likelihood of approval for loans and other types of credit, but it's surprising how many business owners neglect their business credit score simply because they don't understand how business credit works.
Differences between your personal and business credit scores
Aside from the fact that personal credit scores reflect your personal finances and business scores reflect your business finances, there are a few important distinctions between the two.
Business credit scores use an employer identification number (EIN) rather than a Social Security number. This makes it easier to keep your personal finances out of the equation.
Business credit scores are public. Personal scores are private, but anyone can look up your business credit score through any of the business credit reporting agencies.
Personal credit uses a scale between 300-850 to determine your score. Business credit scores typically use a 1-100 scale. In 2016, the national average business credit score was 56.8.
Fewer factors determine your business credit score, which makes it easier to improve. In a personal credit score, there are typically anywhere from four to six main factors that have a weighted influence on your credit score. Business credit reporting agencies typically just focus on your payment history and credit utilization ratio.
Personal credit bureaus typically use the same system for determining your score, so your FICO score is typically an accurate representation. Business credit scores, however, come from multiple bureaus, and they each have their own scoring system. That means you need to keep up with all of them to get the full picture of how creditors see your business' financial trustworthiness.
What is a good business credit score?
According to Nav.com, there are three main business credit scores and reporting agencies: Dun & Bradstreet, Experian, and FICO. These three agencies each use a different scoring system to determine your score, and different credit sources use different agencies to determine whether or not your business is financially trustworthy.
Business credit agencies and their scoring methods
Reporting Agency
Score Range
Used For
Score Overview
Source: www.nav.com/business-credit-scores/
Dun & Bradstreet: PAYDEX
1-100
Vendors and suppliers
Uses past payment performance to help determine what trade terms to extend to your business.
Experian: Intelliscore PlusSM
1-100
Loans and lines of credit
Uses statistics and past performance to predict the likelihood of delinquency in the next year.
FICO®: Liquid Credit® Small Business Scoring Service
1-300
Banks and other lenders
Uses personal and business credit factors to rank businesses by their likelihood of positive payment performance.
The Dun & Bradstreet PAYDEX scores businesses on a scale from 1-100 to determine payment performance. The higher the score, the more dependable the business has been in the past at paying bills on time or early. Dun & Bradstreet's PAYDEX is typically used by vendors and suppliers when they are assessing the terms of a trade credit agreement. Any score between 80-100 is considered strong.
Learn more: What is the D&B rating?
Experian: Intelliscore Plus
Experian defines their score as a statistically-based risk score that predicts the likelihood of serious delinquency in the upcoming year. Similar to Dun & Bradstreet, their scores range from 1-100, with higher scores being optimal. Unlike the other scores, the Intelliscore Plus combines statistical modeling using over 800 commercial and owner variables. It's considered a trustworthy source for creditors to predict the risk of opening a line of credit for your company. A solid score is anywhere from 51-100, but the best place to be is in the 76-100 range.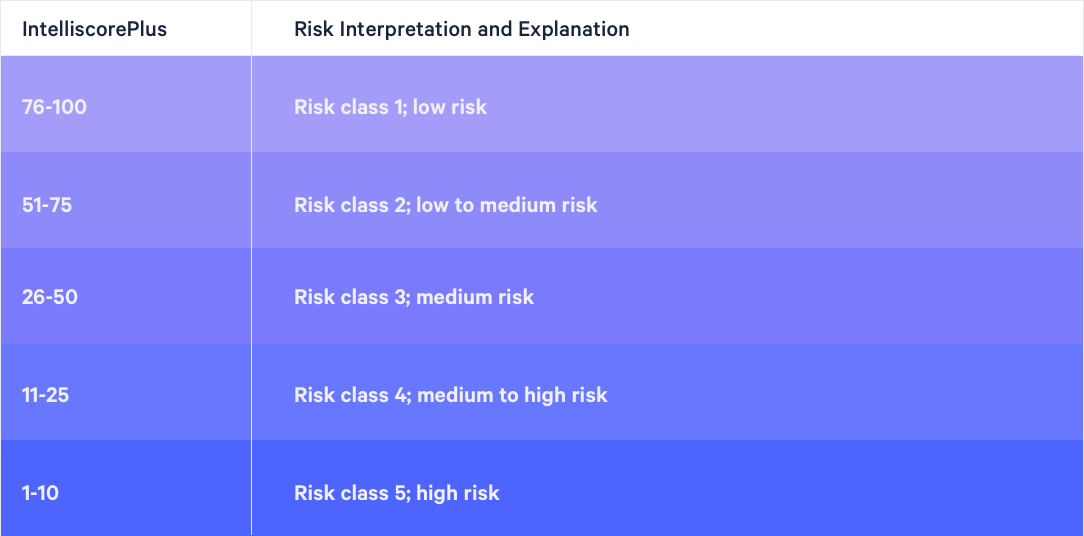 FICO® LiquidCredit® Small Business Scoring Service (SBSS)
FICO uses their SBSS to score businesses based on their likelihood of paying back credit on time based on your business credit history and other financial information. This is the only score of the top three that uses a larger scale from 0-300. Like the others, the higher the score, the better for your business. This score is generally used when you apply for loans and lines of credit with vendors.
This score differs from the others because it is far more fluid in interpretation. Where there are specific risk classes that businesses fall into with Experian and Dun & Bradstreet, FICO doesn't have specified categories of what is considered high-risk or low-risk. According to the Small Business Administration (SBA), the current threshold to pass their pre-screen loan process is 140.
How to establish business credit
Establishing strong business credit is a simple process, but it takes time. Before you start the process, go ahead and obtain copies of your current reports. Even if you've been in business for a few years, if you haven't taken out any loans and your vendors don't report to any commercial reporting agencies, you might not have the recorded payment history to have a business credit score.
1. Establish a separate legal entity for your business.
Whether you're just starting a new business or you've been a sole proprietor of a small business for a few years, this is an integral part in ensuring that you're building a solid business credit foundation. If you don't have your business completely separated legally from your personal finances, it can damage your overall credit health (for your business and your personal score) and put your personal finances at risk if your business ever runs into financial trouble.
Incorporate your business or form an LLC.
Get an employer identification number (EIN).
Open a separate checking/savings account for your business.
Get a dedicated business phone line.
Register with Dun & Bradstreet to get a D-U-N-S Number®. It's a nine-digit ID uses for each physical location of your business.
2. Apply for a business credit card (and use it).
Business credit cards are a wonderful thing. The best business credit cards come with great perks like sign-up bonuses, cash-back rewards, and travel benefits. Regularly using a business credit card and paying off the balance each month is a great way to start building business credit. They're incredibly versatile, and you can use a business credit card for any business expense: office supplies or furniture, business travel, advertising costs, and more. Just make sure you sign up for the card using your business information, and not your personal information. Otherwise, it may end up contributing to your personal score rather than your business score.
3. Ask for credit terms from vendors.
Even small lines of credit with net 30-day payment terms can help you slowly build credit, and relationships with vendors and suppliers are so important for any business. Multiple credit reporting agencies, including Dun & Bradstreet, require multiple vendors to generate enough data for a report, so ask your vendors and suppliers if they report to any commercial credit reporting agencies. There's no shame in prioritizing vendors who do report to those agencies, especially in the early stages of your business. Make sure you're always paying your bills on time or early if at all possible.
Building business credit when your personal score isn't great
Some creditors use a small business owner's personal score as a way to determine if they are trustworthy enough to open a line of credit when there isn't enough information on their business credit report.
According to Experian, many creditors are trying to move away from relying on personal credit scores because "personal credit is not considered an ideal predictor of business behavior," but until a business has an established business credit history, it might be all they have to go off of.
Here are a few ways to build a better business credit score, even if your personal credit score isn't excellent.
Ask for small lines of credit with vendors and suppliers that report to commercial credit agencies, and pay them off promptly. Once you open a relationship with a few vendors and prove your trustworthiness, other suppliers and vendors will be willing to give you higher lines of credit.
Apply for a small loan from a microlender. Historically, microloans are much easier to get approved for, meaning your personal score doesn't have to be stellar to qualify.
Make sure you aren't listed as a sole proprietorship. Your personal credit is much more likely to be a key factor in determining your creditworthiness. Taking the extra step to incorporate or list your business as an LLC can make an instant difference.
Improving your business credit score
It can be confusing to know what steps to take to improve your business credit score when different agencies use different factors to produce different scores. However, there are typically fewer factors considered, making it a little easier to improve a business credit score that needs some help.
Pay your bills on time
A common factor in how agencies determine your trustworthiness is payment history. Look at your payment due dates. If one or two of your due dates fall on a difficult time of the month, talk to your vendors or creditors about moving the date to a time of the month when it'll be easier for you to pull together funds to pay on time.
Keep your personal score healthy
Sometimes no matter how much separation you put between your personal and business finances, creditors will get ahold of your personal score as part of their evaluation of your business creditworthiness. Maintaining a strong personal credit score will help make sure that it can't be held against you when you start applying for business credit.
Aim for a low utilization ratio on all of your open lines of credit
Whether it's a business credit card or a line of credit with a vendor, try to only use around 25% of your available credit at a time. Keeping that utilization ratio low shows credit reporting agencies that you are responsible and that you never overextend your business' finances.
Keep multiple credit accounts open
Don't just open 5 business credit cards and ignore all other types of credit. Open trade lines with vendors (those relationships can be business lifesavers even outside of your business credit score), take out loans, and keep a business credit card or two in use. Having a diverse credit history will help keep your score healthy and high across all of the major reporting agencies.
The bottom line: a strong business credit score has major benefits.
The more trustworthy your business is seen by vendors, suppliers, and credit reporting agencies, the more financial freedom your business will have. You'll be eligible for larger loans, higher credit limits, better benefits from better business cards, and better credit terms on lines of credit with vendors.
Perhaps most importantly, you'll also qualify for lower interest rates, which can save you and your business a lot of money in the long-term. Using the Bankrate loan calculator, you can easily see how a lower interest rate can save your business a lot of money over the course of a few years.
The key to establishing a better business credit score is understanding how it works and the benefits keeping up with your scores give you as a business owner.