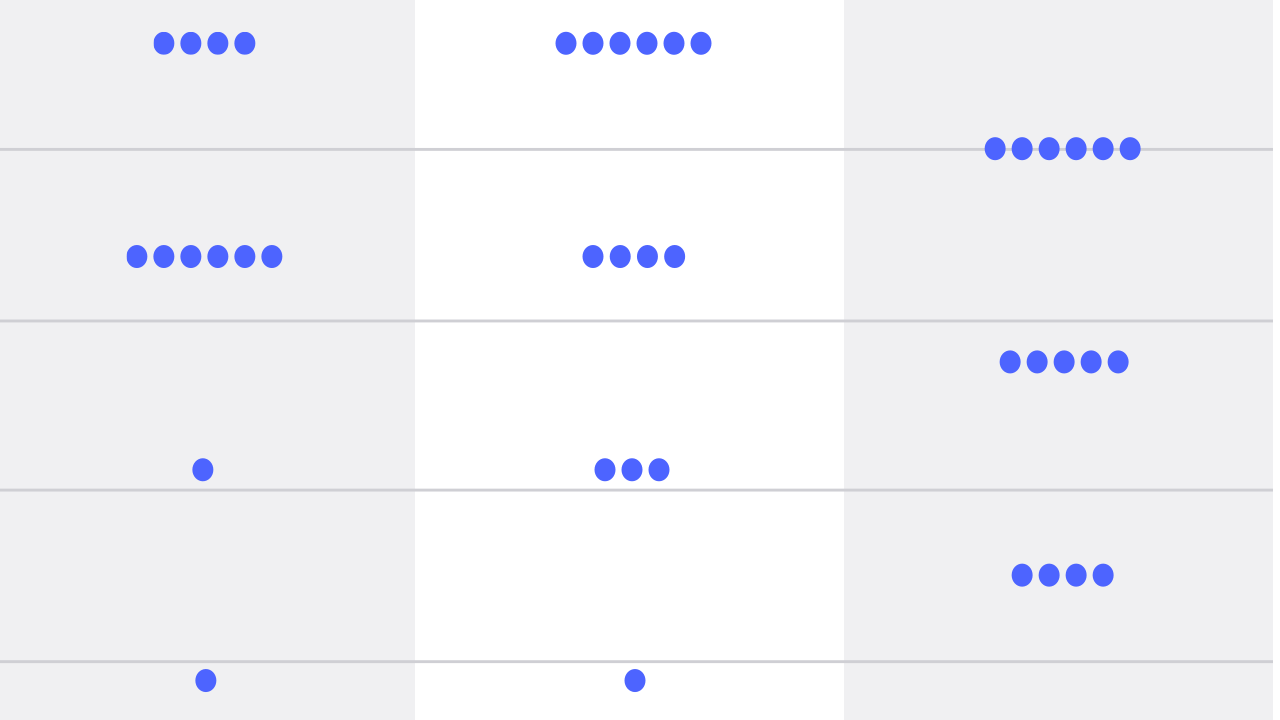 When the Federal Reserve announces its next interest rate decision, you might want to hold off on connecting any dots.
That's because U.S. central bankers are set to update their Summary of Economic Projections (SEP), as well as their heavily scrutinized "dot plot" chart. This graphic indicates to consumers just how much each Fed official thinks it will cost to borrow money in the future.
But even though it seems comparable to getting a sneak peek at the winning lottery numbers, you should still proceed with caution. Many experts – including members of the Fed itself – are questioning the predictive power of this tool.
"If you are too focused on a few dots, you may miss the larger picture," Federal Reserve Chairman Jerome Powell told audience members at a Stanford University economics summit on March 8, referring to the forecast's granular view of policy.
Here's everything you need to know about the dot plot, including what it is, how to read it – and why you might want to take it with a grain of salt when it's updated.
What is the dot plot, and how do I read it?
The dot plot is a chart that records each Fed official's forecast for the central bank's key short-term interest rate. (That's also known as the fed funds rate, which is expected to hold steady in a range of 2.25 percent to 2.5 percent at the conclusion of the Fed's meeting Wednesday).
Each dot represents one Fed official – from Powell to Governor Lael Brainard, from New York Fed President John Williams to St. Louis Fed President James Bullard. Of course, it's all kept anonymous, and no one knows which official is which dot.
The dots reflect what each U.S. central banker thinks would be an appropriate target range for the fed funds rate at the end of each calendar year. They provide a dot for three years into the future, as well as a dot for the longer run.
On the Y-axis is the fed funds rate, and on the X-axis is the year for which officials gave their forecast.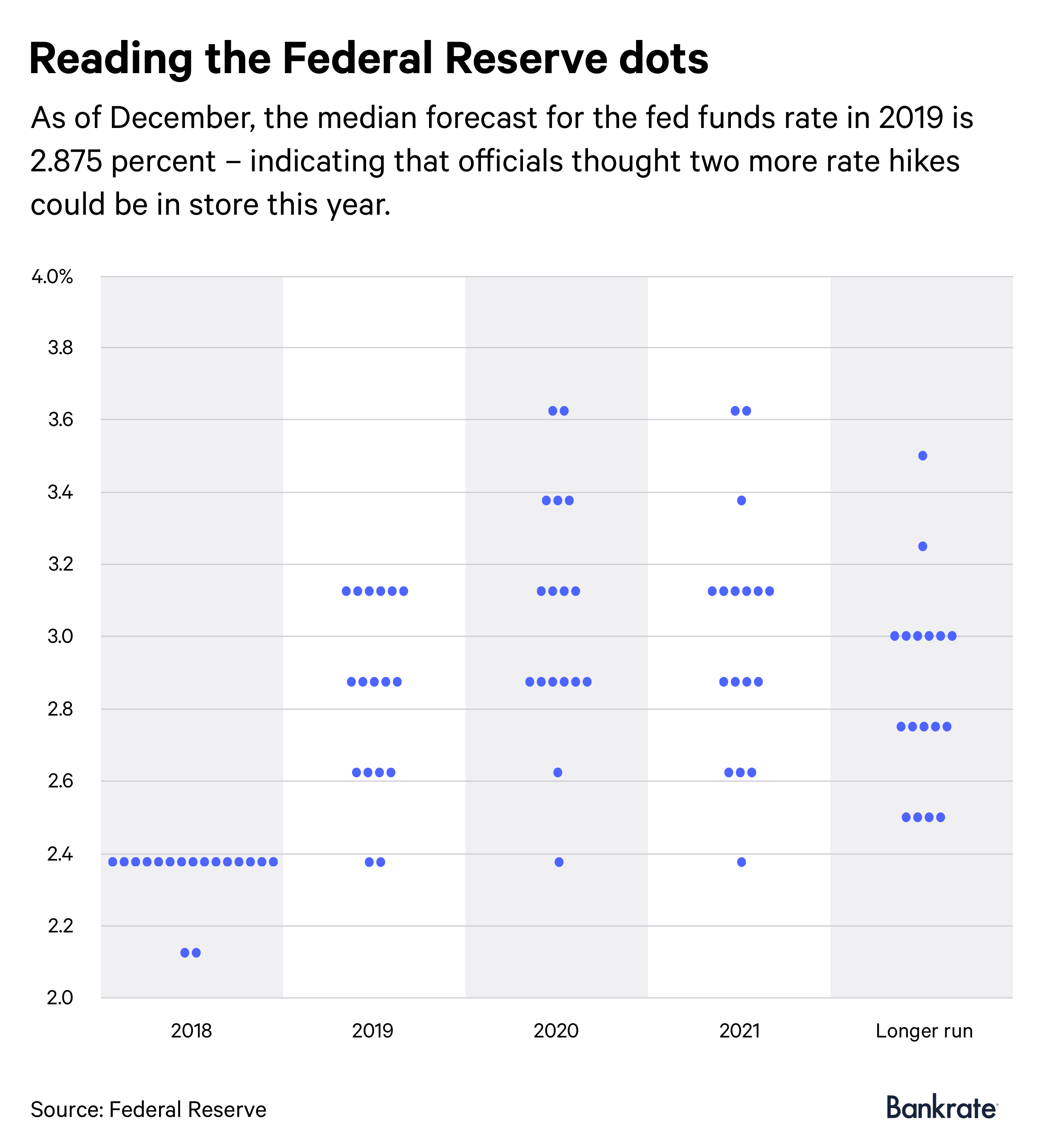 By looking at the chart, you can identify where the clusters are, which in turn allows you to infer where the Fed's bias may lie.
For example: You can tell that, as of December, 15 Fed officials were expecting the fed funds rate to be higher this year than it is now. That means they more heavily supported raising interest rates.
You can also see that the median forecast among Fed officials for 2019 called for a benchmark interest rate of 2.875 percent. That means two more rate hikes.
That's also about where officials expect interest rates to be over the longer term. On the December dot plot, the average long-term forecast was 2.85 percent.
It may sound daunting, but if you have a high-yield savings account or are carrying credit card debt, the chart offers clues about where rates might be a year or two from now, from the officials in charge of making those decisions.
Why the dot plot was created
After all, it was created in 2011, at a time when the economy was still recovering from the Great Recession and when interest rates were still near zero. The central bank wanted to give Fed watchers an advance look at what officials were thinking before they made any official policy decisions.
It was a form of "aggressive forward guidance," a concept that former Chairman Ben Bernanke created to prepare markets for the Fed's movement away from the unconventional support measures it introduced to keep the economy afloat, according to Ryan Sweet, director of real-time economics at Moody's Analytics, who also heads its monetary policy research.
But the backdrop since introducing the dot plot has changed. The economy is in much better shape now compared with a decade ago, with an unemployment rate near the lowest level since 1969 and an expansion that's about to reach its 10-year anniversary, the longest on record.
A lot has also changed since the Fed last updated the dot plot back in December. Officials are in the middle of a policy reversal, pledging that they'll be patient and that they're in no rush to adjust borrowing costs. The Fed communicated this less-aggressive tone during the press conference of their January meeting, but they didn't update these projections to reflect that new stance.
"Currently, the dot plot signals that the Fed is going to continue to raise interest rates. That can be a little bit misleading," Sweet says. "It may be time to modify, to come up with a consensus estimate for the dot plot or just kill it all together."
Why you might want to ignore the dot plot when it comes out
Fed officials have stressed that they're going to be "data dependent." While the economy sends off some conflicting signals, officials say they won't have a predetermined path for rate hikes.
"In the face of heightened risks, policymakers can be patient, waiting to see additional incoming data to better discern the direction of the economy before taking any further monetary policy action," said Eric Rosengren, president and CEO of the Boston Fed, who has a vote on rate decisions, in a March 5 speech to business leaders.
Reacting to data means forecasts will likely change, suggesting that the dot plot might have a quick expiration date.
"To be more data dependent, the Fed needs a lot of flexibility," Sweet says. "The dot plot isn't a forecast. It's not a commitment. Interest rate projections change as the economy changes, as developments in financial markets change. The dot plot gets dated pretty quickly."
There's also the chance that it can be misinterpreted – or ignored. Wall Street panicked in December, after the Fed delivered a hawkish post-meeting statement that called for "further, gradual increases" and published a dot plot that mapped out two more increases in 2019.
Though Powell emphasized that the Fed's policy decisions "are not on a preset course and will change if the incoming data materially change the outlook," the meeting still helped send stocks to their worst December since the Great Depression.
The number of dots – normally at 19, but right now at 17 due to the two vacancies on the Fed's board of governors – might mean it's more noise than signal, says Jonathan Wright, professor of economics at Johns Hopkins University. There's no telling how each leader arrives at his or her own forecast, and only 12 members have a vote on the Federal Open Market Committee (FOMC).
"You think more information is good, but you've got 19 people with very different models of the economy all simultaneously submitting their forecasts and not all of them vote on monetary policy, and they all appear," he says. "Is that really conveying useful information? That's very debatable. Some people think it just creates confusion or a mixed signal."
Officials are also echoing that they're facing a time of economic uncertainty. Brexit, trade tensions and slowing growth abroad are all threatening to harm growth, but the extent of that impact is unclear.  
This backdrop diminishes the dot plot's predictive power even more, according to Julia Coronado, president and founder of MacroPolicy Perspectives, who used to work for the Fed's board of governors.
"In a slowdown, the SEP gets harder to manage," Coronado says. "There's nowhere in the SEP that they can express that uncertainty."
Why the dot plot might soon be revamped (or eliminated)
Minutes from the Fed's January meeting show that some officials are questioning the usefulness of the Fed's dot plot.
"A few participants expressed concerns that in the current environment of increased uncertainty, the policy rate projections prepared as part of the Summary of Economic Projections (SEP) do not accurately convey the Committee's policy outlook," records of that meeting said.
The Fed is gearing up for a review of its monetary policy framework and communication strategies, when it could choose to alter – or get rid of – this projection tool. That likelihood, however, remains unclear. Though Powell said in his Stanford speech that it can lead to confusion, he also said the dot plot "can be a constructive element of comprehensive policy communication" if it's properly understood.
A lot of people on the committee also like it because it gives the public a chance to see the full range of views. Regional presidents who don't have a vote, for example, like that their input is still heard, Coronado says.
In an era of presidential backlash, the dot plot also increases transparency and trust in the institution, she says.
"The Fed feels like it really does need to explain and justify why it's doing what it's doing. The dot plot and the SEP is one element of a policy of transparency," Coronado says. "But that doesn't mean it's useful for the public or for markets. It can be confusing, and it can be misleading."
The Fed is expected to lower its forecast for further rate hikes when it updates its SEP on Wednesday. Updating those projections more than just once-a-quarter could improve the reliability of the chart, Sweet says, but so could taking it away and bringing it back during another downturn.
"Some approaches the Fed has taken are better than others, and given where we are in the cycle, we don't need the dot plot right now. That doesn't mean it can't come back down the road," Sweet says. "They're normalizing the balance sheet, normalizing the interest rate, and they can kind of get back to normalizing their communication, getting it back to where it was before."
Learn more: