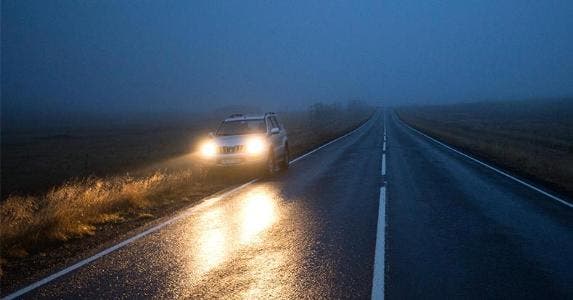 Dear Driving for Dollars,
With the days being shorter, it now gets dark as I am driving home. For some reason, when I turn on my headlights, I'm still having a hard time seeing the road. I checked the lights and all the bulbs seem to be lit up properly. Is it my imagination, or could there be some problem?
— Curtis C.
Dear Curtis,
Chances are good that your headlight situation is not your imagination. There are a few different things that may be happening.
First, double check that all the bulbs in your headlights are actually working and replace any that are out or dim. You can probably do this yourself, although some newer cars may require a special tool to get the lens cover off. If you need to replace a headlight bulb, start by checking your owners manual for instructions. Take the burned-out bulb to your local auto parts store so they can sell you the proper replacement.
If all of your headlight bulbs are working, then it's most likely that you have 1 of 2 situations: First, your headlights may simply be aimed poorly. A recent study published in the science journal Leukos of Insurance Institute of Highway Safety (IIHS) data analyzed by John Bullough, director of transportation and safety lighting programs at Rensselaer Polytechnic Institute's Lighting Research Center, found that many of the headlight systems rated by the IIHS received lower scores because the lights were aimed improperly.
The study found that the number of headlight systems rated "good" (the IIHS' best rating) or "acceptable" would have doubled if the lights were properly aimed. Adjusting your headlights is a pretty simple process and you can find many tutorials online if you want to do it yourself. You may also be able to get help from the guys at the auto parts store if you are buying new bulbs. 
The second situation may be with the headlight lenses themselves. If you drive an older car, the plastic covers can degrade over time, getting hazy or yellowed. This is akin to a light shining through an uncovered window versus a light shining through a window covered by a sheer curtain. If this is the case, you can replace the headlight lenses or use a headlight restoration kit, which can be purchased at an auto parts store or online for as little as $10.
If you still feel like you are having trouble seeing when you are driving at night, it may not be you. In a study that AAA conducted, it found that many headlights did not safely illuminate rural roads without overhead lighting. To learn more, read "Don't be dim, buy brighter headlights."
RATE SEARCH: Comparing car loans? Check interest rates now at Bankrate.
Bankrate's content, including the guidance of its advice-and-expert columns and this website, is intended only to assist you with financial decisions. The content is broad in scope and does not consider your personal financial situation. Bankrate recommends that you seek the advice of advisers who are fully aware of your individual circumstances before making any final decisions or implementing any financial strategy. Please remember that your use of this website is governed by Bankrate's Terms of Use.