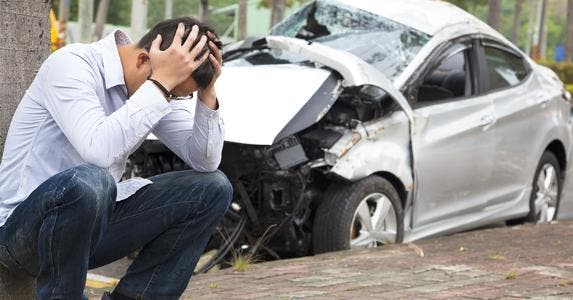 Dear Driving for Dollars,
My parents recently bought a new car and traded in their old one. The dealership gave them the very low end of the range their old car was worth because it had been in a major accident. The accident happened long ago, and the car had been fully repaired, plus it had low miles and was otherwise in terrific condition. I thought they should have received top dollar on their trade, but the dealership said no because the accident had diminished the resale value of the car. They received about $2,000 less on their trade-in than I told them to expect. Is there any way to protect against diminished value after a car accident?
— Thomas
Dear Thomas,
Your parents just encountered the dirty little secret of car accidents — that when a car is in a major crash, particularly if it has frame damage, its resale value is lower than if the crash had never happened, even if the car has been fully repaired and seems, at least to the untrained eye, as good as new.
"As good as new" is the key phrase here. The bottom line is that once a car has been in a major accident, it won't ever be the same, regardless of how well the repairs are completed. As a result, the car has diminished value. Auto insurers don't typically offer to reimburse you for this, so unless you know to ask your insurer for a payment, you may end up with a big surprise when a trained pro assesses your car as you attempt to trade it in.
If the car accident isn't your fault, then you can request reimbursement for the car's diminished value from the insurer of the at-fault party. If they refuse, you can pursue the matter legally, often in small-claims court, depending on the state and the amount you are requesting. If the at-fault party has no insurance, it may be covered under your own uninsured motorist coverage, depending on your state.
To determine the diminished value, it's best to hire an appraiser who specializes in this area. You can find one in your area by doing an Internet search of "appraiser" plus "diminished value" plus the name of your city. Or, you can access an online directory, such as ICan2000.com, a consumer information website focusing on homeowners and auto insurance issues.
If you are the at-fault party, you probably can't get reimbursed, since only a few states require insurance companies to reimburse for diminished value under the policyholder's own collision coverage.
One company, MyCarIsWorthLess.com, which specializes in do-it-yourself diminished value claims, also offers a protection plan to guard against a future car accident where there is diminished value. The protection plan can be purchased for coverage of one to five years. MyCarIsWorthLess guarantees it will recover at least 80 percent of the diminished value within 60 days without having to go to court; otherwise, the company will refund your fee plan or buy out your right to recovery at 80 percent of the calculated value. Plan fees vary widely based on multiple factors, so if you go this route for future protection, consider the costs carefully and how much diminished value might be worth if you need to make a claim.
Get more news, money-saving tips and expert advice by signing up for a free Bankrate newsletter.
Bankrate's content, including the guidance of its advice-and-expert columns and this website, is intended only to assist you with financial decisions. The content is broad in scope and does not consider your personal financial situation. Bankrate recommends that you seek the advice of advisers who are fully aware of your individual circumstances before making any final decisions or implementing any financial strategy. Please remember that your use of this website is governed by Bankrate's Terms of Use.