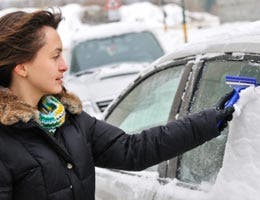 Stay warm with these car accessories
It's that time of year again when freezing temperatures start to serve as your morning wake-up call and the ice scraper becomes your best friend.
But you don't have to dread the next three months of driving. As the first front of snow pushes your way, consider these seven car accessories for keeping yourself — and your car — warmer and safer this winter.
The engine roar minus the howl of the wind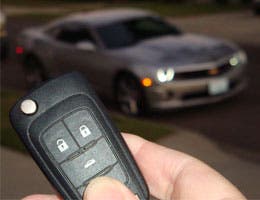 Accessory: Remote starter system.
Cost range: $80 to $500. Installation fees and additional features affect cost.
Available through many electronics retail outlets, remote starter systems sync with a vehicle's ignition system for a jacketless way to start your car. Basic systems start at around $80. At the higher end, remote starters include added features such as smart phone compatibility and security system control.
However, Tara Baukus Mello, Bankrate's Driving for Dollars columnist, warns that convenience comes with a cost to the environment in the form of additional gaseous fumes before the car actually hits the road.
"Using a remote starter is really more of a waste of gas and putting unnecessary pollutants into the atmosphere," Baukus Mello says.
Install an engine-block heater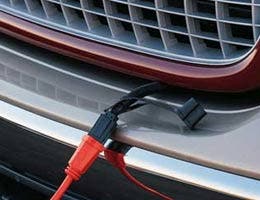 Accessory: Engine-block heater.
Cost: $30 to $60, plus labor charges.
For drivers who live in an extremely cold climate, starting the car may not be as simple as the click of a button.
An engine-block heater can provide an extra boost for starting your car by warming the coolant or the oil. Block heaters use your household electrical power, plugging into a standard AC outlet for two to four hours, depending on the cold.
"A block heater prewarms the engine and helps reduce the wear in the first few critical minutes after a cold start," says Mike Calkins, national manager of the AAA-approved auto repair program.
Calkins lists three main types of block heaters: those that install in the lower radiator hose, those that install in a heater hose and those that install directly on the engine block. A heater installed on the engine block is the most efficient option because it decreases the potential for losing heat through the radiator or the hose, Calkins says.
If you are considering an engine-block heater, Calkins recommends having it professionally installed by a licensed automotive technician to avoid leaks or potential cooling system issues.
Warm up from the bottom up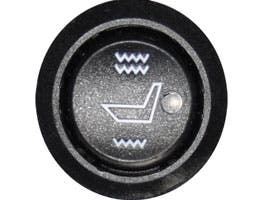 Accessory: Seat heaters.
Cost: $20 to $100 per seat. This range encompasses the lower-cost, fold-over Wagan Tech seat heaters found online and higher-end options such as the Universal Carbon Fiber.
If you're looking to buy a new car, consider that cold morning commute as you browse the lot. Dan Edmunds, director of vehicle testing at Edmunds, says seat heaters are becoming more widely available on many new models as a standard feature in luxury vehicles and an add-on on lesser car offerings.
But you don't have to buy a new car to stay warm.
Some aftermarket, seat-heating kits can be installed beneath your seat covers. However, Edmunds cautions that self-installation can be complicated due to potential compatibility issues with a car's electrical system.
Baukus Mello recommends heaters that simply fold over the seats as an eco-friendly alternative to remote starter systems. Available at a lower price, these kits also take the self-installation dilemma out of the equation.
Winter tires grip the road better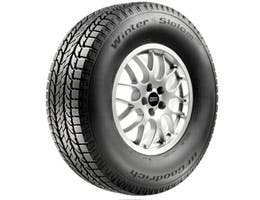 Accessory: Winter tires or all-season tires.
Cost: Approximately $200 to $1,000 for a set of 4, depending on manufacturer and model.
If you live in an area where you expect the snow to pile up this year, winter tires may be an investment that can save you from wrestling with the road in sticky driving situations. As you begin searching through the wide range of winter tires, be sure to consider the average snowfall in your area.
Calkins says all-season tires are a good compromise for drivers who expect light-to-moderate snowfall. But if blizzards and road closings are common for you, real winter tires are your best option.
"With any tire, when it comes to winter driving, it's important to have adequate tread depth," Calkins says.
Improve your visibility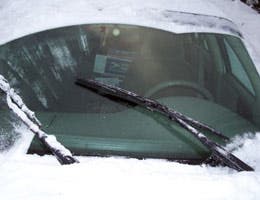 Accessory: Heated wiper blades.
Cost: $120 to $200 per set.
While auto accessory manufacturers make affordable heavy-duty wiper blades designed for winter driving, the automotive aftermarket world also includes heated windshield wiper blades for added performance at a higher price.
Jim Weiler, co-owner of Everblades, says his company's heated blades don't get clogged with ice and snow while driving, helping to avoid pulling off the road to de-ice while empowering drivers with better vision behind the wheel.
If you're considering heated wiper blades to chart a clearer course through the snow, it's important to consult the blade manufacturer to make sure a set will fit your car's windshield.
Leave the weather outside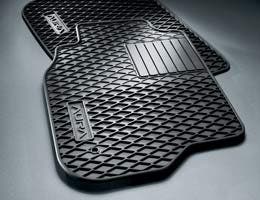 Accessory: All-season floor mats.
Cost: $20 to $40 per floor mat.
If your car's interior carpet regularly takes a beating during the winter months, all-season floor mats made of rubber or vinyl offer a low-cost line of defense against winter sludge.
In the wake of the highly publicized 2010 Toyota recalls and floor mat issues, safety has become a serious concern with floor mats. Edmunds cautions that a mat must be able to engage the factory set of floor mat hooks to prevent slipping out of position and interfering with gas or brake pedals.
Edmunds cautions that a floor mat does not provide the ultimate answer for enhanced interior appearance.
"You must be careful to remove the floor mat periodically and clean below," Edmunds says. "Many are not 100 percent able to prevent slush or mud from getting in between the carpet and the mat."
Accessorize for the unexpected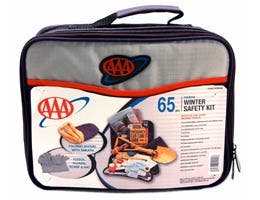 Accessory: Winter weather emergency kit.
Cost: $40 or more pre-assembled.
Even with veteran winter-driving skills, you can't control the weather. One of the most crucial steps for this season is piecing together a winter-weather emergency kit.
Pre-assembled kits are available, but you can buy individual accessories, depending on your needs. Calkins recommends these essentials:
Cloth or paper towels.
Booster cables.
Flares or reflective triangles.
First-aid kit.
Small shovel.
Ice scraper and snow brush.
Cell phone.
Tire chains.
Pair of gloves.
Some type of traction aid such as sand or Kitty Litter.
Basic hand tools (screwdriver, hammer and a pair of pliers).
Calkins advises drivers who live in rural areas to carry additional items such as nonperishable food, bottled water, extra clothes and a blanket. In the event of a worst-case scenario, these items are essential.
The better you prepare for this winter, the warmer and safer you'll be.
Additional resources