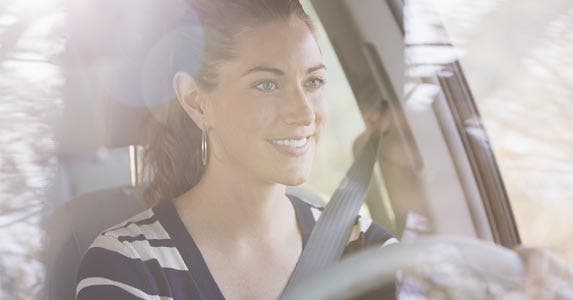 5 ways to make your car comfier
Driving can be a pain.
"Today's cars have every gadget imaginable, but sometimes there's a plain lack of comfort," says veteran New York commuter Debra Caruso Marrone, owner of media relations firm DJC Communications. "What I've found, at times, is that map functions and other driving needs require one to reach so far that driving can be difficult."
American motorists spend an average of more than 45 minutes each day behind the wheel, according to the AAA Foundation for Traffic Safety and the Urban Institute. For some, those minutes in the driver's seat can be a time of squirming and straining. (And maybe cursing.)
If you're short, tall or otherwise fall outside the "typical" profile, an automobile's features may not feel completely comfortable, says Elin Schold-Davis, director of the driver safety program at the American Occupational Therapy Association.
"Discomfort can cause you to alter the way a safety element was meant to be used," she warns. "The most frightening example is not wearing a seatbelt because, for example, it hurts your neck."
Here are 5 ways to avoid being driven to distraction by an uncomfortable car.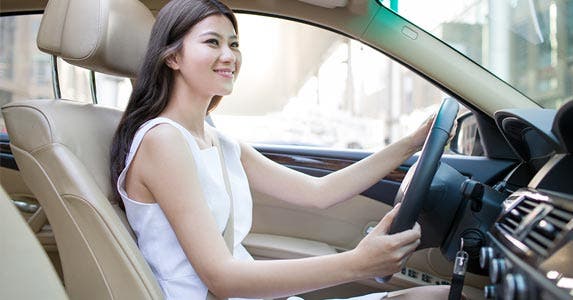 Correctly position your seat — and self
Lane Oatey / Blue Jean Images/Getty Images
When you feel relaxed in the driver's seat, you can spend more time on the road. Generally, you'll steer clear of physical stress if your seat is adjusted so you don't need to stretch your legs to reach the pedals or crane your neck to see out the windows.
For maximum comfort, center yourself in the middle of the seat, says Schold-Davis. The front edge of the seat shouldn't hit the backs of your knees because that can restrict your circulation.
If you're positioned correctly, you shouldn't have to scoot forward for your foot to reach the gas or brake pedal.
"When you fasten your seatbelt, it should be low across the hips and (the strap should) fit snugly across your chest," Schold-Davis says. "Never place the shoulder strap behind your back; it won't help prevent injury in an accident there."
In colder climates, consider a heated steering wheel and heated seats to shorten that chilly reception your car gives you on winter mornings.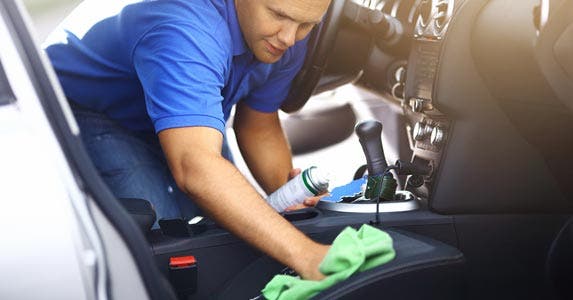 Declutter the interior
gilaxia/Getty Images
Your car shouldn't remind you that you need to catch up on episodes of "Hoarders."
When empty soda cans or bottles roll around on the floor of your vehicle, or when your foot slips on a fast-food wrapper while trying to find the gas pedal, it's not only annoying but also a risk to your safety and the safety of others on the road.
Take out the trash and get rid of what you don't need, says Mike Pennington, director of training at Meguiar's, a car-care products company based in Irvine, California.
"Follow that up with spot-cleaning the carpet and a good vacuuming," he says. "You don't want to sit in a dirty seat and have dog hair or whatever is on it transfer to your skin."
Remove lingering odors from dogs, French fries spilled under the seat or sweaty gym clothes by using a fabric or carpet cleaner and then following up with an air refresher. And not the cheap kind that will only mask the scent. The more effective air fresheners usually come in a spray or aerosol container.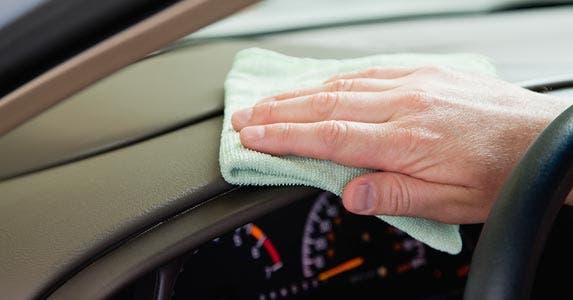 Gear up for comfort with cheap items
Vstock LLC/Getty Images
A couple of inexpensive items picked up from a discount or auto parts store might make a big difference in your comfort level behind the wheel.
Philip Reed, a former senior editor for the automotive website Edmunds.com, recommends making a microfiber towel standard equipment in your glove compartment. Use it to keep your windshield and rearview mirror clean and clear.
When you have a good view of everything around you, it has a positive effect on a driver's confidence and well-being, Reed says.
"Wipe off the dust that settles on the steering wheel column, center console and dash with that same towel," he adds.
Sliding floor mats can be irritating. The driver's side floor mats should have clips in the floor that hold them in place, Reed says, so if those fasteners are missing, buy and install some clips to prevent the mat from shifting.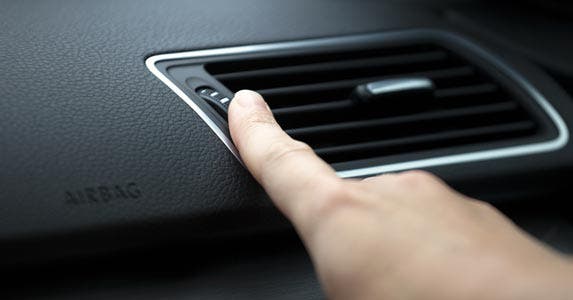 Stop the drafts
efenzi/Getty Images
It can be aggravating to sit in your car and feel cold air blowing on you in chilly weather. It may take a treasure hunt to find where the drafts are originating.
Start by pointing the vents away from your face. If you can, close them altogether, says Ron Montoya, senior consumer advice editor at Edmunds. Then, if you're still feeling a draft, see if you can trace where it's coming from.
"When looking for the source of the cold air, check the weather stripping on the inside of the door where it closes. If the door isn't closing tightly, the rubbery material will look worn. You should have it replaced," Montoya says. "Depending on your skill level, you may want to do this yourself because the weather stripping doesn't cost much."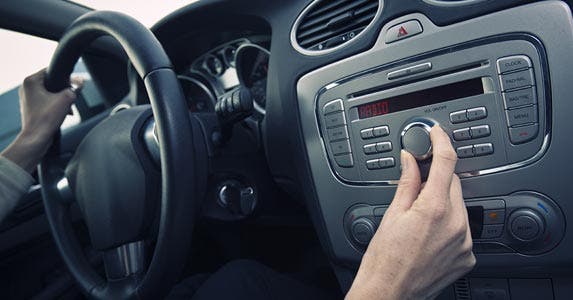 Mute the noises
gaspr13/Getty Images
Rattles, clanging, clicking and other persistent sounds inside your vehicle can raise your blood pressure. Turning up the radio only masks the noises. And you might feel anxiety wondering if something serious is causing them.
The clatter may be your car's way of telling you it needs some type of maintenance.
Wear indicators often squeal when it's time to replace the brakes. When brake pads are low, they will grind or scrape because of the metal-on-metal contact.
A clicking can alert you to a nail stuck in one of your tires. When the racket originates outside the vehicle, look at your tires first, says Reed, former Edmunds editor.
"Certain tires can be very noisy," he says. "When you're looking for new ones, read reviews and look for those that perform well yet are quieter. Tread patterns cause vibrations and, along with the humming they emit, the sound can cause discomfort."
If you can't find the source of a noise your car is making, then you need to take it in to your mechanic.