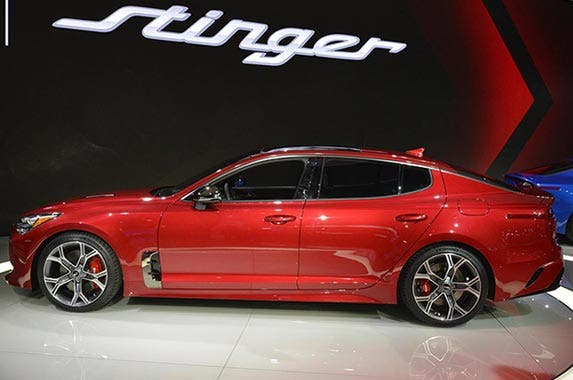 These five sporty cars, introduced at the 2017 North American International Auto Show in Detroit, are so hot they'd melt the ice off a frozen road. This year's show, open to the public from Jan. 14-22, uncovers some fierce new features that car lovers will salivate over.
Looking to buy your next vehicle? Here are 10 best tips for buying a car in 2017.
FREE CREDIT SCORE: Don't get ambushed by a bad credit score at the dealership. Check your credit score and credit report first at myBankrate for free.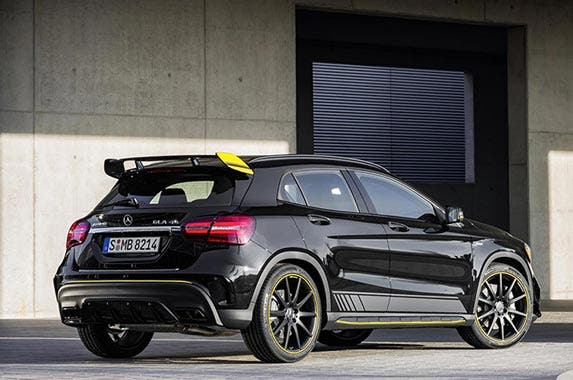 2018 Mercedes-Benz GLA
Mercedes-Benz
After its initial introduction in 2013, the Mercedes-Benz GLA has been redesigned for 2018. The 2018 model includes subtle styling changes both inside and out, as well as increased aerodynamics that improve fuel economy and reduce road noise. The GLA250 and GLA250 4MATIC models are powered by a 208 horsepower, 2.0-liter four-cylinder turbo.
The most drool-worthy model is the Mercedes-AMG GLA45, which features more aerodynamic styling, a new air intake grille and yellow highlights. It's powered by a 375 horsepower, 2.0-liter, four-cylinder turbocharged engine that boasts 0-60 mph in 4.3 seconds. It goes on sale this summer.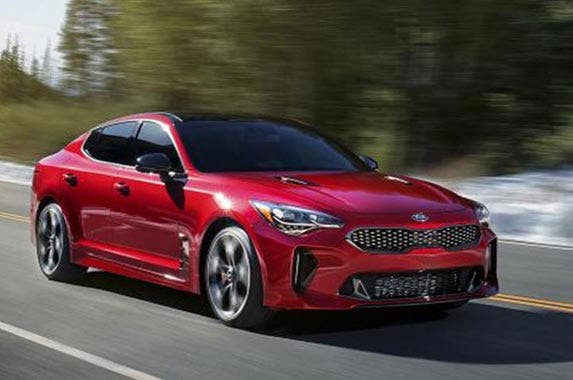 2018 Kia Stinger
Kia
Based on the popular GT Concept car that Kia first showed in 2011, the all-new 2018 Kia Stinger aims to give the European models that dominate this segment a run for their money. The five-passenger fastback sports sedan was designed by Kia Motors Europe in Frankfurt and tested on Germany's famous Nurburgring.
Two turbocharged engines are under development, including a 2.0-liter four-cylinder estimated at 255 horsepower and a 3.3-liter, twin-turbo V-6 estimated at 365 horsepower. While sporty, the Stinger will also aim to transport its occupants in comfort as it is longer and wider than competitors such as the Audi A4, BMW 4 Gran Coupe and the Lexus IS, allowing for more space for occupants and cargo. It will go on sale late this year.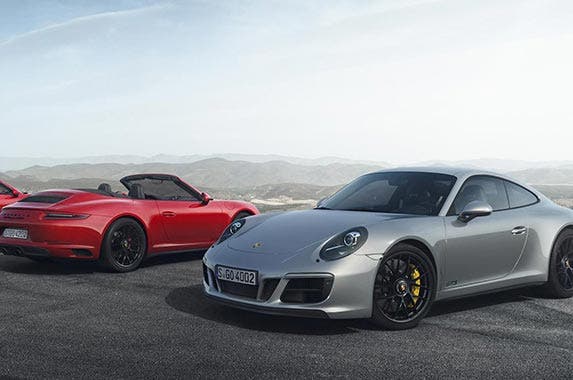 2018 Porsche 911 GTS
Porsche
Porsche is expanding its 911 lineup with five new GTS models for 2018. It will now include the rear-wheel-drive 911 Carrera GTS and the all-wheel-drive 911 Carrera 4 GTS in both coupe and cabriolet versions, as well as the 911 Targa 4 GTS with all-wheel-drive.
All models will be powered by a 450 horsepower, 3.0-liter, flat six-cylinder engine with larger turbochargers than currently available mated to a 7-speed manual transmission or an optional dual-clutch transmission. The result is 30 more horsepower than the current 911 Carrera S and 20 horsepower more than the previous naturally-aspirated GTS. Models will arrive in showrooms this April.
RATE SEARCH: Ready to buy this Porche in April? Before you compare car loans, check out interest rates at Bankrate.com.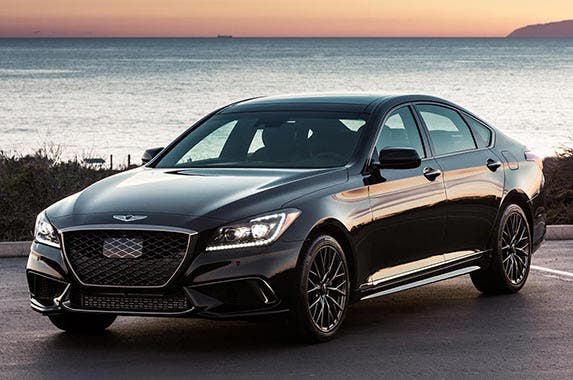 2018 Genesis G80 Sport
Hyundai
Hyundai's new luxury brand, Genesis, continues to expand its lineup, adding a sport model to the popular G80 sedan. The 2018 Genesis G80 3.3T Sport will be powered by a 365 horsepower, 3.3-liter, direct-injected, twin-turbocharged V-6 that is paired with a sport-tuned 8-speed transmission on an upgraded suspension system.
Distinctive copper styling elements feature unique 19-inch wheels that differentiate the model from the rest of the G80 lineup, while genuine carbon fiber trim — as well as leather sport seats and steering wheel — accent the interior. It will arrive in showrooms this spring.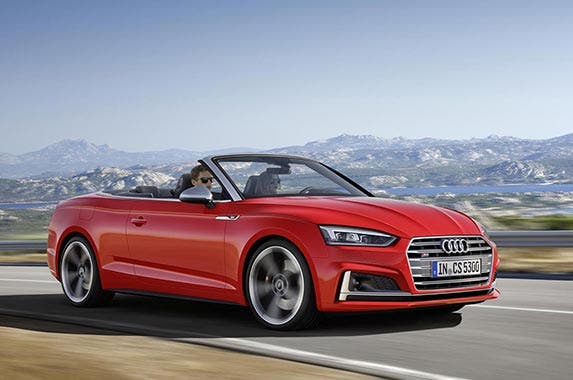 2018 Audi A5/S5 Cabriolet
Audi
The introduction of the 2018 Audi A5 and S5 Cabriolet models completes the new generation of the A5 family. The four-seater features a fully-automatic soft top that opens in 15 seconds and closes in 18 seconds at up to 31 mph. With the top down, it rests underneath the luggage compartment to offer the fullest amount of luggage space at all times.
A5 Cabriolet models are powered by a 252 horsepower, 2.0-liter, four-cylinder and paired with a 7-speed, dual-clutch automatic transmission. The S5 Cabriolet gets a re-engineered 354 horsepower, 3.0-liter, V-6 engine and 8-speed Tiptronic automatic transmission. Improved low-end torque in this engine means a 0-60 mph time of 4.8 seconds — a half-second faster than the previous model. It will go on sale this spring.
RATE SEARCH: Comparing car loans? Check interest rates now at Bankrate.com.