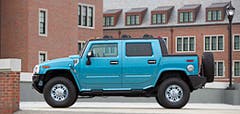 Selling your car or truck online? Most of what you know from selling a vehicle through the local newspaper classifieds won't apply.
According to Clayton Stanfield, manager of dealer training for eBay Motors, classified listings are designed to merely present inventory to shoppers. Consequently, the listings have just enough information to motivate a shopper to call to make an appointment to see the vehicle. An online listing, on the other hand, is transactional.
"This means much more detail will go into the listing since buyers are expected to go much further down the purchase process before ever contacting the dealership," he says. "With 74 percent of eBay transactions happening across state lines, a buyer may make their entire decision to buy a vehicle just on the pictures and details of the listing."
Because online sellers have the potential of reaching a larger market than local classifieds and the posting an ad can be cost up to $90, it pays for sellers to develop a different skill set.
Here are five proven tips for selling your vehicle online:
1. Research the marketplace.
Unless your vehicle is ultra rare, it will be listed against scores of similar vehicles on multiple online sites, such as eBay, Craigslist and AutoTrader, and must be priced competitively. That means not only finding out what others are asking for similar vehicles, but the average transaction price of those recently sold.
Showcase your vehicle
Your photos should tell a story about your vehicle. Put the car in a setting that not only shows it off, but that encourages potential buyers to imagine themselves enjoying the vehicle.
Sites like AutoTrader.com, eBay.com and KBB.com, are reliable pricing sources. Be realistic about the vehicle's condition and mileage in setting an asking price. Even if you are going to place it in an auction, you need to establish a realistic number to set as the reserve — the lowest bid you will accept.
2. Remember: 40 photos, minimum.
Stanfield, who has personally sold 18 vehicles online and now teaches car dealers how to sell online, says that using quality photos is the key to online selling.
"We always start with merchandising," he says. "You need pictures, lots of quality pictures."
Stanfield says to capture every aspect of the vehicle from every angle. More than likely, the transaction will be completed without the buyer laying eyes on the vehicle, so the photos function as the potential buyer's walkaround. Stanfield emphasizes that at eBay, 40 is the magic minimum number of pictures to facilitate a quick sale. Fewer photos or poor photos can mean no, or at best low, offers.
The photos, he adds, need to be accurate and truthful: Don't try to hide blemishes or damage as this will only create problems once the transaction is complete and delivery is made.
"A car doesn't have to be perfect, but they need to see everything about it," he says. "I want to see real photos."
Nuts and bolts of selling online
When selling online (even out of state), the buyer's and seller's responsibilities for registration and title remain the same as in any used-vehicle transaction.
Paying the sales tax is still the responsibility of the buyer.
Buyers should expect their state DMVs to require sales tax when registering the vehicle and this cost should be figured into the buyer's budget.
3. Pack the headline with keywords.
You want potential buyers to find your listing, and the best way to do that is to load the title or headline with several keywords that your buyers use in their Internet search.
"I think of every attribute to put in the title, so the listing comes up on several keywords," Stanfield says.
Usually there is no limit to the number of words you can use in the title, so don't stick to just the year, make and model. When appropriate use "low mileage," "Bose audio system," "great fuel economy" or "leather seating."
4. Write a compelling description
Writing the description is one area where the private seller can actually outdo a professional dealer.
"Dealers do so many, that they do abbreviated descriptions. I put in 45 minutes to an hour listing a car," says Stanfield.
An example of what Stanfield considers an effective description:
This 2006 Hummer H2 has just 31,000 miles on it and is beautiful. It is in near perfect condition. The exterior paint looks great and while there are the typical little scratches here and there, you can tell from the pictures that it has been well cared for. The interior is just as beautiful and smells like leather with no hint of cigarette smoke. I have personally driven this vehicle and can tell you it is a real pleasure to drive. The options include all the bells and whistles, including power seats, upgraded stereo system and a back up camera. This Hummer was originally over $50,000. Our reserve on this vehicle is thousands below average retail. This is a great chance to own a luxury SUV at a very fair price. My name is John Public and I have been working with eBay customers for over 5 years. I really believe this is a great vehicle and I have it priced to move fast. Please call me with any questions you have. (555) 555-5555 (place e-mail address here).
According to Mark Scott, a senior manager at AutoTrader.com, nearly every vehicle today has power windows and air conditioning, and such mundane features shouldn't be at the top of your description.
"Think about what attracted you to that vehicle when you bought it," he says. "If it's a minivan, talk about the number of cup holders and storage bins it has. Talk about the rear-seat entertainment system and other features that make it a great family vehicle. If it's a convertible, talk about what great summer fun the car is."
5. Reach out to the buyer
Buying a car online can cause anxiety and stress for the buyer. He is, after all, paying for something that is often sight unseen. Creating a bridge of communication with the buyer can ease his anxiety and minimize the likelihood he will be unhappy with the vehicle once it arrives.
Stanfield recommends calling the buyers once the transaction is finalized and thanking them for the sale.
"Build a rapport with the customer before and after the sale," Stanfield says. "Keep him apprised of where the process is at. Make sure it's a great experience for him!"