Speed for a steal
It's an excellent time to be in the market for a fast and fun car. Auto loan rates are low, making it very affordable to finance a new car. And due to improved technology, showrooms are stocked with stylish vehicles that offer solid performance, speed and handling on the cheap.
You can park any of the cars on Bankrate's list in your driveway for less than $20,000, with prices ranging from $15,900 to $19,975. In addition, all of these go from zero to 60 mph in less than nine seconds — relatively fast considering the price tag. You'll likely lose a drag race against a Ferrari, but you'll merge onto the freeway and take hard corners without a hitch.
These are no slouches in the fuel-efficiency department, either. All these cars post good mpg numbers in the city and on the highway.
That makes these affordable cars not only fast and fun, but practical as well.
Kia Forte EX sedan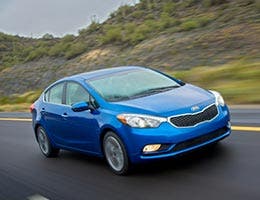 Price: $15,900
Gas mileage:

City – 24 mpg
Highway – 36 mpg
The newest version of the Forte has been redesigned, sporting a sharp new look. It comes in two different models, the LX and EX. A big bonus for consumers, the Forte EX is the least expensive on our list.
On the EX, Kia includes cushy upgrades such as 16-inch tires with alloy wheels and a leather-wrapped steering wheel.
The sedan is the only model currently in showrooms, but hatchback and coupe versions will be available later in the model year, according to Edmunds.com.
Off the line, it goes from zero to 60 mph in 8.1 seconds with the automatic transmission, according to Dan Edmunds, Edmunds.com's director of vehicle testing.
It does that with the 2-liter, inline four-cylinder engine, which pushes out 173 horsepower and 154 foot-pounds of torque, and a six-speed automatic transmission.
Anti-lock brakes, traction control and stability control are standard, which make it a fun — and safe — car to drive.
Chevrolet Sonic LTZ hatchback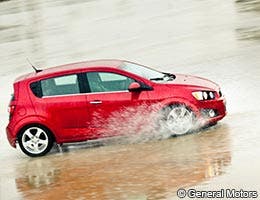 Price: $17,850
Gas mileage:

City – 25 mpg
Highway – 35 mpg
The 2013 Sonic LTZ is powerful, zippy and fuel-efficient, giving Bankrate plenty of reasons to put it on its list of fun and affordable cars.
It's available in a sedan or hatchback with four different model options — the LS, LT, LTZ and RS. However, the LTZ option offers the most power and amenities for less than $20,000.
It comes standard with a 1.8-liter, four-cylinder engine that kicks out 138 horsepower and 125 foot-pounds of torque.
But there's an optional, more powerful, turbocharged, 1.4-liter, four-cylinder engine that produces 138 horsepower and 148 foot-pounds of torque, costing an extra $700.
Edmunds.com puts the LTZ hatchback with a six-speed manual transmission as the quickest in its class, moving from zero to 60 mph in 8.8 seconds. Indeed, Chevy says the Sonic with a turbocharged engine and a six-speed manual will do the sprint in less than 8 seconds.
Amenities include perforated leatherette seating surfaces, heated front seats, and a leather-wrapped steering wheel with cruise and audio controls.
The National Highway Transportation and Safety Administration gave this vehicle a five-star overall vehicle score for safety, the only car in its class to get that high of a rating.
Ford Focus SE hatchback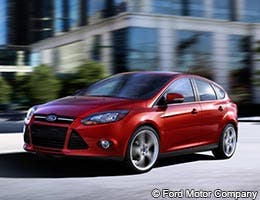 Price: $19,115
Gas mileage:

City – 26 mpg
Highway – 36 mpg
There are five different versions of the 2014 Focus, including sedan and hatchback body styles on two of them. In this instance, the SE hatchback version of the Focus combines the sportiest look with the most speed and a reasonable price to make our list of affordable cars.
It's equipped with a 2-liter, four-cylinder engine that produces 160 horsepower and 146 foot-pounds of torque.
Though the numbers for the 2014 model haven't been released yet, the 2013 SE hatchback was able to go from zero to 60 in just 8.3 seconds with the five-speed manual.
To keep that speed in check, Ford added a rear stabilizer bar and a fully independent control blade rear suspension to give it crisp handling.
In addition, electronic stability control with an anti-lock brake system works to monitor road conditions and keep the shiny side of the car up.
But, the Focus also offers SYNC with MyFord Touch, which is voice-activated technology that allows for activities such as hands-free calling.
And because it's direct-injection flex-fuel capable, it sips unleaded gas, E85 (85 percent ethanol and 15 percent gasoline) or any mix of those two while getting a combined 30 mpg.
Mini Cooper hardtop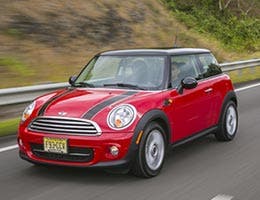 Price: $19,700
Gas mileage:

City – 29 mpg
Highway – 37 mpg
The 2013 Mini Cooper hardtop is the least expensive of all of the manufacturer's models, but it doesn't sacrifice much in the way of performance. It's equipped with a 1.6-liter, four-cylinder engine that rips out 121 horsepower and 114 foot-pounds of torque.
The standard transmission is a six-speed manual, which Mini estimates will get you to 60 mph from a standstill in 8.4 seconds.
If you're looking for better performance, hit the standard "sport mode" button. It will adjust various settings and provide rapid acceleration and tighter steering, according to Mini.
In addition, Mini includes additional performance and safety items on the vehicle as standard, including anti-lock brakes, electronic brake-force distribution, cornering brake control, dynamic stability control and dynamic traction control.
Performance suspension is also included, which features multilink rear suspension to help keep the wheels on the road at their optimal angle.
Honda CR-Z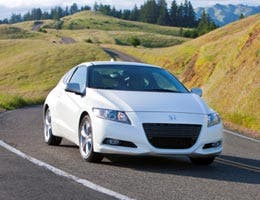 Price: $19,975
Gas mileage:

City – 31 mpg
Highway – 38 mpg
Touted as a sport hybrid by Honda, the CR-Z combines sporty looks, quick steering and good fuel economy.
The manual-transmission version of the vehicle is the quickest and cheapest. For the continuously variable automatic transmission, you'll sacrifice both speed and an extra $650, putting it just above our price limit of $20,000.
The 2013 CR-Z is slightly more powerful than previous model years, sporting a 1.5-liter, four-cylinder engine combined with an electric motor to pump out 130 horsepower and 140 foot-pounds of torque, according to Edmunds.com.
It comes stocked with a six-speed manual transmission, which is the first of its kind for a hybrid, according to Honda. And you get three driving modes from which to choose — normal, sport and econ.
The manual will get you zero to 60 mph in 8.8 seconds, quicker than average for its class, according to Edmunds.
Additionally, this year's model gets the Plus Sport System button to enhance the vehicle's performance when you need a boost of speed, making it even more fun to drive.
Still, the Honda CR-Z is an Insurance Institute for Highway Safety's Top Safety Pick for 2013.