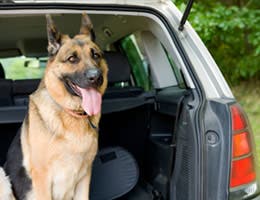 10 doggone ways to make pet travel easy
Fido or Fluffy may be anxious to go for a ride in the car with you, but traveling with your pet can be a lot more comfortable — and far safer — with the proper accessories for pet travel.
Check out our tips to make pet travel easy, and consider these auto accessories to make Fido's ride safe and fun:
Keep pets properly restrained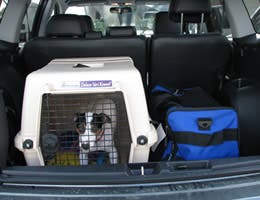 Just like people, pets need to be restrained while in the car. Depending on what kind of pet you are traveling with, you'll need to use either a carrier or a harness to keep it properly restrained.
A carrier should be used for cats and other small animals that cannot easily be harnessed. The carrier should be large enough for your pet to sit and lie down.
The Humane Society of the United States, or HSUS, recommends selecting a carrier with smooth edges, opaque sides, a grille door and ventilation holes on four sides. Secure it in your car with the seat belt (through the handle or around it) or in the cargo area of an SUV or minivan. It is not safe to place a pet carrier inside a trunk because there is not enough air circulation and it can get dangerously hot very quickly on a warm day.
Consider a harness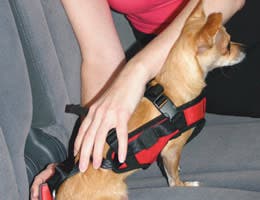 Harnesses are essential for any pet that will tolerate wearing one, though they are used primarily with dogs. According to the HSUS, it's the only other alternative (other than a carrier) to safely transport an animal in a car.
Harnesses come in a wide range of sizes and can be adjusted to fit the chest and shoulders snugly of your pet, regardless of how large or small he is. Snoozer's Pet Safety Harness (shown here), which connects to the seat belt buckle in any car, is the only harness currently available that has been crash-tested.
Using a harness allows your pet to be restrained safely without the possibility of choking by being restrained at the collar. Some harnesses utilize your car's seat belt and require your pet to be comfortable sitting on the car's seat. Other harnesses use the chest ring portion to connect to short leash, while the other end is hooked to a tie-down point in the cargo space of a wagon, minivan, SUV or pickup.
But I can't see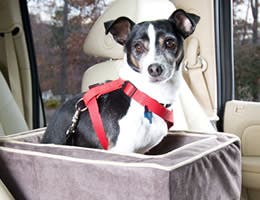 If your pet is one of those who likes to watch the passing scenery, a pet car seat is a terrific gadget for you.
Designed for small to medium dogs, these pet car seats buckle to the center console between the front seats of larger vehicles or are buckled into a rear seat, similar to a child car seat.
Used in conjunction with a harness, the dog is placed in the car seat and the harness is connected to the car seat to keep him secure. The seat provides added height so your pet can see out the window, while still being able to sit or lie down in a soft, cozy spot.
Pet hair no more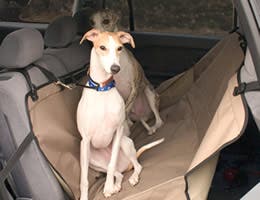 If your dog is prone to shedding, then taking him in the car can equal a giant mess of fur in the many crevices that can create a car-cleansing nightmare.
To bring Fido along and contain the mess, use a seat cover or hammock like the one shown here in the space your dog will sit. These covers can be machine washed and the hammock-style design has the added bonus of preventing Fido from jumping into the front seat before you can get him harnessed up.
Water without the spills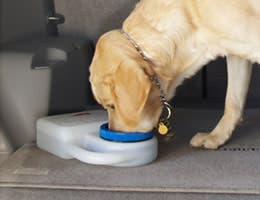 Water is a must-have for pet travel, especially if it's hot or if you're on an extended road trip.
An open bowl, however, is not practical (and can get very messy) while your car is in motion. One option is placing a block of ice in a dish that your pet can lick when he's thirsty, but some pets don't like ice, and there's still a potential mess when it melts.
A better choice is a closed bowl, like the WaterBoy shown here, which a pet can easily access for a drink on the go, yet won't spill or splash, no matter how sloppy he is.
Get a doggy bag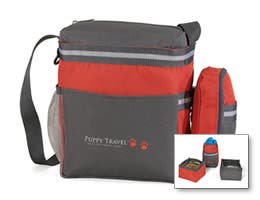 On longer trips you'll need a true "doggy bag" for your pet's food, water, leash and new waste bags. Having all of this in a single, easy-to-carry bag is essential, so you can grab and go as you get in and out of the car for different activities.
One convenient option is Gemline's Pet Lover's Travel Kit, shown here, which allows you to keep everything together and features two collapsible bowls with a non-PVC lining, a water bottle, a detachable case for treats, storage bags or pet parent items and a water bottle for keeping a fresh supply of water at the ready. If you are traveling for one or more nights, then all you'll need to add is your pet's bedding and some favorite toys.
Make getting in and out easy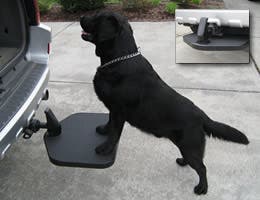 Unless your pet can be picked up with minimal effort, you'll need to create an easy way for your pet — especially a large breed dog — to get in and out of the car easily.
While some dogs may jump in without a care, others may be intimidated by the height difference between the ground and your vehicle and may be wary as a result. Older or arthritic animals can especially have a difficult time getting in or out.
One choice is to use a short ramp that the dog is trained to walk up, but they can be cumbersome to store inside the car and some dogs won't use them. Another option is the Twistep, a 20-inch by 20-inch platform that plugs into the receiver hitch on a pickup or SUV, and then twists under the bumper when not in use. The dog simply uses it like he would a stair to enter or exit the vehicle.
2010 Ford Flex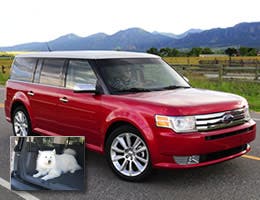 While many SUVs will accommodate large dogs, the Ford Flex ranks high on the list because of its people-friendly qualities. Its low ride height means stepping in and out is easy for passengers as well as their four-legged friends, while its refrigerated console comes in handy for keeping drinks or snacks cool for its occupants, whether human or canine.
The Ford Flex seats up to seven passengers, with a third row seat that is comfortable for teens or adults. Though you'll probably need to keep the third row folded if you are traveling with a large-breed dog.
The new 335-horsepower, 3.5-liter EcoBoost engine offers V-8 power with V-6-like fuel economy, a strong selling point if you like find yourself on the road frequently.
2010 Honda Element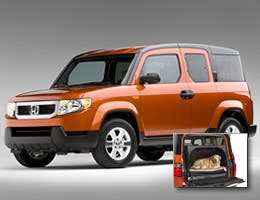 Introduced in 2003, the Honda Element was a fast hit with pet owners thanks to its large side-door openings, substantial cargo space and easy-care rubber floor.
Honda recognized Element's popularity with four-legged friends and, for 2010, it introduced the Dog Friendly Package, as an option on the Honda Element EX. The new package outfits the rear cargo area with oodles of canine-friendly features, including a nylon-webbed car kennel with a cushioned pet bed, a separate fan that provides proper ventilation, a spill-resistant water bowl and an extendable ramp that stows under the pet bed when its not being used.
2010 Volvo XC70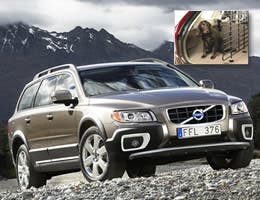 There aren't very many wagons on the market, but this body style is a great choice for people with larger pets who don't want to drive an SUV.
The 2010 Volvo XC70 is one popular model in this segment due to its people- and pet-friendly features. As a company known for its top-notch safety, the XC70 comes with a long list of standard safety features as well as optional collision warning and lane-departure systems.
For pets, it features a crash-tested pet barrier, which will stay in place even in a 40-mile per hour collision with 4,000 pounds of force. The barrier, which is bolted into the vehicle, must be installed by a dealer. People-pleasing features include two integrated child booster seats, standard all-wheel-drive and a choice of three, fuel-efficient, six-cylinder engines.