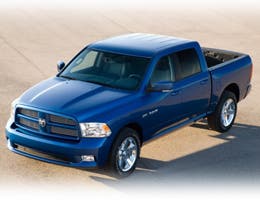 Dodge Ram Crew Cab SLT
Pickup trucks defined the term "tailgating" and the redesigned 2009 Dodge Ram appears to have been specifically designed for the event.
Seating: Completely redesigned for 2009, the Dodge Ram Crew Cab pickup can transport up to six adults in the cab.
Cargo: The rear-seat back can be folded for carrying additional cargo inside. Consider its store-in-the-floor storage bins located in the cab's rear-seat area. Large enough to hold 10 12-ounce beverages and ice, each has a removable liner for convenient cleanup. These are in addition to the weatherproof, lockable, illuminated and drainable storage bins built into the bed rails as part of the optional $1,895 RamBox cargo management system. They each contain 4.3 cubic feet of storage and, combined, can hold up to 10 cases of 12-ounce beverages. Of course when not tailgating, you can store all sorts of other gear in there. A pickup bed divider can keep coolers — would you really need them? — and other tailgating items from shifting. The RamBox system also includes a cargo rail setup with four adjustable cleats.
Convenience: Folding down the tailgate provides a built-in seat.
Features: Several option packages that include a 115-volt auxiliary power outlet. A surround-sound audio system and a 30 GB hard drive are also available. The base V-8 is a 4.7-liter that develops 310 horsepower. To get to the game more quickly you can opt for the 390-horsepower 5.7-liter Hemi V-8.
Price: With the RamBox management system, the 2WD Ram SLT has a suggested retail price of $34,675 for the smaller V-8 and $35,985 for the Hemi.