Indigo® Platinum Mastercard® review
At Bankrate we strive to help you make smarter financial decisions. While we adhere to strict editorial integrity, this post may contain references to products from our partners. Here's an explanation for how we make money.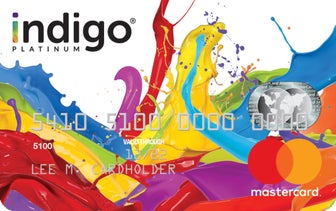 Recommended Credit Score
Bad to Fair (300 - 670)

A FICO score/credit score is used to represent the creditworthiness of a person and may be one indicator to the credit type you are eligible for. However, credit score alone does not guarantee or imply approval for any financial product.
Apply Now
On Genesis FS Card Services's secure website
Best for bankruptcy forgiveness
Annual Fee:

$0-$99

Purchase Intro APR:

N/A

Regular APR:

24.90%
Terms and Restrictions Apply
Bankrate Rating
Our writers, editors and industry experts score credit cards based on a variety of factors including card features, bonus offers and independent research. Credit card issuers have no say or influence on how we rate cards.
Best for those without credit or poor credit
Rewards rate: N/A
Welcome offer: N/A
Annual fee: $0 to $99
Purchase intro APR: N/A
Balance transfer intro APR: N/A
Regular APR: 24.90 percent
The Indigo® Platinum Mastercard® provides a good option for those who have bad credit or no credit history. It can significantly help students and people who need a credit card after declaring bankruptcy since it does not require a credit check for prequalification. Using this card allows you to build or rebuild low credit as long as you make regular payments.
However, note that you may be charged an annual fee based on your creditworthiness. Additionally, the Indigo Platinum Mastercard has a high APR of 24.90 percent, and it carries a credit limit of $300. Nevertheless, it is one of the best credit cards to help you build good credit.
Current sign-up bonus
Unfortunately, the Indigo credit card does not have any sign-up bonus or welcome offer. It also doesn't offer any rewards or cash back programs, but landing a rewards card without good credit isn't always the easiest. However, you do receive a 0 percent cash advance fee for your first year (then $5 or 5 percent of the total transaction amount, whichever is greater, but must not exceed $100).
Benefits
There are many important benefits of using the Indigo Platinum Mastercard. It is great for when you have less favorable credit or no credit history at all. Although it does not have welcome rewards or cash back programs, it does have standard features for the convenient management of your finances.
Soft credit pull
Whenever you apply for a credit card or any other type of line of credit, you may be subject to a credit check. This will slightly affect about 10 percent of your credit score for up to two years. Those with poor credit may experience problems qualifying for a line of credit as a result of this, but because the Indigo Platinum's prequalification does a soft credit pull instead of a hard credit check, your credit will not be impacted.
Fast and easy application process
Many credit cards feature a grueling and time-consuming application process, but the Indigo Platinum Mastercard is one of the easiest cards to get. Have all your basic information ready and you can finish the entire process online in around a minute. As long as you are 18 years old (19 in Alabama) and have a valid social security number plus a US physical and IP address, you can apply and get started.
Build your credit
Building your credit with this card can be easy since it reports your activities to all three major credit bureaus (TransUnion, Equifax and Experian). If you act responsibly by making payments on time, you'll be on the road to establishing good credit and obtaining credit cards with valuable rewards programs and other benefits.
Just keep in mind your annual fee initially eats into your small $300 credit limit, so it could be challenging to keep a low credit utilization ratio—which is a significant factor of your credit score.
High approval rate
The Indigo credit card is a card designed for those with less than perfect or no credit history. With its high approval rate, it makes an easy and quick way to improve your credit.
Standard credit limit without security deposit
You gain access to the Indigo Platinum Mastercard credit limit even without a security deposit, making it an unsecured card. This means you do not have to tie up your finances as collateral for this card upfront.
Rates and fees
The Indigo Platinum Mastercard has a regular APR of 24.90 percent for purchases and a 29.90 percent APR for a cash advance. Note that missing a payment bumps your interest rate to the 29.90 percent penalty APR in addition to the late payment fee of up to $40.
During the first year, you can experience a 0 percent fee on cash advances. After this grace period expires, you will be charged $5 or 5 percent of each transaction amount, whichever is larger (but not exceeding $100). Although there are no cash advance fees during your first year of card membership, you will be charged interest from the transaction date.
When it comes to foreign transaction fees, you will incur a 1 percent fee for every transaction, no matter the currency used in the purchase. Although it's not exactly a no foreign transaction fee card, that's a solid rate for a non-travel credit card since the typical fee for using your card abroad is 3 percent.
When you apply for this card, you will be assigned one of three possible yearly fees. The annual fees can be $0, $59 or $99, although this third pricing structure is only $75 during the first year. The annual fee will ultimately be determined according to your creditworthiness.
How the Indigo Platinum Mastercard compares with other credit cards
Indigo Platinum Mastercard has many competitors offering similar benefits. Two of the main alternative credit cards to consider include the Secured Mastercard® from Capital One and the Discover it® Secured Credit Card.
Discover's secured card is perhaps the best on the market. It requires a $200 minimum security deposit, but you may qualify for a $2,500 maximum credit line, and, more importantly, it's one of the rare secured cards to earn rewards. You'll earn 2 percent cash back at gas stations and restaurants (on up to $1,000 in purchases per quarter, then 1 percent), plus 1 percent on all other purchases. Even better, Discover matches all cash back earned in your first 12 months, which essentially doubles your first year's rewards.
The Capital One Secured doesn't charge an annual fee, but in exchange, the APR is 26.99 percent variable, which is high compared to other competitors. The clincher here is that you'll be automatically considered for a higher credit line in as little as six months with on-time monthly payments, which is an earlier timeline than other cards' and can speed up the credit-building process. The required deposit is $49, $99 or $200 based on your creditworthiness—which is much lower than many other cards' deposits—and it can be paid in ($20 minimum) installments within the first 35 days of your application.
Card
Security deposit/Credit limit
Annual fee
Rewards and first-year offers
Variable APR
Indigo® Platinum Mastercard®

Minimum security deposit: None
Credit limit: $300
Automatic review for credit line upgrade? None

$0, $59 or $99

($75 the first year, if $99 fee)

None
24.90%
Discover it® Secured Credit Card

Minimum security deposit: $200
Credit limit: $200 to $2,500
Automatic review for credit line upgrade? Yes, after eight months

$0

2% cash back at gas stations and restaurants (up to $1,000 in purchases per quarter, then 1%)
1% cash back on all other purchases
All cash back earned in the first 12 months will be matched

22.99%
Secured Mastercard® from Capital One

Minimum security deposit: $49, $99 or $200
Credit limit: $200 to $1,000 (depending on deposit)
Automatic review for credit line upgrade? Yes, after six months

$0
None
26.99%
Bankrate's take—Is the Indigo Platinum Mastercard worth it?
If you have low or no credit, then the Indigo Platinum Mastercard may be a good choice for you. Applying for this card does not require an extensive approval process and you can pre-qualify even if you do not have a credit history. Plus, this card doesn't even require a security deposit.
On the other hand, the Indigo Platinum Mastercard interest rates are relatively high, and the $300 credit limit can be restrictive since you can't request a limit increase. The lack of a bonus or cash back rewards are factors to consider too, but this isn't out of the ordinary for cards focused on credit-building. If you have reasonable credit, you should explore your credit card options that may offer you better benefits.
Pros:
Prequalify with bad credit, no credit history or even if you've previously declared bankruptcy
A low 1 percent foreign transaction fee
Reports to all three major credit bureaus: Equifax, TransUnion and Experian
Cons:
High regular APR (24.90 percent)
Potentially high annual fee, depending on your creditworthiness (up to $99, $75 your first year)
Low maximum credit limit of $300 can hobble your credit utilization ratio