Indigo® Mastercard® review: A simple credit-building card with few features
Build credit with no extra bells and whistles
At Bankrate we strive to help you make smarter financial decisions. While we adhere to strict , this post may contain references to products from our partners. Here's an explanation for . The content on this page is accurate as of the posting date; however, some of the offers mentioned may have expired. Terms apply to the offers listed on this page. Any opinions, analyses, reviews or recommendations expressed in this article are those of the author's alone, and have not been reviewed, approved or otherwise endorsed by any card issuer.
Snapshot
Bottom line
Whether you're just starting your credit card journey or looking to rebuild credit, the Indigo Mastercard can be a decent — if pricey — credit-building option.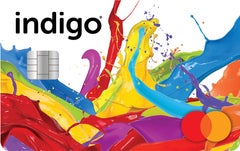 Best for bankruptcy forgiveness
Indigo® Mastercard®
Indigo® Mastercard® Overview
Since the Indigo Mastercard doesn't require a security deposit, it could be more accessible for people who have declared bankruptcy, with bad credit or with no credit history — and a welcome option.
However, depending on your credit score, you may have to pay a high annual fee. The card also carries a relatively high interest rate and a credit limit of only $300. Its low limit could make it challenging to build credit since it will be harder to keep your credit utilization ratio low (a significant factor in your credit score). And the fees and interest rate could work against you if you carry a balance on the card.
The Indigo Mastercard may make sense as a stopgap credit-building option, but if you have fair credit or are open to putting down a refundable deposit on a secured credit card, you might want to look elsewhere.
Indigo Mastercard pros and cons
Pros
With a soft credit check, you don't have to worry about impacting your credit score to prequalify.

It offers a low 1 percent foreign transaction fee, making it a solid choice for international purchases.

The issuer reports card activity to all three major credit bureaus each month, letting cardholders build credit history.
Cons
Its ongoing APR is a bit on the higher side, so you'll want to pay off your balance in full each month to avoid additional debt.

Your annual fee could be high depending on your creditworthiness, and you can't offset it with perks or rewards.

You may have to be mindful of your credit utilization ratio since a low credit limit could negatively impact your credit score if you have a high balance.
Why you might want the Indigo Mastercard
This no-fuss card provides credit-builders with simplicity. You won't worry about keeping up with rewards and bonus categories, and though the perks are light, the card comes with top-of-the-line protections that can take the stress off in case your card is lost or stolen.
Rewards: No temptation to overspend for rewards
Not only does the Indigo credit card have no sign-up bonus or welcome offer, it also offers no rewards or cash back programs. But landing a rewards card without good credit isn't always the easiest, and it might be best to avoid cards with a rewards structure when you are working on improving your credit history.
Maintaining a manageable credit card balance might be more difficult if you tend to overspend to earn rewards, cash back and welcome offers. Instead, the Indigo card allows you to focus on paying off your balance each month and practice positive spending habits.
Perks: Card protections can offer peace of mind
You won't find any valuable perks on this card, but it can get the job done. As you work to rebuild your credit, you can focus more on convenient features and basic protections than perks like travel insurance and lounge access.
For instance, the card comes with Mastercard ID Theft Protection™and Zero Liability protection. With the card's theft protection policy, your Social Security number, email addresses, debit cards, credit cards, bank accounts and usernames and passwords for web logins are monitored closely. You'll receive alerts for any suspicious activity as well as access to theft resolution experts who can help you if your identity is stolen.
Additionally, with zero-liability protection, you won't be responsible for unauthorized purchases made in the store, over the telephone, online or via a mobile device and ATM transactions. Credit-builders can rest a little easier knowing they won't have to pay for unauthorized purchases or transactions in case their personal information or credit card is lost or stolen.
Why you might want a different credit-building card
While the Indigo card can help you build credit, it can come at a cost. You may potentially pay a high annual fee and, for a card dedicated to credit-building, it lacks some standard features. Similar cards with lower fees and better credit-building benefits might be more appealing.
Credit limit: Hard to keep credit utilization ratio low
You gain access to the Indigo Mastercard credit limit even without a security deposit, making it an unsecured card. Since the card is unsecured, you don't have to tie up your finances for this card upfront.
But the small $300 credit limit can potentially hurt you as well. An annual fee or having a balance on the card will cut into your credit line. For instance, carrying a balance of just $90 would give you a 30 percent utilization ratio. A balance that is higher could result in a credit utilization ratio that might negatively impact your credit score.
Fees: Additional costs add up
When you apply for this card, the issuer will assign you one of three possible annual fees:
$0
$59
$75 the first year, $99 thereafter
Your credit score ultimately determines your annual fee, and Indigo doesn't specify in the cardholder terms whether your annual fee will change as your credit score changes.
Keep in mind your annual fee initially eats into your $300 credit limit, which can make it more difficult to keep a low credit utilization ratio.
If you get approval for the card, but have an annual fee and your credit score improves while you're an Indigo Mastercard cardholder, consider applying for another card. Find a new card that's available with fair or good credit and consider closing your Indigo card account once you get the new card. Keeping your sights on better, more affordable cards will give you a milestone to work toward and familiarize you with the many rewards and perks available.
One highlight of the card's rates and fees is its foreign transaction fee.The Indigo card comes with a low 1 percent fee for every international transaction, outpacing the typical 3 percent fee found on most other cards. Although the card is not exactly a no-foreign-transaction-fee card, 1 percent is a solid rate for a non-travel credit card.
Ongoing APR: Expensive for carrying a balance
The Indigo Mastercard has a regular APR of 24.90 percent for purchases and a 29.90 percent APR for a cash advance, and missing a payment can bump your interest rate up to the 29.90 percent penalty APR. You'll also face a late payment fee of up to $40. These rates and fees could hinder your credit-building progress if you happen to carry a balance on your card or miss a payment.
However, you do receive a 0 percent cash advance fee for your first year (then $5 or 5 percent of the total transaction amount, whichever is greater, but must not exceed $100). Despite this first-year offer, you might want to avoid large cash advances if you have bad credit. After the first year, you will pay interest on the cash advance starting on the transaction date, which can really stretch your credit limit. When rebuilding credit, you should keep costs low within a manageable budget.
Credit-building features: Limited benefits
This card lacks some attractive features that could be helpful for people working on their credit history. You won't find perks like an automatic review of your account for a credit line increase, free monthly credit reports, or customizable payment plans.
Instead, the Indigo card has two basic benefits for credit-builders: a soft credit pull to prequalify and reporting credit activity to all three credit bureaus. These two features can be advantageous. For instance, by prequalifying you can get a sense of your approval odds for this card and it won't impact your credit score.
However, prequalification does not equal approval. Formal approval will still require a hard credit check that will ding your score a bit.
Also, building your credit becomes easier when a card reports your activities to all three major credit bureaus (TransUnion, Equifax and Experian). If you use the card responsibly by making payments on time, you'll be on the road to establishing good credit and getting credit cards with valuable rewards programs and other benefits.
However, you can find these same features on credit-building cards that offer additional benefits like credit line increases. While you may have to switch to a secured credit card to enjoy extra credit-building perks, there are plenty of unsecured cards, like the Mission Lane Visa® Credit Card, that carry these benefits too.
How the Indigo Mastercard compares to other credit-building cards
Though the Indigo Mastercard may be ideal for people with bad credit or no credit history, several competitors offer comparable benefits at a much lower cost.
Here are a couple of alternatives to consider.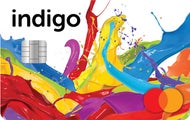 Recommended Credit Score
Bad to Fair (300 – 670)
A FICO score/credit score is used to represent the creditworthiness of a person and may be one indicator to the credit type you are eligible for. However, credit score alone does not guarantee or imply approval for any financial product.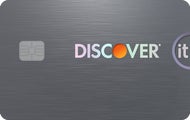 Intro offer
Cashback Match™
Intro Offer: Unlimited Cashback Match - only from Discover. Discover will automatically match all the cash back you've earned at the end of your first year! There's no minimum spending or maximum rewards. Just a dollar-for-dollar match.
Rewards rate
1% - 2%
Earn 2% cash back at Gas Stations and Restaurants on up to $1,000 in combined purchases each quarter. Earn unlimited 1% cash back on all other purchases – automatically.
Recommended Credit Score
No Credit History
A FICO score/credit score is used to represent the creditworthiness of a person and may be one indicator to the credit type you are eligible for. However, credit score alone does not guarantee or imply approval for any financial product.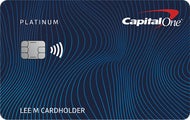 Recommended Credit Score
No Credit History
A FICO score/credit score is used to represent the creditworthiness of a person and may be one indicator to the credit type you are eligible for. However, credit score alone does not guarantee or imply approval for any financial product.
Best cards to pair with the Indigo Mastercard
If you have bad or limited credit history, it may be a good idea to focus on building credit with a single card. Pairing cards or opening multiple cards at the same time could distract you from making on-time payments and make it difficult to stay organized. If you're just getting started, we recommend keeping things simple and sticking to the basics of credit building.
Who is the Indigo Mastercard right for?
The Indigo Mastercard isn't the right choice for everyone, but if any of these cardholder profiles resonate with you, it may be a solid option to consider.
Bankrate's Take — Is the Indigo Mastercard worth it?
If you have a low credit score or limited credit history, you might consider the Indigo Mastercard. Getting this card doesn't require a grueling approval process, and you can prequalify even if you have no credit history.
Yet, the card can be expensive. You could face both a high, nonrefundable annual fee and high interest rates. Plus, its $300 starting credit limit may make it harder to keep your credit utilization in check. With a typical secured card, you could not only avoid an annual fee, but also set your own limit based on your deposit to get a bit more breathing room.
While the Indigo card could be a temporary credit-building tool if you want to avoid a security deposit, there are less expensive options with better long-term value.
The information about the Indigo® Mastercard® has been collected independently by Bankrate.com. The card details have not been reviewed or approved by the card issuer.
How we rated this card
500+
data points analyzed
Our proprietary card rating system takes into account a mix of factors when scoring credit cards for people building credit, including each card's cost, APR, credit-building tools and more.
We analyzed over 50 of the most popular cards designed for people with no credit history, bad credit or a fair credit score and scored each based on where its key features stood in relation to others in its category.
Here are some of the key factors that gave this card its score:
Frequently asked questions
* See the online application for details about terms and conditions for these offers. Every reasonable effort has been made to maintain accurate information. However all credit card information is presented without warranty. After you click on the offer you desire you will be directed to the credit card issuer's web site where you can review the terms and conditions for your selected offer.
Editorial Disclosure: Opinions expressed here are the author's alone, and have not been reviewed or approved by any advertiser. The information, including card rates and fees, is accurate as of the publish date. All products or services are presented without warranty. Check the bank's website for the most current information.