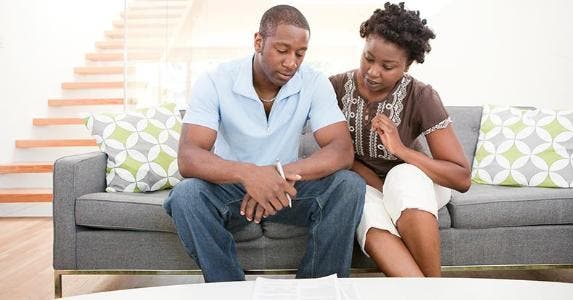 Dear Personal Loan Adviser,
We — my wife and I — took out a personal loan last year to consolidate our credit card debt. It's working for us. We can handle the one monthly bill. We're paying down the personal loan and expect to be debt-free — except for our mortgage and car loans — when the personal loan is paid off.
Noel Hendrickson/Getty Images
It's been a struggle not carrying a balance on our credit cards, but we're staying current on the cards.
What's the problem? No problem really, I just want to know if I can refinance our personal loan to get a lower interest rate.
— Tommy Turnaround
Dear Tommy,
Congratulations to you and your wife for getting your debt under control. Once you put the debt consolidation plan in place, it was key to stay current on your credit cards. Nice work.
You can refinance loans. It can make sense if your credit score has improved enough that you'll be offered enough of a lower rate to compensate for any loan origination fees and costs associated with the loan.
When to refinance loans
Debt consolidation: Typically, personal loan rates are lower than credit card rates, so this could save you thousands of dollars in interest.
Home improvement: When you want to make:

A home repair.
Remodeling a home.
Get new appliances.
Put in a pool.
Furnish your house.

Major purchase: Such as a car, medical procedure, adoption, wedding and more.
How to refinance loans
Figure out how much money you need.
Check your credit score and report so you know whether your credit is good enough for a low rate.
Shop for rates and requirements at banks and online lenders.
Ask the lender whether inquiring about the loan's interest rate will impact your credit score.
Contact the lender once you choose one with favorable rates and requirements.
Pros and Cons of Refinancing a Loan
Refinance Loan Pros:
Save money
Lower payments
Better interest rates
Shorten loan length
More options
Consolidate debts
Change loan type
Refinance Loan Con:
Transaction costs and fees
Higher interest if period extends
Stricter qualifications
Lost benefits of previous loan
No prepayment penalty
The typical personal loan doesn't have a prepayment penalty, taking away one roadblock to refinancing. Peer-to-peer lenders will let you shop for rates on a loan, without it impacting your credit score until you actually close on the new loan.
One issue in refinancing is the temptation to extend the maturity of the new loan out past the maturity of the current loan. Then, even if you get a lower interest rate, you can end up paying more in total interest expense.
Does refinancing make sense?
You can use Bankrate's mortgage refinancing calculator to see if it makes sense to refinance your personal loan. Just input the tax rate as 0%, list points paid as 0 and check the box to not include any private mortgage insurance, or PMI. Input any closing costs like a loan origination fee into the line "other closing costs." It's not pretty, but you can make it work.
Write back and let me know if the refinancing worked for you.
Ask the adviser
To ask a question of Dr. Don, go to the "Ask the Experts" page and select one of these topics: "Personal Loans," "Financing a home," "Saving & Investing," "Senior Living" or "Money." Read more Dr. Don columns for additional personal finance advice.
Bankrate's content, including the guidance of its advice-and-expert columns and this website, is intended only to assist you with financial decisions. The content is broad in scope and does not consider your personal financial situation. Bankrate recommends that you seek the advice of advisers who are fully aware of your individual circumstances before making any final decisions or implementing any financial strategy. Please remember that your use of this website is governed by Bankrate's Terms of Use.