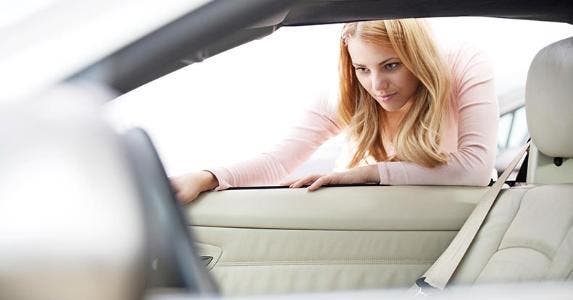 iStock.com/skynesher
Like your leased car enough to buy it when your lease ends? Keep a lid on your enthusiasm and wait for your leasing company to contact you.
Make the first move and you could blow your best chance of negotiating a good deal on your lease buyout.
"Let them speak first. If you show an interest, they're less likely to negotiate," says Tarry Shebesta, president and founder of Automobile Consumer Services Inc.
So don't be afraid to keep your leasing company in the dark about your plans to buy your leased vehicle. And while you're saying a whole lot of nothing to your leasing company, you'll want to be doing a whole lot of research on your own.
Is a lease buyout a good deal?
Take a good hard look at your lease. Track down the exact dollar amount you'll need to pay to purchase the car at the end of the lease. In many contracts, this means the car's residual value plus a purchase-option fee ranging from $300 to $600.
"The purchase-option price is typically pegged at the residual value," says Michael Kranitz, president of LeaseWizard.com. "You also pay a purchase-option fee."
When you sign a lease, you pay the difference between what a car is worth today and what it is expected to be worth at the end of the lease, plus a monthly fee to the finance company. In leasing language, today's value is called the "capitalized cost." Tomorrow's value is called the "residual value."
Be sure to read the fine print of your leasing contract carefully. Keep your eyes peeled for the words "residual value," "purchase-option price" and "purchase-option fee."
Once you know the cost of buying out your lease, it's time to roll up your sleeves and do some pricing research.
Determine the car's market value
The key thing you want to track down is the actual value of your leased vehicle. How much would you pay if you could buy your car from another dealer? This is your car's retail value.
You also want to find out how much a dealer would pay to buy the car at an auction. This is your car's wholesale value.
Lucky for you, the Internet makes this kind of research easy. For detailed pricing information, check out sites such as Cars.com, NADAguides.com, Edmunds.com, AutoSite, Autopedia, Kelley Blue Book and CarPrice.com.
Pricing information may vary, so be sure to visit several sites. You're trying to nail down a good, solid estimate of what your leased car is actually worth.
If you leased a super-popular car in the last couple of years, there's a chance your car's residual value will actually be lower than its retail value.
Take the ultra-popular Honda Odyssey minivan.
"A lot of the residual values set three years ago are actually lower than the market value," says Raj Sundaram, president of Automotive Lease Guide.
So if you really like your Honda Odyssey, you might as well buy it for its residual value. No other dealer is going to price a 3-year-old Odyssey that low.
Unfortunately for most leasing customers, the residual values on their vehicles are probably going to be greater than the market values of their cars.
"In a lot of cases, the residual is going to be higher than the market value," Sundaram says. "I would say in the majority of cases."
The reason is twofold. First, many banks and financing companies boost up the residual values of leased vehicles. By inflating residuals, they're able to offer lower monthly payments, which many leasing customers want.
So from the moment you sign a lease, there's a good chance the residual value written in the lease is a little on the high side.
The second reason has to do with used-car prices. They've been down for the past three years, thanks to all the widespread discounts available on new cars.
So there's a good chance a 3-year-old car coming off a lease has taken a nice dip in value.
Combine an inflated residual value with a low resale value and most leasing customers are looking at a bit of a gap between what the leasing company wants them to pay and the actual values of the cars.
Still, there's a chance you can knock down the price of buying out your lease with some smooth negotiating tactics.
Negotiating with the lender
Don't call and ask your leasing company about purchasing your leased vehicle.
"In order to maximize your negotiating power, let the lender call you," Shebesta says.
While you're waiting for your leasing company to call you, be sure to shop around for financing for a lease-buyout loan.
"It's just like a refi," says Mark Eskeldson, an auto expert and author of CarInfo.com, a consumer information and advocacy Web site. "You're paying off another lender with your loan."
As with any auto loan, the key to getting a good deal is shopping around.
Check out lease-buyout deals from local banks and credit unions and online lenders such as Capital One Auto Finance. That way, if your leasing company wants to finance your buyout loan, it will have to beat the best deal you found on your own.
Once you've been pre-approved for a lease-buyout loan, you can sit tight and wait for your leasing company to contact you.
When that phone call comes, be as casual as possible when you're asked whether you'll be turning in your car at the end of your lease or buying it.
Tell them you're planning on turning your car in. Wait a beat and add that as much as you like the car, you don't like the residual value.
Next, ask about purchase incentives. Would they be willing to knock down the purchase price of your leased vehicle? Could they make that pesky purchase-option fee go away? What about a discount financing deal on your lease-buyout loan?
You never know what kind of deal you'll land by asking. It's definitely worth a shot.
Keep in mind that some major financing companies, including GMAC, have a no-negotiations-rule when it comes to lease buyouts. The purchase price on the lease contract is what you pay, end of story.
You may have better shot at negotiating a lower lease buyout deal with a smaller financing company.
"The smaller the financial institution, the better the chance you have," Kranitz says.
At the very least, you should be able to get that purchase-option fee reduced.
"It's always worth a try," Kranitz says. "They're more apt to waive the purchase-option fee than anything else."