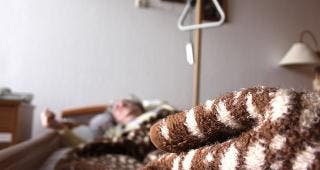 Dear Insurance Adviser,
I read your recent column on unoccupied home insurance. My mother is now in a nursing home and just received a notice of home insurance cancellation.
I live four blocks from her house and have been taking care of it in her absence. It is fully furnished and has an active security alarm system. I visit the house every morning or day to check it out. I have my own house. I could sleep at my mother's sometimes or do whatever is necessary.
Compare home insurance quotes today.
Any suggestions would be helpful. Thanks.
— Steve
Dear Steve,
Every home insurance company is different. Some are much more lenient and willing to keep accepting the risk for a while until you decide what to do. That's especially true if your mom has had the policy for a few years without any claims.
Start by asking your agent to talk to the insurance company underwriter on your behalf. Tell the agent about the central alarm and about your daily visits. Explain that the home is fully furnished. See if your agent can successfully sell the insurance company on continuing to stay on the risk, at least for a while.
Unfortunately, the problem you describe happens all the time when older parents have to move to a nursing home or assisted living facility. They usually end up having their homeowners policy canceled. So there is no way that you are alone with this problem. The insurance policy requires that the home be owner-occupied. Once your mom moved out, she no longer qualified.
But there is a reasonably priced solution to this problem. The insurance industry offers a policy for a non-owner-occupied home or rented house. It's called a "dwelling fire" policy. It's a little more expensive than a homeowners policy, but the coverage can be set up so that it is fairly similar to what your mom had under her home insurance policy.
Good luck.
P.S. Don't forget to include personal liability coverage in case anyone is injured on the home premises. That coverage doesn't come automatically with a dwelling fire policy.
Ask the adviser
To ask a question of the Insurance Adviser, go to the"Ask the Experts" page and select "Insurance" from the drop-down box. Read more Insurance Adviser columns.
Bankrate's content, including the guidance of its advice-and-expert columns and this website, is intended only to assist you with financial decisions. The content is broad in scope and does not consider your personal financial situation. Bankrate recommends that you seek the advice of advisers who are fully aware of your individual circumstances before making any final decisions or implementing any financial strategy. Please remember that your use of this website is governed by Bankrate's Terms of Use.