Debit and Prepaid Card Reviews
At Bankrate we strive to help you make smarter financial decisions. While we adhere to strict , this post may contain references to products from our partners. Here's an explanation for . The content on this page is accurate as of the posting date; however, some of the offers mentioned may have expired. Terms apply to the offers listed on this page. Any opinions, analyses, reviews or recommendations expressed in this article are those of the author's alone, and have not been reviewed, approved or otherwise endorsed by any card issuer.
With prepaid cards, you can make purchases anywhere credit and debit cards are accepted, without applying for a credit card or attaching a bank account. It's like using cash without having to carry it. Simply deposit funds into your prepaid account and use your prepaid card like you would any credit or debit card.
Prepaid cards are often called prepaid credit cards or prepaid debit cards, but they're actually quite different. Unlike a credit card, you can't build credit or carry a balance and pay it off over time with a prepaid card. Unlike a debit card, you don't need to connect — or even have — a savings or checking account to use a prepaid card. Prepaid cards are ideal for controlling spending and avoiding debt, but they offer few rewards and some even charge fees.
Our Bankrate experts rated the best prepaid cards based on several factors. Startup, monthly and per-transaction fees, along with conveniences like direct deposit, savings incentives and mobile app management tools are the key criteria we used. You can compare offers and find expert recommendations in our prepaid credit card reviews below.
Featured Card
Unlimited Cash Back Bank Account by Green Dot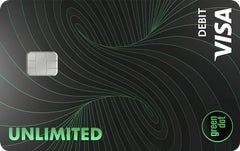 Unlimited Cash Back Bank Account by Green Dot
Featured card comparisons