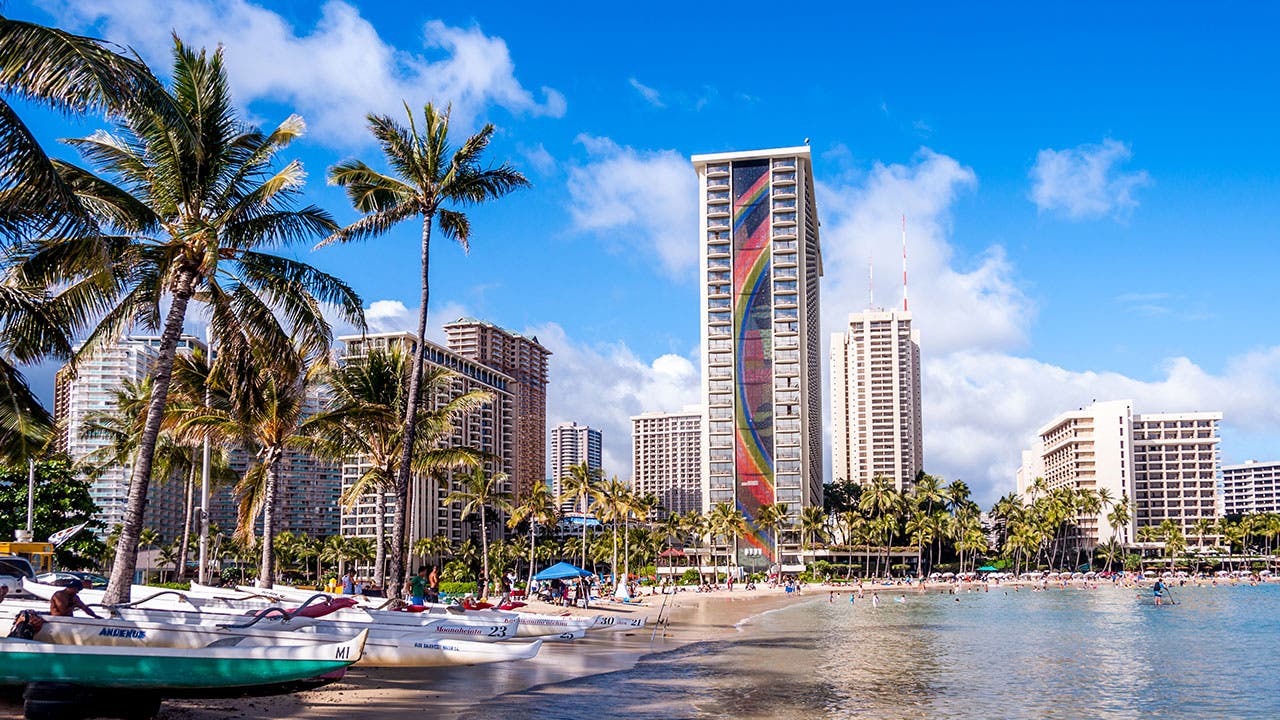 Advertiser Disclosure: The credit card offers that appear on the website are from companies from which this site receives compensation. This compensation may impact how and where products appear on this site (including, for example, the order in which they appear). This site does not include all credit card companies or available credit card offers.
Editor's note: Some of the offers on this page may be expired. Check out our Best Credit Cards page for the most up-to-date offers for our favorite credit cards.
The Hilton Honors hotel rewards program was recently revamped, changing its points structure, adding new features and making American Express® its exclusive partner for Hilton Honors credit cards.
Favorite features of the old Hilton Honors rewards program remain, including a wide range of hotels to choose from. Budget locations like Doubletree, Hampton Inn and Homewood Suites are all part of the Hilton brand and eligible to earn points, along with higher end properties like the Waldorf Astoria.
How do you set up your account, redeem points, and maximize your Hilton Honors rewards when you travel?  Bankrate has the answers for you in our complete guide to the Hilton Honors rewards program.
Understanding the Hilton Honors points structure
Like many frequent flyer and other hotel rewards programs, Hilton Honors has shifted to a system where points earned correlate to the price of the room. Travelers earn 10 base points for every U.S. dollar spent on the room and other eligible charges, including room service, at most hotels in the Hilton portfolio.
Keep an eye out for bonus promotions, advertised via email and social media, to earn points faster.
You can book hotel stays for as little as 5,000 points per night. So if you book a stay at a Hilton hotel and spend just $500 in a weekend, you could earn enough for a one-night stay.
Earn points in multiple ways
Even when you're not traveling, you can accrue points toward your next vacation. The Hilton Honors Rewards program also awards points for car rentals with Hilton partners, cruises and even mobile roaming charges if you travel abroad.
You can also earn points when you shop through the Hilton Honors Shop-to-Earn Mall, dine at partner restaurants, bars and clubs in the U.S., or even order flowers or wine online through select Hilton Honors partners.
Once you've booked 40 nights at any Hilton property within a calendar year, you'll earn 10,000 bonus points, up to 360,000 bonus points in a calendar year. Bonus points do not count toward Elite status but will help you qualify for free nights at Hilton properties.
Transfer points from frequent flyer programs
As though Hilton Honors doesn't give enough opportunities to earn points, you can also convert your Hilton Honors points into miles with well-known carriers like Delta, American Airlines and United.
The Hilton Honors Rewards tiered program helps you earn more
Once you reach Elite status, you'll earn even more with each hotel booking or purchase. How do you get there?
Flexibility is all part of the Hilton Honors program, and there are two ways to move up the tiers and earn more rewards. The more times you stay at a Hilton property within the calendar year, the higher your status. The chart below shows what it takes to achieve Silver, Gold, or Diamond status, as well as how many more points you can earn with each stay.
If you apply for and receive one of four Hilton Honors and American Express co-branded travel rewards cards, you automatically achieve Elite status, making your purchases worth even more points.
Hilton Honors Rewards Levels
| | | |
| --- | --- | --- |
| Status | How to Get There | Points Earned for Every Dollar |
| Member | Sign up | 10X |
| Silver | 4 stays / 10 nights | 12X |
| Gold | 20 stays / 40 nights or 75K base points | 18X |
| Diamond | 30 stays / 60 nights or 120K base points | 20X |
Best travel credit cards to earn Hilton Honors points
American Express® offers four co-branded travel rewards cards that can help you accrue points even faster when you use your card to book a stay in the Hilton family of hotels, as well as on everyday purchases.
The Hilton Honors American Express® card has no annual fee, and offers 7X Bonus Points on direct Hilton hotel or resort purchases, as well as 5X rewards at U.S. restaurants, supermarkets, and gas stations and 3X bonus points on all other purchases. Earn 90,000 Bonus Points when you spend $2,000 in eligible purchases within the first three months of card membership.
With a $95 annual fee, the Hilton Honors American Express Surpass® Card offers frequent travelers many opportunities to accrue points quickly. Receive 130,000 bonus points when you spend $4,000 in purchases within the first four months. Earn 12X bonus points on direct purchases in the Hilton Portfolio, and 6X points in the other eligible spending categories and 3x points on all other purchases.
The Hilton Honors American Express® Business card has a rewards structure similar to the Surpass card, but for business owners.
The Hilton Honors American Express® Aspire card is the Hilton rewards card for big spenders, with a $450 annual fee. Offset the hefty fee by using the card to book flights directly with airlines or through American Express Travel, pay for car rentals with select companies, and dine at U.S. restaurants for 7X bonus points. Kickstart your card membership with 150,000 bonus points after you spend $4,000 within the first three months and continue earning 14X bonus points on stays at Hilton properties for as long as you hold the card.
How to redeem your Hilton Honors points
After you've earned all these points by shopping, flying, and staying at Hilton hotels, how do you redeem them?
The Hilton Honors Reward program makes that easy. Book your stay online or use the Hilton app. Use any combination of points (in 1,000 increments) or money. If you use your Hilton-branded American Express card, you'll earn bonus points, too.
You can also book your stay by calling 1-800-4HONORS, which is toll-free in the U.S. Remember to tell the agent that you'll be using Hilton Honors points.
You don't have to use your points on a Hilton hotel stay, although it does offer the best value.
You can redeem points for once-in-a-lifetime experiences, to make purchases in the Mall, or exchange your points for rewards from Hilton travel partners. It may take 30 days for points exchanges to process.
Even more ways to use your points
If you're traveling with friends, you can pool your Hilton Honors points with up to 10 other members with no fees. You can also transfer points to friends and family who may be a few points short of their ideal travel destination.
Setting up your Hilton Honors account
If all this sounds enticing, the next step is to set up your Hilton Honors account and start earning. Simply visit the Hilton website to join now or ask about Hilton Honors when you check in during your next hotel stay.
How does the Hilton Honors Rewards program compare to other hotel rewards programs?
Since its overhaul, the Hilton Honors Rewards program is easier to understand – and use – than ever before.
Points values vary depending on the hotel reservation you're booking and may drop considerably if you're using your points for flights or other travel or purchases. So it's not easy to compare hotel loyalty programs based strictly on the value they offer.
JD Power ranked Marriott as the top program in its most recent Hotel Loyalty Program Satisfaction Study.
Marketwatch also ranked the Marriott rewards program ahead of others, including Hilton Honors. It only requires 25 nights to earn a free stay or room upgrade with Marriott, while Hilton Honors guests get similar perks after 40 nights.
Marriott also has more locations and brands worldwide, with 7,266 hotels to Hilton's 4,600 locations.
However, Hilton offers more budget-friendly options for your stay. Hilton's new straightforward points structure, as well as its partnership with American Express, also elevate the program's status and desirability.
Ultimately, it comes down to choosing the hotel rewards program affiliated with the brand of hotels you prefer and using your points quickly before they lose value. It also helps to take advantage of every opportunity to earn points by booking travel and paying for expenses with your hotel rewards credit card.
Check out our other points and rewards guides for more research.
Editorial disclosure: All reviews are prepared by Bankrate.com staff. Opinions expressed therein are solely those of the reviewer and have not been reviewed or approved by any advertiser. The information, including card rates and fees, presented in the review is accurate as of the date of the review. Check the data at the top of this page and the bank's website for the most current information.