SunTrust Bank Review 2020
AT A GLANCE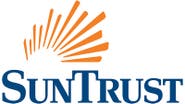 SunTrust is a bank that focuses on individuals who live in the southeastern United States. The bank merged with BB&T to become Truist; however, the brands offer separate products for now.
What we like
Offers some ATM fee reimbursements.

Minimum deposit requirements are relatively low.

Known for leading financial wellness programs.
What we don't
You can find higher rates elsewhere.

Charges higher monthly fees for its money market account.
SunTrust offers a limited selection of CD terms. The $2,000 minimum deposit to open an account is reasonable; however, you can still find competitors that require a smaller deposit.
Reasonable minimum balance.
You can find higher rates elsewhere.

Limited CD term options.
OTHER SAVINGS OFFERS YOU MAY LIKE
You only need to make a $100 minimum deposit to open a savings account. However, the account pays very little interest and it charges a $7 monthly fee. There are easy ways to avoid the fee, however.

On the Select Savings account, the bank will waive the monthly fee if you have at least one $25 electronic transfer or deposit per statement month. You can also avoid the fee if you keep at least $1,000 in the account on a daily basis.
Relatively low deposit requirement.
$7 monthly fee unless you maintain a certain balance or receive electronic transfers or deposits.

You can find higher rates elsewhere.
OTHER CHECKING OFFERS YOU MAY LIKE
While you only need $100 to open SunTrust's Advantage checking account, you would need to put a lot more money into the account (or across your SunTrust accounts) to avoid a monthly fee. Or, you could link another qualifying bank product to sidestep the fee.

You will earn some interest on the checking account and it also offers some ATM fee reimbursements. Already, you can use your SunTrust card to make cash withdrawals at any BB&T ATM for free.

Its overdraft fee price is higher than what some other banks charge.
Some ATM reimbursements.

Free peer-to-peer payments through Zelle.
Stricter requirements to avoid monthly fees.

Charges steeper overdraft fees than some other banks.
SunTrust's money market account offers tiered interest rates; however, you can find higher payouts elsewhere. You will also need to contact the bank to find out the rates.

The account charges a hefty $17 monthly fee if you fail to meet its minimum balance requirements.
Offers check-writing privileges.
High monthly fee.

You can find higher interest rates elsewhere.
Bank experience
For people who live in the Southeast, you will have little trouble finding a branch to visit. Plus, SunTrust supports relatively well-rated mobile apps that you can use to manage your account from anywhere.
About SunTrust Bank
SunTrust is an institution that focuses on consumers who live in the Southeast. It operates more than 1,150 branches.

While SunTrust has merged with BB&T to become Truist, the two banks continue to offer their own products for now. Under the SunTrust brand, customers can open money market accounts, CDs, savings accounts and checking accounts.