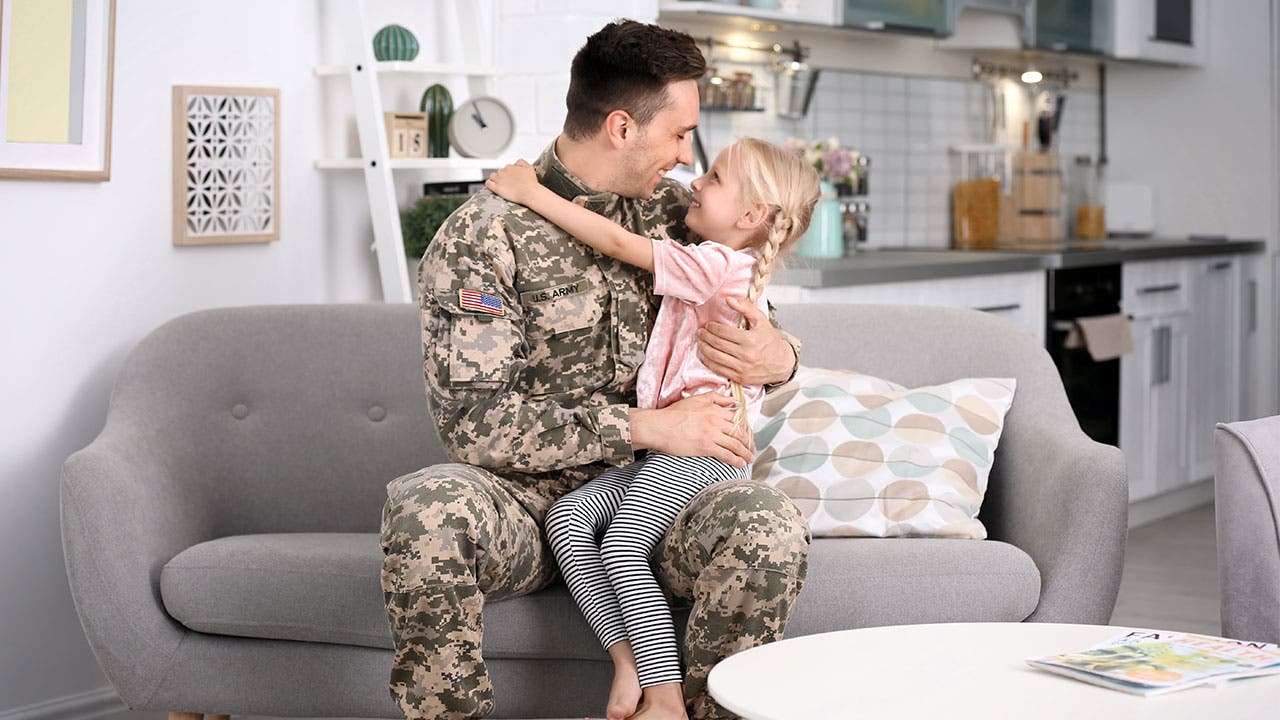 Interest rates are near historic lows, and one particular VA loan refinance option that is easy to qualify for can enable homeowners to save thousands on their mortgage.
Homeowners looking to lower the rate on their current VA home loans may find an easy win with the Interest Rate Reduction Refinance Loan (IRRRL).
The IRRRL is specifically meant to make an existing mortgage more affordable by lowering the interest rate to market rates. For homeowners with VA loans, it's one of the easiest to apply and qualify for with ridiculously lenient requirements compared with traditional mortgages.
Applicants typically need to have a current VA loan with no late payments and be able to show stable employment. Other than that, there aren't many requirements, and homeowners can refinance up to the Fannie Mae and Freddie Mac loan limits in most areas.
As with other VA loans, borrowers must go through a mortgage company, private bank or credit union, all of which can set their own terms and fees. The VA doesn't offer the loan but backs them and allows the lender to recoup all of their losses in the event of a foreclosure. Because there is less risk for the lender, they're more likely to offer better terms and lower rates.
Nearly 90 percent of all VA loans are made without a down payment, according to the VA.
If you currently have a VA loan and are looking to lower your rate, there are four main benefits to the IRRRL:
1. You don't need perfect credit
You don't need spectacular credit to qualify for the IRRRL VA loan refinance. In fact, the VA doesn't even set credit score requirements or require lenders to look at your debt-to-income ratio or credit history, says Ryan Kelley, The Home Loan Expert.
"One of the caveats is that you did have to make the payments on time on your existing mortgage. You can't have any delinquencies," Kelley says.
Applicants can be denied if they're not current with their existing VA loan, and some lenders will disqualify applicants who had a 30-day late payment in the past 12 months.
Because individual lenders can write their own credit requirements for these refi loans, it is a good idea to shop around. Those who do factor credit will typically want to see a score of at least 620. According to the January 2019 Origination Insight Report by Ellie Mae Inc. the average FICO score for a VA loan refi was 690.
2. You don't have to live in the home
While most refinance programs only allow homeowners to refinance properties they live in, that's not a requirement with the IRRRL.
The applicant only needs to demonstrate that they previously occupied the home at some point during the initial mortgage. This means that homes purchased with a VA loan then converted into rental properties can qualify. It's especially useful for veterans as the average military family moves every three years, according to the National Military Family Association.
"Some of them may have bought a house while stationed in South Carolina then moved to California but kept that house as rental property. A couple years go by and points are lower so they could save by refinancing," Kelley says.
One thing you will need is the Certificate of Eligibility (COE) you used to get your original VA loan. You can apply online or through lenders as most have access to the Web LGY system.
While the IRRRL officially doesn't require an appraisal of the home, some lenders may insist on it and may consider home values and equity. One final caveat with the home itself is that homes listed for sale do not qualify.
3. A VA refi can save you money or cut your monthly payment
One requirement of underwriting the IRRRL is that it must offer the borrower a lower interest rate. While those who shorten their loan terms may see higher monthly payments but lower long-term borrowing costs, extending the term of the loan could result in lower monthly payments.
According to Bankrate's survey of the nation's largest mortgage lenders as of mid-June, the benchmark for the 30-year fixed was 4.04 percent and 3.38 percent for the 15-year fixed.
One rule the loan does have is that the borrower must be able to recoup their refinancing costs within 36 months. The VA does have three exceptions to the recoupment requirement: mortgages that include energy efficient improvements, loans being refinance from an adjustable to fixed rate, and loans that refinance to a shorter duration.
These loans typically also have lower closing costs, Kelley says. While borrowers must still pay title fees, escrow account, daily interest and potential points, the VA caps some of these fees. Borrowers must also pay a .5 percent VA funding fee, but this is waived for applicants with a VA disability. This fee can be paid at closing or rolled into the balance of the loan.
"Some people are getting a half point lower and have only had their house for a year…they may have gone and purchased a house a 4.8 percent and now they're in the 3s," Kelley says. "It can be a great deal."
Bankrate's mortgage refinance calculator can help you determine how much you could save and when you may break even.
It's also worth noting that refinancing any ARM into a fixed-rate mortgage may save money in the long term but will also likely come with a higher monthly payment.
4. A VA mortgage refi is fast and easy
Unlike a traditional refinance that can require a mountain of paperwork, the ease and flexibility of the IRRRL means the process is relatively simple. In most cases, lenders can close these out in less than two weeks, Kelley says.
"Because you don't need an appraisal or income documentation, there isn't much to underwriting one…They're quick and easy to get done," Kelley says.
One thing that's not allowable with an IRRRL is a cash out refinance of any kind. A VA-backed cash-out refinance loan typically has more stringent requirements, including tax returns and W-2 forms for the past two years, in addition to a home appraisal.
Finally, no loan other than the existing VA loan may be paid from the proceeds. If there is a second mortgage holder, the institution must agree to subordinate the lien so the new VA loan will be the first mortgage.