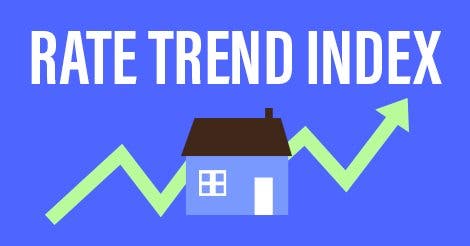 Each week, Bankrate surveys experts in the mortgage field to see where they believe mortgage interest rates are headed.
This week (May 16-22), 55 percent of the panelists believe mortgage rates will rise over the next week or so; 27 percent think rates will fall; and 18 percent believe rates will remain relatively unchanged (plus or minus 2 basis points).
Calculate your monthly payment using Bankrate's mortgage calculator.
This week, will rates go up, down or remain unchanged?

| Up | Down | Unchanged |
| --- | --- | --- |
| 55% | 27% | 18% |
Read the comments and rate predictions of mortgage experts and Bankrate analysts below.
55% say rates will go up
27% say rates will go down
Michael Becker

Sales manager/licensed loan originator, Sierra Pacific Mortgage, White Marsh, Maryland

Treasury yields and mortgage rates spiked earlier this week on hawkish comments from a European Central Bank policymaker and a relatively strong retail sales number. France's Francois Villeroy de Galhau hinted at the end of the ECB's QE, or quantitative easing, and said that rate hikes would follow soon after the end of QE. This in combination with stronger economic reports is pushing mortgage rates to the highest levels since 2011. Because of the quick spike in rates, I think a small pull-back is in order. Slightly lower rates in the coming week.

Logan Mohtashami

Senior loan officer, AMC Lending Group, Irvine, California

Wow, what a week. We finally got a close over 3.05 percent on the 10-year, which is the first time in this cycle that this has happened. High point of Tuesday was 3.09 percent, and Wednesday pricing is at 3.08 percent so far. As crazy as this sounds, we haven't had any follow-through selling on Wednesday over the previous intraday high. Oil prices continue to rise, as well as lumber prices, which are on fire. In two weeks, we will have our seasonal time frame for stronger oil prices to peak so that commodity factor can give legs for higher rate pricing. However, I am going to take the under for this coming week working from a 3.08 percent 10-year yield print. The next are even more crucial: 10-year yield line for me is 3.25 percent on the 10-year. If we break higher than that, that would mean a 37-year down trend has ended. Have fun, everyone!

Les Parker

Senior vice president of LoanLogics, Trevose, Pennsylvania

Song parody: What's new Buenos Aires? Low's new — investors say they're just a little sick of you; Peso says it, too. So, why would rates go down this week when the technical trend is for higher rates and Tuesday rates reached new cycle highs? Simple: Emerging market debt problems from a strong dollar, particularly in Argentina, creates an opportunity for investors to shift assets away from emerging market assets to U.S. Treasuries and mortgages. Song: "Buenos Aires" by Madonna (1996), original (1976).
18% say rates will remain unchanged
Shaun Guerrero

Branch manager, New American Funding, Silverdale, Washington

I look for rates to stay the same over the course of the next week. Treasuries are resting on a level of support and no major economic factors are ahead over the next seven days that should move the markets.

Elizabeth Rose

Sales Manager,
Nations Lending, Dallas

Mortgage bonds have had a tough time lately. There has been plenty of volatility, creating a multi-day decline in bonds. With renewed uncertainty regarding North and South Korea, there could be some lift in mortgage bonds. However, bonds are in a tight channel and it will be tough to see them do anything but travel sideways.
About the Bankrate.com Rate Trend Index
Bankrate's panel of experts is comprised of economists, mortgage bankers, mortgage brokers and other industry experts who provide residential first mortgages to consumers. Results from Bankrate.com's Mortgage Rate Trend Index are released each Thursday.