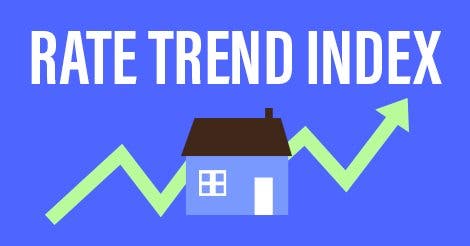 Each week, Bankrate surveys experts in the mortgage field to see where they believe mortgage interest rates are headed.
This week (Sept. 12-Sept. 18), 58 percent of panelists believe mortgage rates will rise over the next week or so; 25 percent think rates will fall; and 17 percent believe rates will remain relatively unchanged (plus or minus 2 basis points).
Calculate your monthly payment using Bankrate's mortgage calculator.
This week, will rates go up, down or remain unchanged?

| Up | Down | Unchanged |
| --- | --- | --- |
| 58% | 25% | 17% |
Read the comments and rate predictions of mortgage experts and Bankrate analysts below.
58% say rates will go up
Derek Egeberg

Certified mortgage planning specialist and branch manager,
Academy Mortgage, Yuma, Arizona

Rates will drift higher for the rest of the summer.

Nancy Vanden Houten, CFA

Senior research analyst,
Stone and McCarthy Research, New York

Rates will rise.

Dick Lepre

Senior loan officer, RPM Mortgage, San Francisco

Rates will move higher. For the coming week we have slightly bullish short-term techs which should lead to slightly lower yields; but these will soon be overtaken by the bearish daily and weekly tech. Consequently, there will be a small drop on yields followed by a larger increase.

Greg McBride, CFA

Senior vice president and chief financial analyst, Bankrate.com

Better economic news has overtaken worries about emerging markets and pushed bond yields and mortgage rates higher. This may well turn around if the 10-year Treasury yield goes above 3 percent.

Joel Naroff

President and chief economist, Naroff Economics, Holland, Pennsylvania

Rates will go up. Growth is strong and 3 percent ten-year Treasury notes is on the horizon.

Shashank Shekhar

CEO, Arcus Lending, San Jose, California

Rates will move up. After predicting stable interest rates for several weeks, I predicted the rates to move up last week, and I am doing so again this week. There is a boatload of strong economic data that are increasing the yield on 10-year Treasury note which is directly co-relational to increase in mortgage rates. First, there was strong jobs data on Friday and now the small business sentiment index is reaching a record. Add to that the number of unfilled jobs touching a new high and upbeat expectations on a trade talk; you get a perfect storm to pressure the mortgage rates higher.
25% say rates will go down
Michael Becker

Branch manager, Sierra Pacific Mortgage, White Marsh, Maryland

Last week's employment report showed a pick-up in average hourly earnings. In fact, the year-over-year increase of 2.9 percent was the strongest rise in the current expansion that began in 2009. Also this week's JOLT report (Job Openings and Labor Turnover) showed that there was a record number of job openings in July. These two data points have markets concerned about wage inflation and thinking that the Federal Reserve may need to be more aggressive in raising rates. The result has been a spike in mortgage rates over that last few days. This week we have two inflation reports (PPI & CPI), as well as policy decisions from the European Central Bank and the Bank of England. These have continued to put upward pressure on rates. However, once we get through these events some bond traders may see the current higher yields inviting and, given the fact that bond markets are slightly oversold, I see a small rally at the end of this week heading into next leading to slightly lower mortgage rates next week.

Les Parker

Managing director, Transformational Mortgage Solutions, Trevose, Pennsylvania

Mortgage rates will go down. Here's a parody of Elvis' big hit "Suspicious Minds" from 1969 that sets the tone for this week: "We can't go on together; With suspicious bears (suspicious bulls); And we can't build new trends; On suspicious minds." The spotlight on U.S. growth and wage gains supports raising yields, but the international glare keeps investors caught in a trance. The technical trend is bearish, but a relief rally this week would be no surprise.

Jim Sahnger

Mortgage planner, C2 Financial Corporation

Rates popped up a bit from last week as investors got spooked by the hotter than expected hourly wages' component of the employment report. Bonds and mortgage rates get hammered by inflation and, any hint of current or future inflation, can cause rates to pop. Employers posted the highest number of job openings on record and it appears they are having to pay more to get the right candidates. Wage inflation can lead to inflation overall. I think rates got a little ahead of themselves and the technicals show they are a bit oversold. We should see a slight reprieve over the next week.
17% say rates will remain unchanged
Logan Mohtashami

Senior loan officer, AMC Lending Group, Irvine, California

We're still in that range of between 2.78 and 3.05 percent. CPI inflation is coming out and that could be the big market mover of the week on bonds as PPI data came in lighter than expected.

Bob Moulton

President,
Americana Mortgage Group, Manhasset, New York

Rates are flat.
About the Bankrate.com Rate Trend Index
Bankrate's panel of experts is comprised of economists, mortgage bankers, mortgage brokers and other industry experts who provide residential first mortgages to consumers. Results from Bankrate.com's Mortgage Rate Trend Index are released each Thursday.