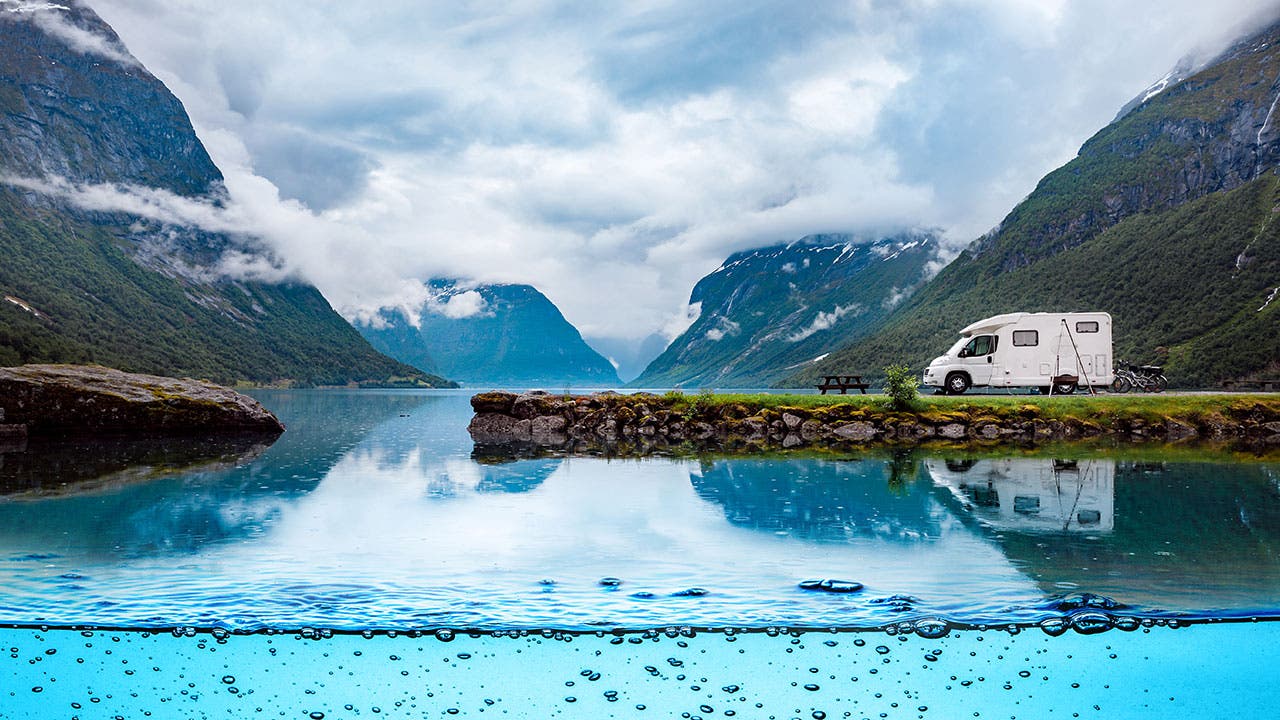 When buying an RV, there is a lot to consider. Much like buying a second home, it is a serious investment. Purchasing one often means budgeting for years of monthly payments, maintenance costs and travel-related expenses.
The key to financing a recreational vehicle and getting the most out of it lies in making sure the purchase fits comfortably into your routine and budget. "RV ownership is a lifestyle change," says Justin Haley, senior vice president and CEO at Medallion Bank, a Utah-based industrial bank specializing in non-prime recreation product loans.
Get pre-qualified
Answer a few questions to see which personal loans you pre-qualify for. The process is quick and easy, and it will not impact your credit score.
Not understanding what you're getting into can lead to financial pitfalls. Steer clear of these common mistakes when buying an RV:
1. Taking the price at face value
Like cars and luxury items, there is a markup on RVs. Dealerships generally expect you to haggle. "We negotiated on the price of our RV and were able to get almost $30,000 off the price of it, without much work," notes Michelle Schroeder-Gardner, founder of MakingSenseofCents.com. "All we had to do was ask, 'What's the lowest you can do?' and we received a great price.
"Many RVs are inflated in price by as much as 30% to 35%," says Schroeder-Gardner, who bought a Class C RV in July 2015.
In addition to dealerships, sites such as RVs.com, RVT.com and RVTrader.com can give you an idea of RV prices and deals. Check these and other sites when you're doing your homework on RV loan rates.
2. Not checking your credit score
The final price you pay for an RV is a factor of not just the sales price, but also of the loan terms and interest rates. Your credit score is an integral piece of that puzzle.
"Just like when applying for a car loan, consumers should first check their credit rating," says Jordan Perch, an automotive blogger for DMV.com. You can get a free credit report at myBankrate.
A credit score in the mid-700s and higher will get you the best rate. A score of 700 is still considered a "good" score. If you have a low score in the 600s, you still may qualify for a personal loan, but you'll pay more overall.
"Interest rates may vary between states, but borrowers with bad credit can expect to get rates of up to 24%. …," Perch says.
RV financing is like financing any other vehicle. The main difference is that some RV loans may offer unique options you wouldn't get with typical auto loans. For example, you could claim an RV as a primary or secondary residence, which could reduce your federal taxes.
According to the IRS, if a vehicle contains areas for sleeping, cooking and toilet facilities, it can be declared a residence. And as long as the RV is used to secure the loan, the mortgage interest could be deducted from your taxes as a homeowner. The combined debt limit for this and your first mortgage is $1 million for loans that originated before December 2017 and $750,000 for loans that fall under the 2018 tax breaks.
Keep in mind that when an RV is not just a vehicle but a home on wheels, it may need special insurance.
3. Overestimating what you can afford
Since RVs tend to cost much more than regular passenger vehicles, an RV loan can look more like a mortgage than a typical car loan.
You can use the Bankrate personal loan calculator as an RV loan calculator to estimate monthly payments and interest on an RV loan, along with an amortization schedule. This will help immensely when you're looking into RV financing.
"We encourage customers to include the overall cost of ownership. It's not just the monthly payment," Haley says.
Most people think about the loans, taxes and registration fees for an RV, but there are other costs to consider as well, including:
Mileage rates (especially if you're traveling long distances)
Utility costs, including water, cable, and electric
Campsite and storage fees
Regular maintenance costs, especially if this is a used RV
4. Grabbing the first loan available
With any loan, you don't want to settle for the first offer you get. This also holds true for the various RV loans. Many RV loans have a 20-year term, which can make it seem more affordable than it is.
You also don't want to assume that RV loan rates are like auto loans in size or duration. The same is true for insuring an RV.
"While some of the coverage an RV policy offers is similar to regular car insurance to cover accidents, you also need specific coverage that's like property insurance because you essentially live in the vehicle when you're using it," says Gregory J. Blanchard, a former executive with Nationwide and now a consultant.
Whether you're looking for RV loan rates or you're trying to insure your RV, be sure to research how auto loans differ from unsecured RV loans before making a decision. Our rate table can help you make a smart decision based on your own credit and budget.
5. Owing more than RV's future sale price
A new RV can depreciate as much as 30% the moment it's driven off the dealership's lot.
For this reason, there is a high risk of becoming upside down on an RV loan, which means more is owed on the RV loan than the vehicle is worth, says Perch.
To avoid becoming upside down, make a large down payment, if possible. That way, you'll owe less down the road when you decide to sell it or trade it in.
Another strategy is to start small and work up to a larger RV, says Steve Hannay, senior vice president and chief lending officer at Medallion Bank. "RVs can range from $10,000 to hundreds of thousands of dollars," he says.
If you initially buy a lower-priced model that you can easily pay off, you'll be able to trade it in for an improved model later.
And remember that RV financing is not as simple as buying a car, nor are RV loan rates the same as those of auto loans. Buying an RV can be a complex process, but it can also be worth it. By avoiding these five common mistakes, you'll be able to focus on wherever the open road takes you and less on your finances.
Bottom Line
If you're ready to buy an RV, remember to consider the entire cost of the vehicle before you decide to sign on the dotted line. Remember to consider both the tax write-offs that you qualify for plus the additional cost to drive, maintain, license and register the vehicle. If you have found your dream camping vehicle, check out our rate table and our prequalification page to see what you can afford.