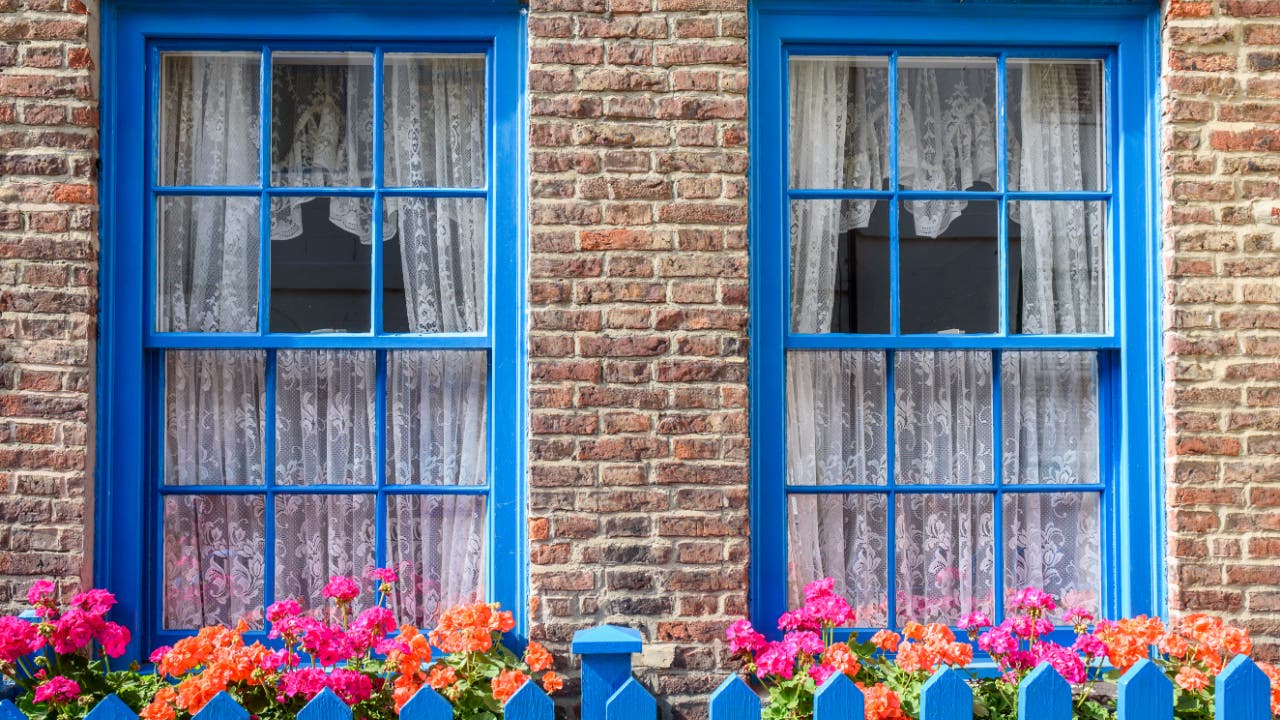 Replacing old drafty windows with new energy-efficient ones  can have a notable effect on how much you enjoy your home — and how much you spend on monthly utility bills.
After all, replacement windows that open and close easily can help you bring more fresh air into your home when the weather is nice. And during winter, replacement windows that don't let heat escape can help you avoid paying for hot air that literally flies out the window, running up your bill in the process. The U.S. Department of Energy estimates that heat gain and loss is responsible for 25 percent to 30 percent of your energy usage, so it's not surprising that replacement windows with a tighter seal can help you save.
But, which type of replacement windows should you buy? According to Consumer Reports, homeowners can typically choose from window frames made of wood, composite materials, or vinyl. Vinyl replacement windows are typically the least expensive, but they are more difficult to customize.
You can also choose from double-hung windows, awning-style windows, casement-style windows, single-hung windows and other styles from a variety of manufacturers.
The final price of home window replacement is, unfortunately, difficult to predict. How much you'll spend depends on how many windows you need, which type you select and whether you install them yourself or pay for professional help.
Based on Remodeling Magazine's 2019 Cost vs. Value Report, the average cost for 10 3×5 double-hung vinyl replacement windows was $16,802 this year, vs. an average of $20,526 for new wood windows.
Best home improvement loans for windows
If you're worried about the high cost of windows, keep in mind that they can pay for themselves in energy savings if given enough time. You can also borrow the money you need to cover window replacement cost with the following types of home improvement loans:
Personal loans
If you want to borrow money for replacement windows but don't necessarily want a loan that's backed by your home, you may want to consider a personal loan. With a personal loan, you'll get a fixed interest rate, the same payment every month and a fixed repayment date that will never change. If you have good or great credit, you can even qualify for a personal loan with a fixed rate as low as 4 percent and no origination fee or hidden fees.
Because personal loans are unsecured, they can be "a good option for homeowners who don't have equity in their home to borrow against or who do not wish to use their home as collateral for a loan.," said Chris Dervan, senior vice president of personal lending at PNC Bank.
Additionally, Dervan says personal loans can be one of the fastest ways to obtain funds to complete a specific home-improvement project like installing replacement windows.
"A personal loan is also best when customers have a one-time borrowing need," he said. "With a personal loan, customers can receive funds only once, compared to a home equity line of credit which they can draw on repeatedly."
Home equity lines of credit, or HELOCs
Speaking of home equity lines of credit, this borrowing option works similar to a credit card. During the HELOC's draw period, which is normally 10 years, a homeowner can borrow funds up to a certain limit as needed for repairs or renovations. Home equity lines of credit come with variable rates, however, which means your payment will fluctuate over time depending on how much money you take out and whether market interest rates rise or fall.
Since HELOCs are secured by the equity in your home, you'll have to put up your home as collateral when you apply. Doing so can be a plus since secured loans tend to come with lower rates and fees. However, using your home as collateral also means your home could fall into foreclosure if you don't repay the money you borrow and default on your loan.
Home equity loan
Home equity loans are similar to personal loans, as they come with a fixed interest rate, a fixed monthly payment and a fixed repayment timeline. In other words, when you apply for a home equity loan, you'll know your interest rate up front, exactly how much your monthly payment will be the entire time and the exact date you'll become debt-free.
Like HELOCs, however, home equity loans require you to put your home up as collateral for the loan. Also note that, with both home equity loans and HELOCs, you can typically only borrow up to 85 percent of your home's value in a first mortgage and second loan.
This makes both home equity options an unworkable choice for homeowners who haven't built up much equity in their properties yet.
Credit cards
Using any old credit card for home window replacement is probably a bad idea considering the average credit card is currently charging an APR over 17 percent. However, some credit cards known as balance transfer cards let you secure 0 percent on purchases (in addition to balance transfers) for a limited time — usually up to 15 months.
If you can borrow the money for replacement windows, and you know you can pay it off before your introductory offer ends, using a card that gives you 0 percent APR on purchases can help you secure your own zero percent interest loan. Some cards that offer 0 percent on purchases also offer rewards for each dollar you spend, and that can leave you even further ahead.
On the flip side, be aware that, after your introductory offer ends, your card's interest rate will reset to a higher ongoing rate that will make borrowing money for replacement windows a much more expensive deal.
How to choose a loan for replacement windows
No matter which option you're leaning toward, you should make sure you "understand and are comfortable with all of the terms of the loan," Dervan said.
Make sure to read over the annual percentage rate, required monthly payments and all applicable fees. Specifically, pay close attention to whether there are any origination or application fees or other fees like a prepayment penalty, he says.
Also, make sure you don't jump on the first loan offer you see. "Customers can often get a better deal by shopping around, so they should take the time to compare their options carefully, both across different loan types and different lenders," says Dervan.
Learn more: