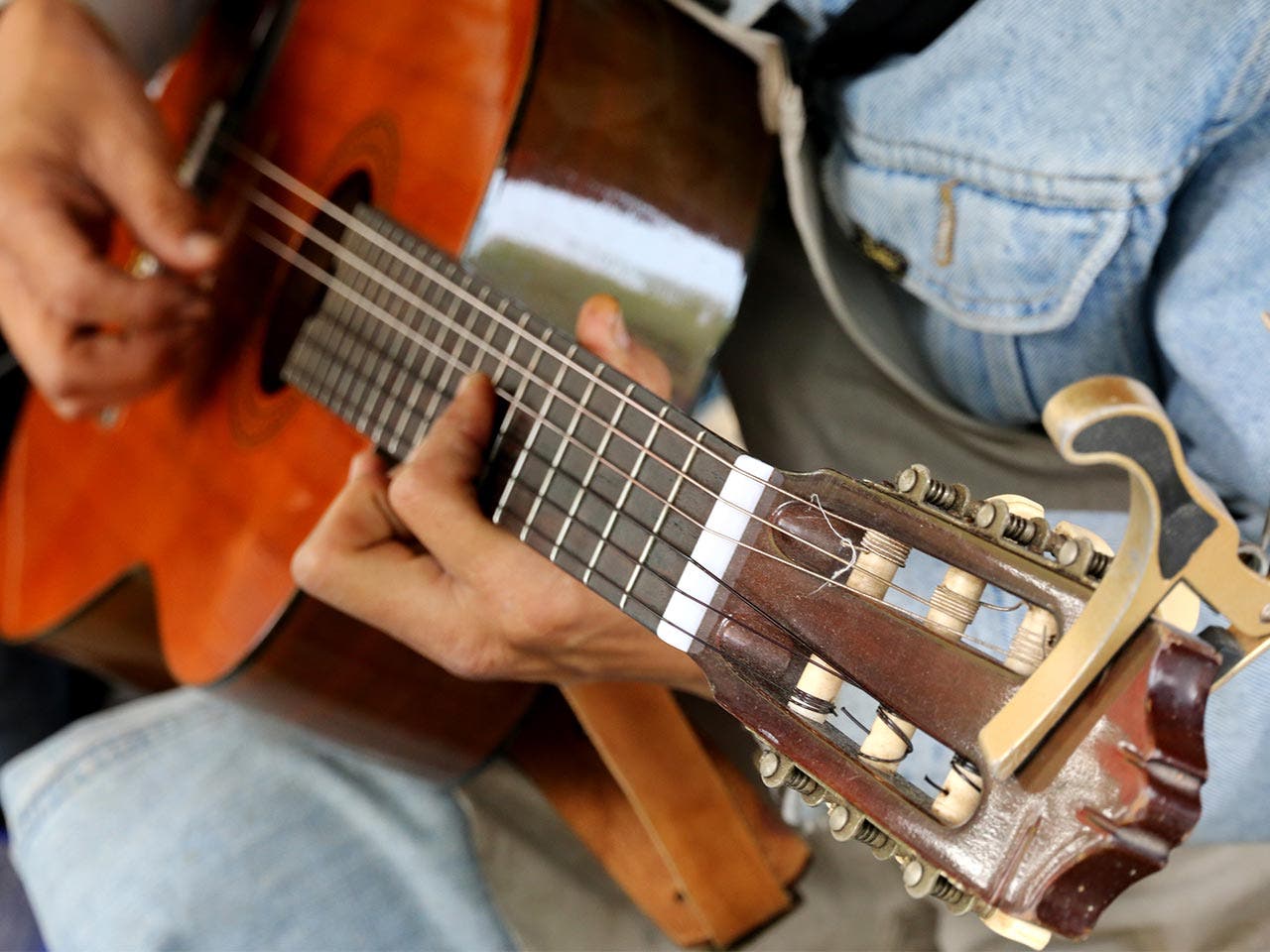 A guy's Valentine's Day wish list
What makes finding the perfect Valentine's Day gift for your guy so difficult? Cue his eye roll and self-choking gesture.
"Most men hate this holiday," says gift expert Aileen Avery. "While women look forward to a day of flowers and declarations of love, men see it as a potential for epic failure leading to a night of arguments and sleeping on the couch."
Los Angeles dating and relationship coach DeAnna Lorraine agrees: "It shouldn't all be centered on the woman. The goal should be to make your man feel special and celebrate your relationship," she says.
Brad Meltzer, best-selling co-author of "The House of Secrets," nails what men really want from Valentine's Day.
"What do we want? We want our childhood back. If he's a sports guy or a car guy or a music/guitar guy, insert his nostalgia and memorabilia here. Just make us feel young again. No pressure," he says.
Ready to insert the Y chromosome into Valentine's Day? Here are a few gift ideas to lure your Valentine-phobe from hiding.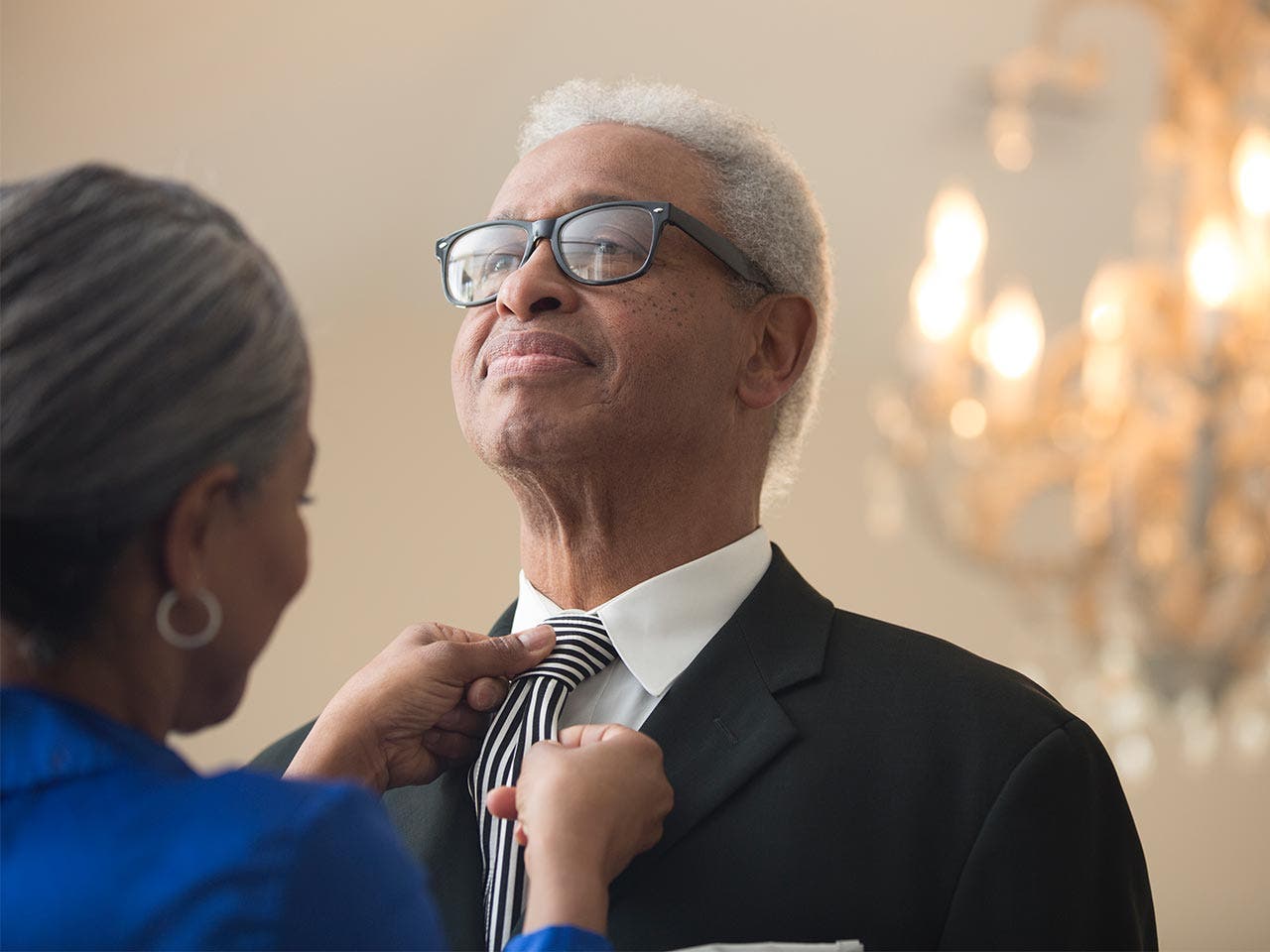 Attire: Clothes (still) make the man
Terry Vine/Getty Images
Admittedly, attire is not the male gender's strongest suit. If your guy's go-tos are long past gone and his closet looks more like Burning Man than Benetton, Valentine's Day is the perfect opportunity to subtly suggest a manly makeover, without casting aspersions.
The online lifestyle subscription service Bespoke Post makes it easy on guys who are otherwise occupied by delivering a monthly box of fashion upgrades to their door. No mall, no problem.
If your Valentine's wardrobe is hopelessly marooned in the past, Trunk Club will throw in a personal stylist to help him develop an au currant closet with fashions by Ledbury, Rodd & Gunn and Theory. Trunks start at $100.
Just want to resuscitate his fashion sense? Try this sleek ion-plated, leather-wrapped bracelet from Amazon ($27) or a cozy zippered hoodie from American Giant ($89).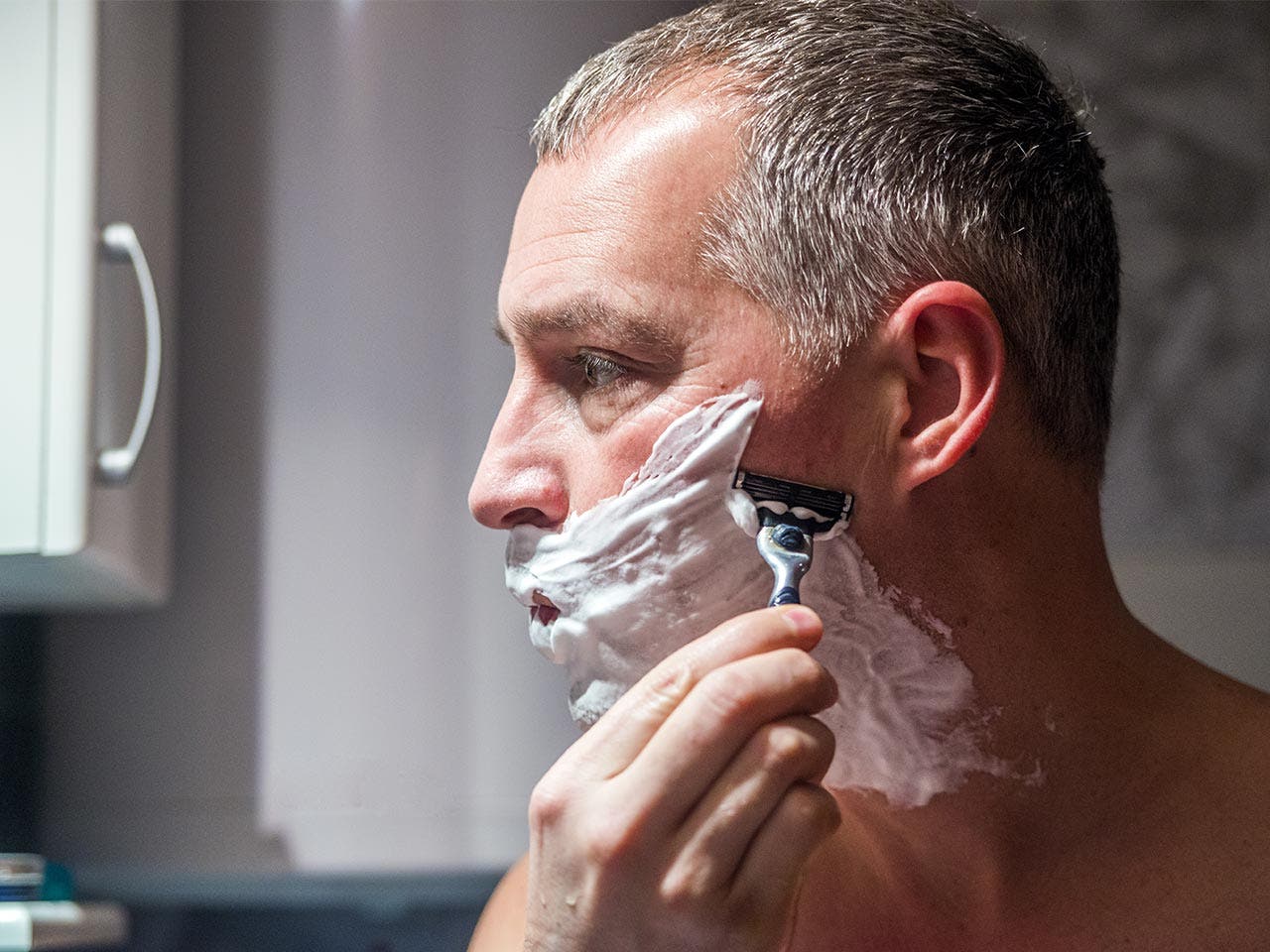 Grooming: Tools to look terrific
Dragana Gordic/Shutterstock.com
Though some may pretend otherwise, most men want to leave the house each morning looking their best. The problem is, many are disinclined to spend on their personal appearance, so they wind up using crude tools that fail them on a daily basis.
Sure, your guy might not spring for a Norelco 7200 vacuum beard trimmer that sucks up what it removes from his beard, sideburns, moustache and eyebrows ($60). Or the face-pleasing, lavender-scented Bevel Essentials kit with pre-shave priming oil, aloe vera-infused shave cream and alcohol-free post-shave restoring balm ($35). Or even the way-cool Hey Handsome zippered Dopp kit to hold it all when he's on the road ($68).
But if he receives it from you as a Valentine's gift? He'll use it for life.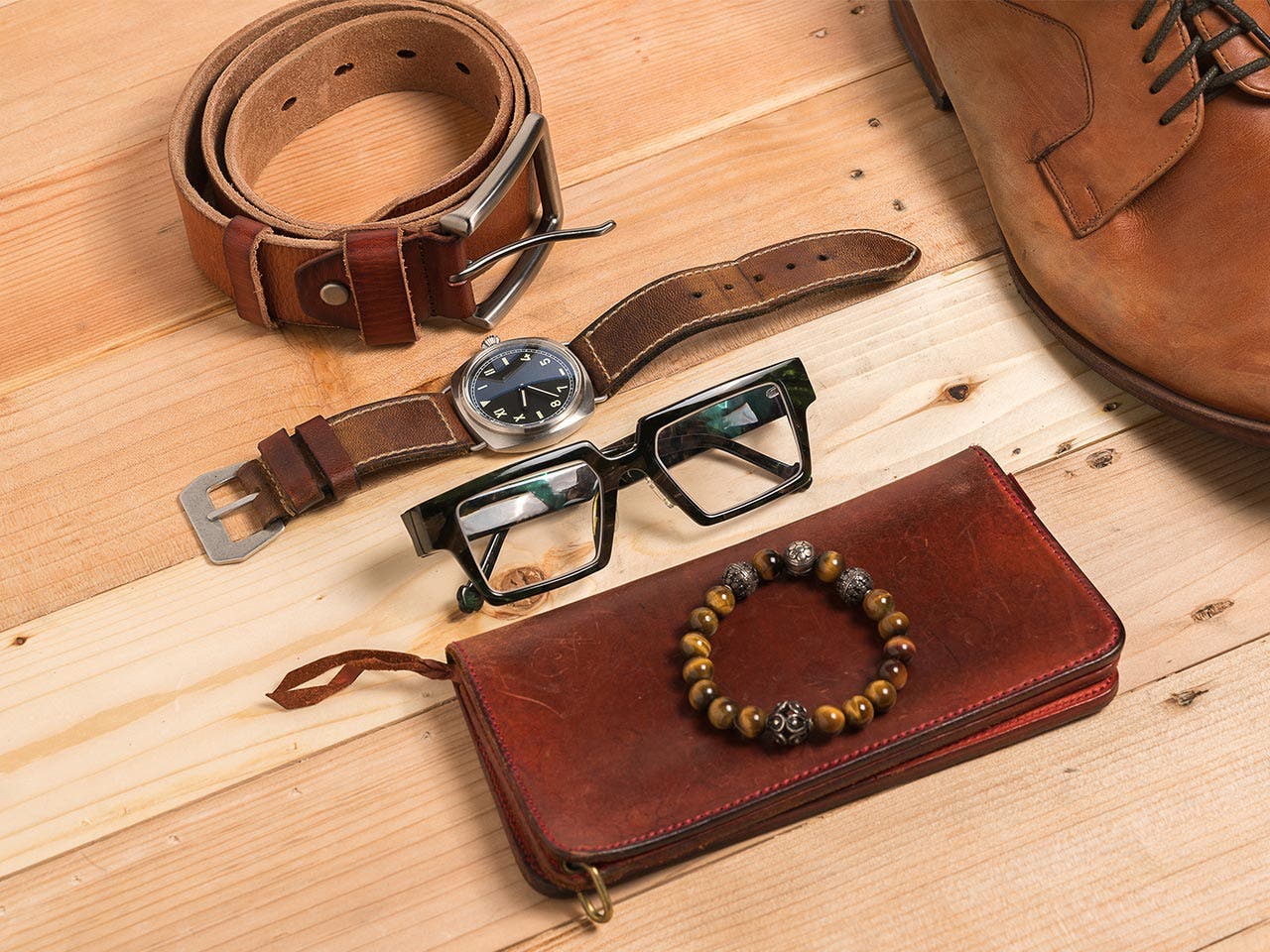 The basics: Spectacles, wallet and watch
praphab louilarpprasert/Shutterstock.com
You can't miss with the basics.
For his spectacles, he'll love the fashionable double My Eyeglass Case, which holds his eyeglasses as well as sunglasses in separate, back-to-back sleeves with magnetic closures ($16).
For something more personal, "instead of lingerie, get him 'man-gerie,'" Lorraine says. Once he's tried the ultra-soft modal MeUndies ($20), he'll thank you forever for saving him from cotton underwear. For the complete package, add a pair of MeUndies lounge pants ($60).
While you're at it, why not replace that back-pocket bowling ball he's been dragging around with a slim, sleek leather OCD Wallet, with RFID protection for the credit cards he carries ($35-$47)?
If he's not tied to his tired Timex, he's apt to enjoy a wrist-wear makeover to the classic contemporary analog MVMT Watch, available in a variety of styles and colors from $95.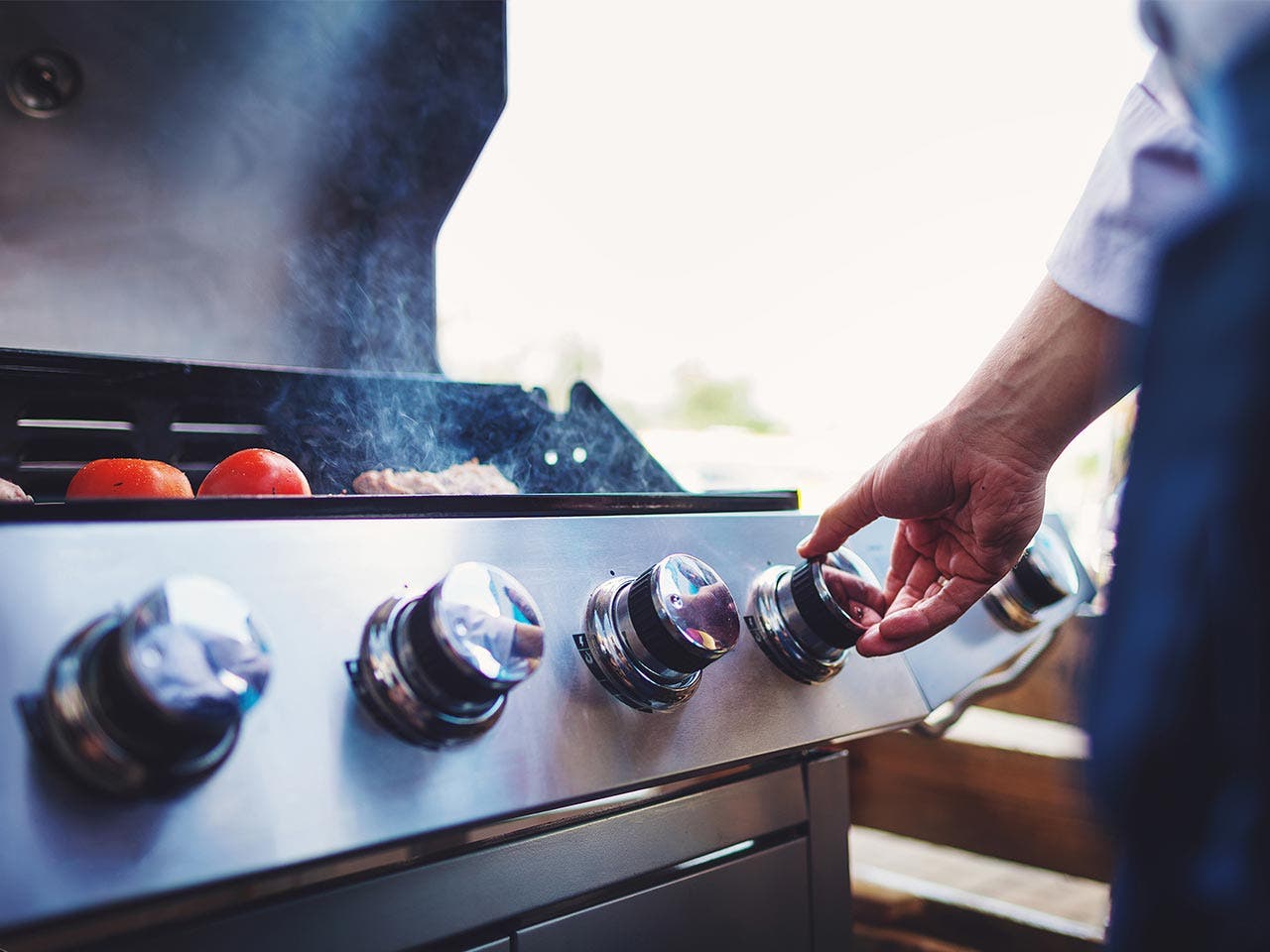 Manly food and cooking
SunKids/Shutterstock.com
Want to nurture a man's inner Bobby Flay, Mario Batali or Guy Fieri? Here are a few Valentine's Day gifts best served warm.
If your budding chef takes his barbecuing seriously, he'll love the business-like bravado of the briefcase-inspired Kikkerland Portable BBQ Suitcase ($54). For an extra treat, tuck inside a copy of "Meat: Everything You Need to Know" by Pat LaFrieda ($24), filled with dozens of recipes for beef, pork, lamb, veal and poultry.
If his pantry looks like a war zone, help him get it under control with a themed wooden crate filled with sauces, rubs, mixes and treats from Mantry ($49) every two months, or six boxes over 12 months ($294).
To thank the grill master with a treat, order a monthly binge-worthy, super snack pack from Mouth ($60/month) or bow to his favorite bad with a Bacon Lover's Feast from Pig of the Month BBQ ($38).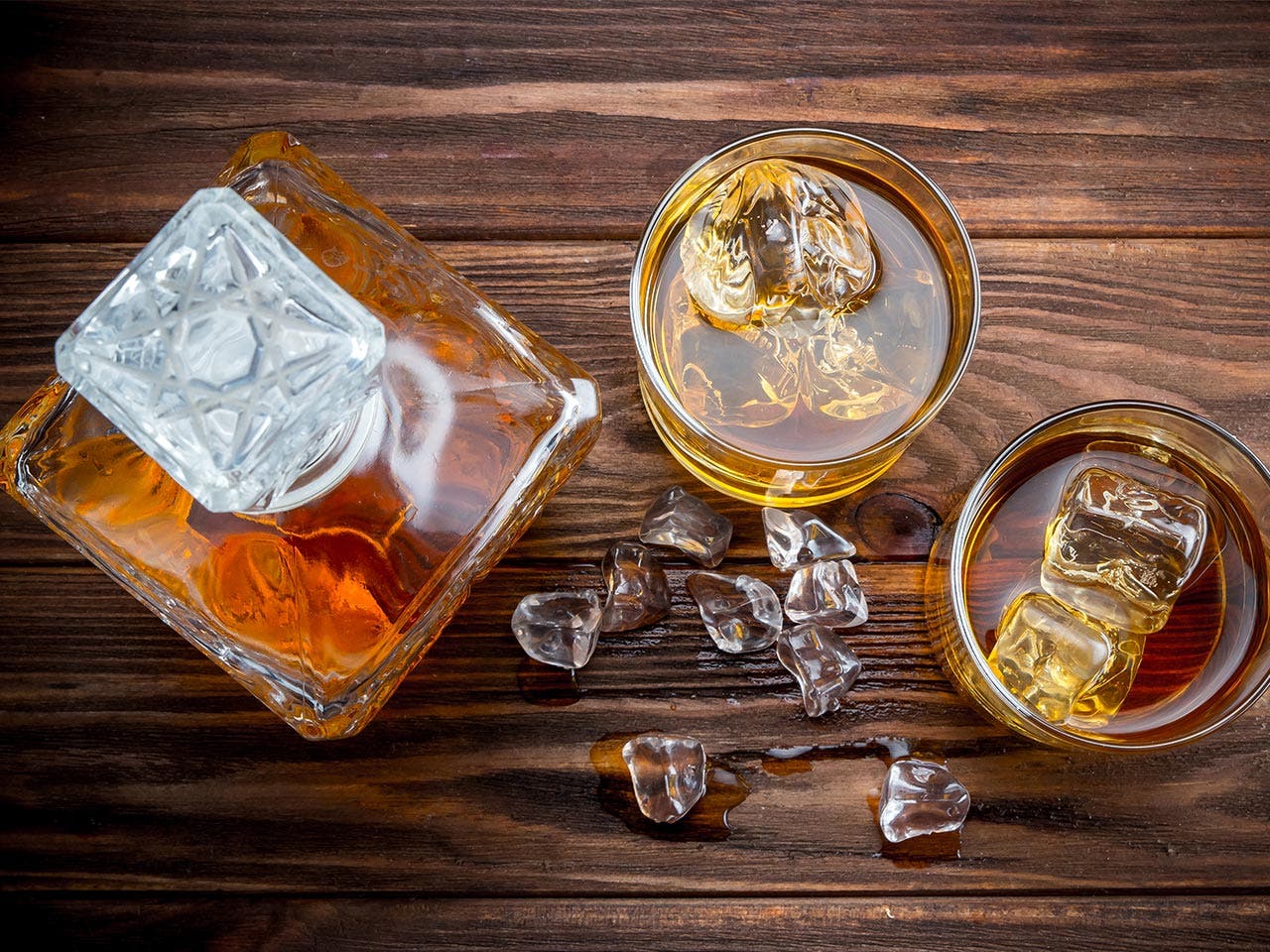 A toast to his favorite drink
Serhiy Shullye/Shutterstock.com
Although man's deep connection to his beverage of choice long ago staggered into cliché, some part of us still suspects that we are what we drink. That said, consider these toast-worthy gifts to enhance his happy hour.
Once frozen, the stainless steel Corkcicle Chillsner beer chiller will keep his bottled beer ice cold while cooling each sip through its drink-through, air-tight vent ($30/pair).
If aged whiskey is more his style, the Whiskey Appreciation Crate from Man Crates includes a handmade monogrammed decanter, two personalized rocks glasses, ice molds, slate coasters, a sipping journal and upscale cocktail munchies ($150).
The discrete sipper will savor this copy of Mario Puzo's "The Godfather," inside of which Secret Safe Books has replaced Don Corleone's mob saga with a handcrafted cutout containing a 6 oz. stainless steel flask ($70). However, if he has kids, best to avoid the "Charlotte's Web" version ($73).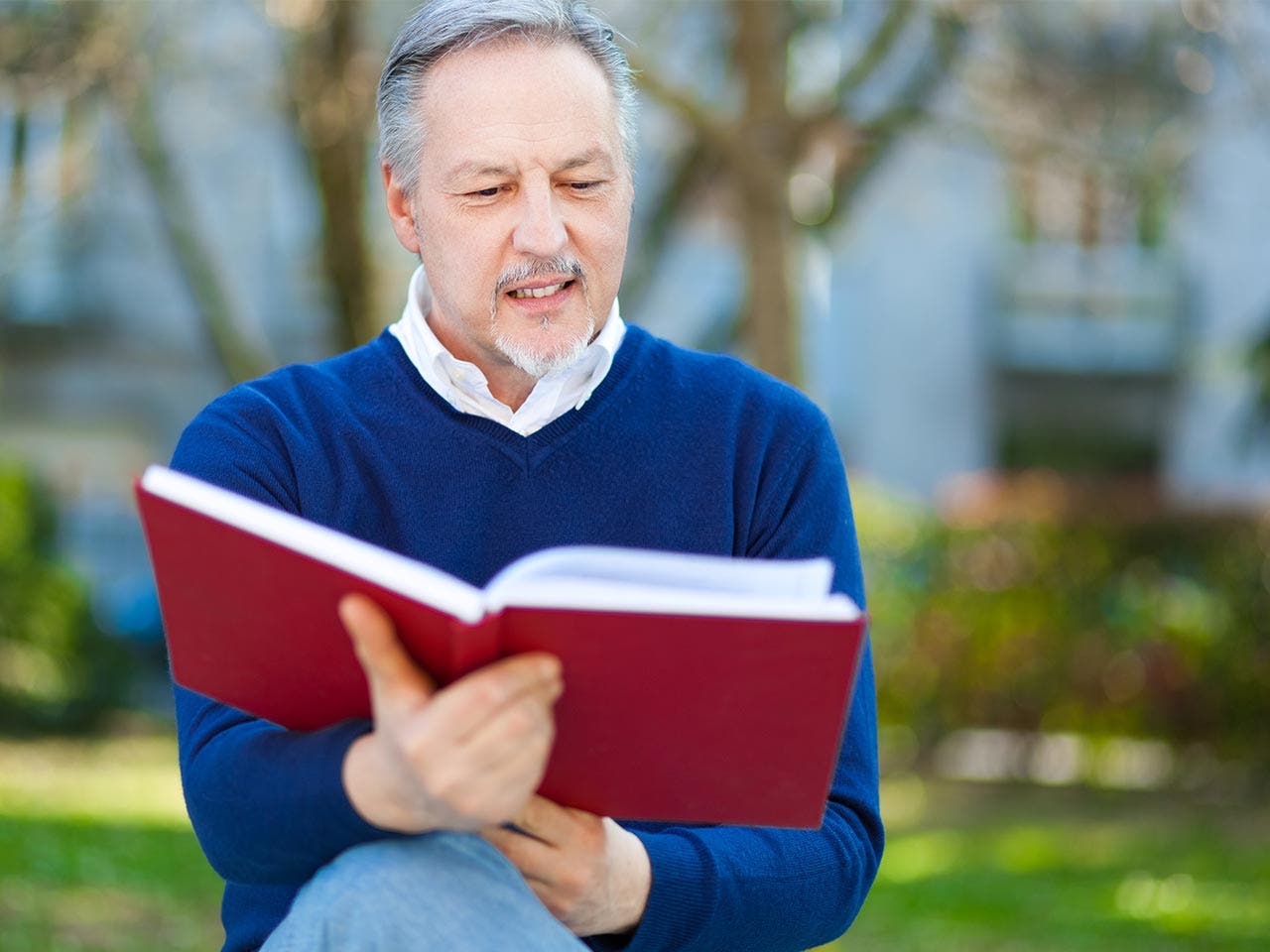 Buff his bookshelf
Minerva Studio/Shutterstock.com
Giving your guy a good book can strengthen your love connection and kindle shared interests. Here are four new "guy titles" he's sure to enjoy.
"The Hidden Life of Trees" ($16) by Peter Wohlleben: Once he reads how trees nurture their young, feed their sick and warn each other of dangers, he'll never look at forests the same way again.
"The Nix" ($17) by Nathan Hill: This sprawling, satiric mother-son psychodrama recalls the best of Jonathan Franzen and Michael Chabon.
"A Life in Parts" ($14) by Bryan Cranston: How do you convincingly portray Walter White, the chemistry teacher turned drug kingpin in Breaking Bad? Live half the life Bryan Cranston has.
"The Daily Stoic: 366 Meditations on Wisdom, Perseverance, and the Art of Living" ($15) by Ryan Holiday and Stephen Hanselman: Stay grounded with these 366 daily meditations, drawn from the practical wisdom of stoic philosophers.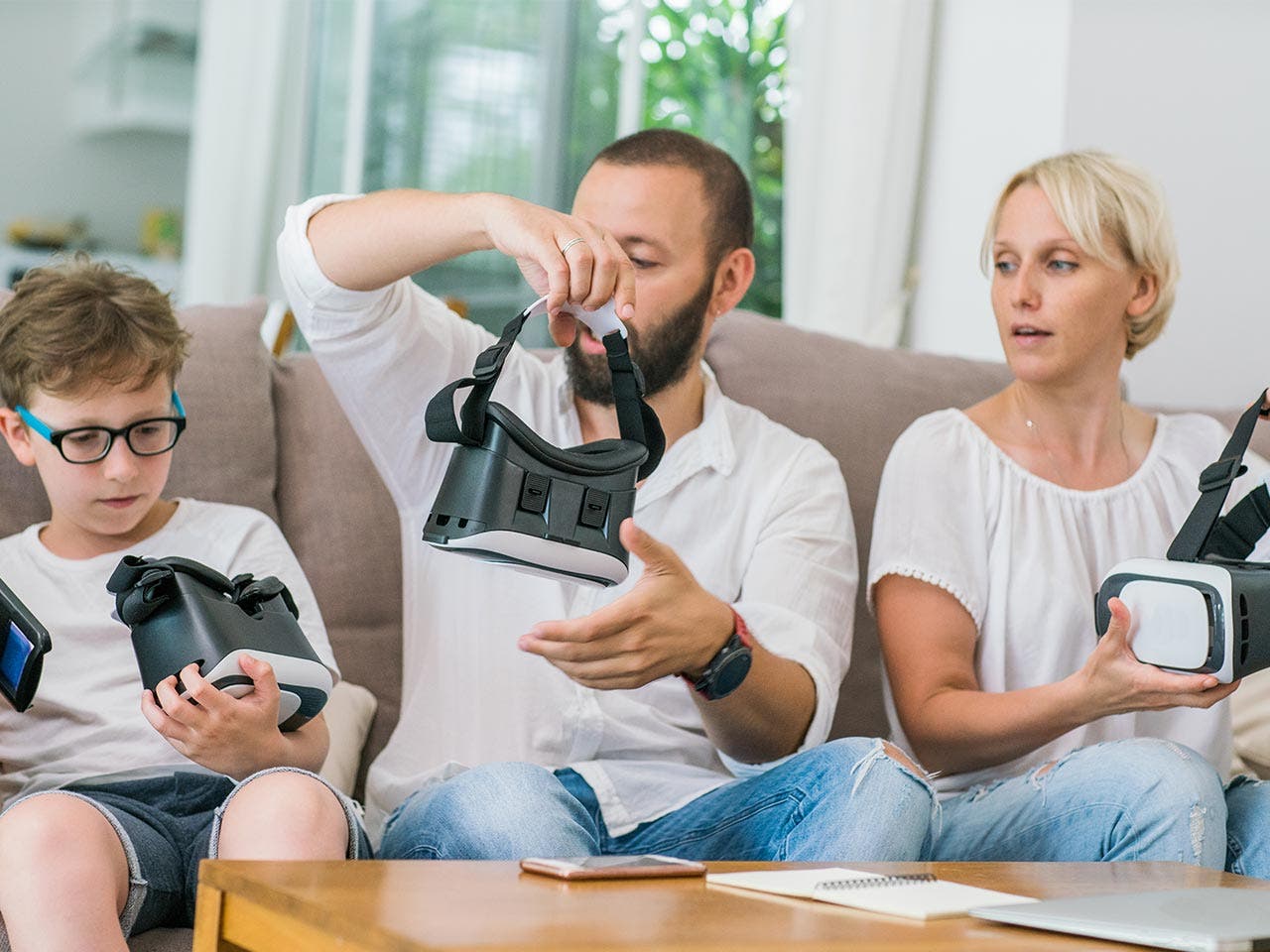 Favors for the family guy
Karina Urmantseva/Getty Images
For the family guy, nothing says "I (heart) you" like a gift the whole family can enjoy.
"This gift is meant to be enjoyed together: Star Wars Monopoly for him ($34) and a slave girl costume for her ($210)," gift expert Avery says.
Don't settle for selfies! Get him the Knock Knock Ussies photo album for $11. This padded keepsake includes 32 pages with slots to insert family selfies (or "ussies"), plus cheeky suggestions sprinkled throughout to keep everyone laughing.
In a similar vein, the Ticket Stub Diary ($12) from Uncommon Goods is the perfect place to archive his every treasured concert and sporting event so that he may one day amaze the grandkids with the exact row and seat he occupied when the Chicago Cubs won the 2016 World Series.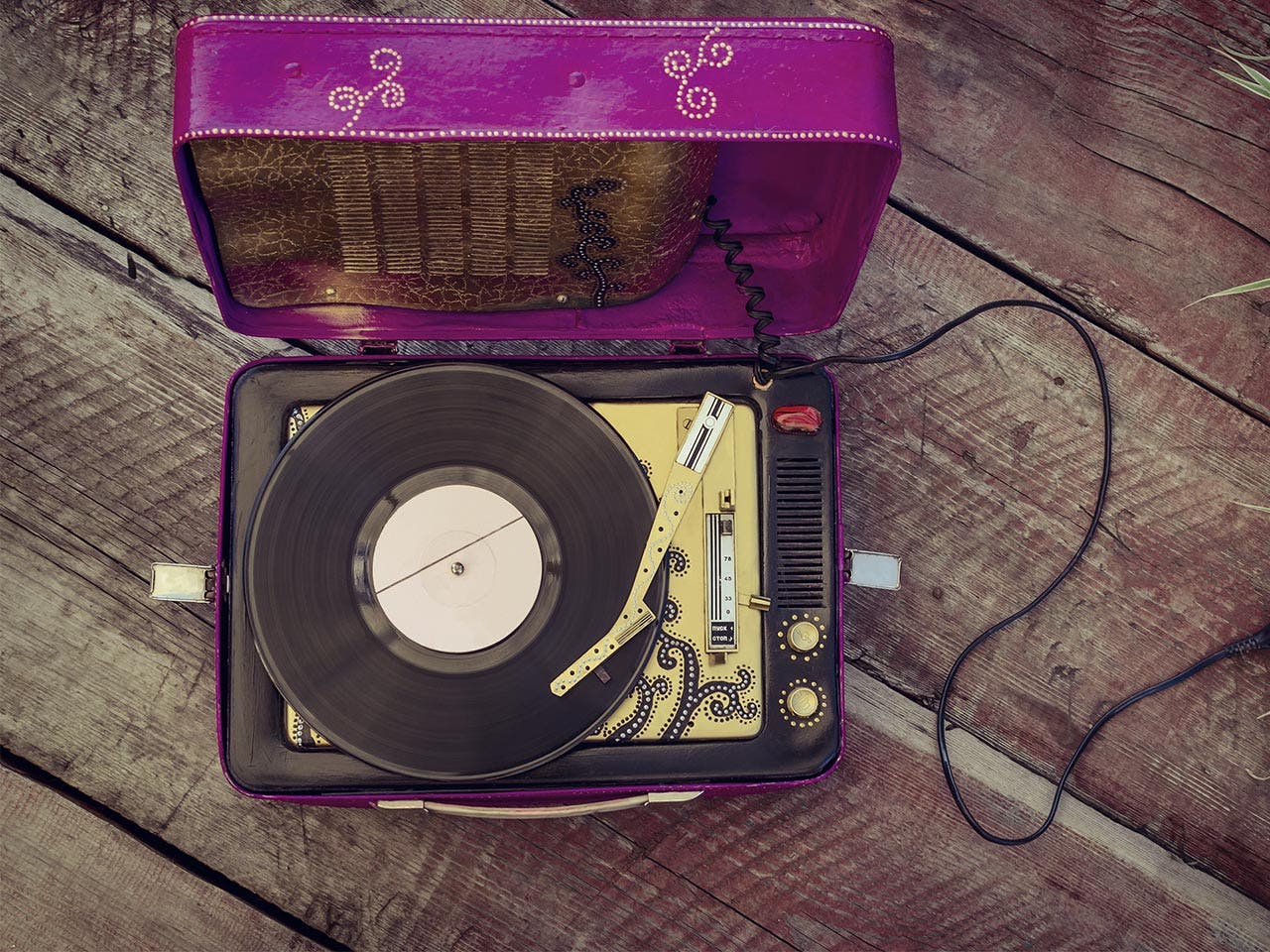 Big-boy toys and games
Forest Run/Shutterstock.com
"Guys don't care about frilly things," relationship coach Lorraine says. "They want things that are practical that they can actually use."
If your guy is a gamer or a binge watcher, you always could get him the obvious, but what fun it is unwrapping the predictable on Valentine's Day? Here are a few big boy toys he'll truly enjoy.
Electrohome has recreated the suitcase-style record player from the 1960s, complete with built-in speakers, in the Archer Vinyl Turntable Stereo System ($100). While the vinyl still goes 'round and 'round, the sound now flows everywhere via USB for MP3s, a headphone jack and inputs for smartphones and tablets.
If your guy already rocks out with his own dope headphones and wireless earbuds, shake his world just a little with the Makbilt Jazzin' Pocket Boombox, a hand-built earful fashioned from a mint tin ($75).
And if he golfs, totally surprise him with the Tin Cup "5 O'Clock Somewhere" golf ball stencil, so he can personalize his golf balls with a colorful martini glass ($30).